Alpha Space Test & Research Alliance
NASA has selected five technologies for its Materials International Space Station Experiment (MISSE)-11 mission to test them aboard the International Space Station (ISS). MISSE missions enable long-term exposure of materials—such as composites and polymeric specimens—to the inhospitable space environment.
The samples remain in space for at least one year, allowing researchers to make meaningful assessments about the long-term impact of factors such as temperature extremes and radiation on the performance of their innovations.
The MISSE program has seen many changes in the six years since its last mission, including a newly designed flight facility platform with more space to accommodate material samples not only from NASA researchers but also from commercial organizations. The new facility is being built and integrated by Alpha Space Test & Research Alliance of Houston, Texas, which retains ownership rights to the hardware.
The new flight facility will be used for the first time on the MISSE-9 mission, tentatively slated to head to the ISS in spring 2018 followed by MISSE-10 for launch in the fall 2018.
The MISSE program has been a successful part of ISS research since 2001, when its original flight hardware became the first payload to be installed on the outside of the space station. In 2014, MISSE was recognized with an ISS Top Discovery in Microgravity Award.
Researchers like NASA engineer Sheila Thibeault of NASA's Langley Research Center in Virginia rely on MISSE missions to test and qualify the resistance of materials to low-Earth orbit.
"The space environment is very harsh, and materials—especially polymeric materials—can erode away," said Thibeault, one of the original pioneers of the MISSE program. "There are a lot of different environmental complications happening at the same time—atomic oxygen, charged particle radiation, ultraviolet radiation, temperature extremes, vacuum conditions, micrometeoroids and orbital debris… the list goes on."
Thibeault noted that although researchers can test their materials' resistance to these conditions on the ground, there are limits.
"We can test for one condition and then another and so forth, but we can't test for these things all at the same time in the way they exist in space," said Thibeault. "That's why we really need to test these material specimens in the actual space environment. And missions like MISSE are important because they bring our samples back to us so we can get as much data as possible."
The MISSE program's legacy of long-duration testing of materials has paid off with a wealth of data that has enabled the manufacturing of long-life, reliable components for spacecraft as well as uses on Earth.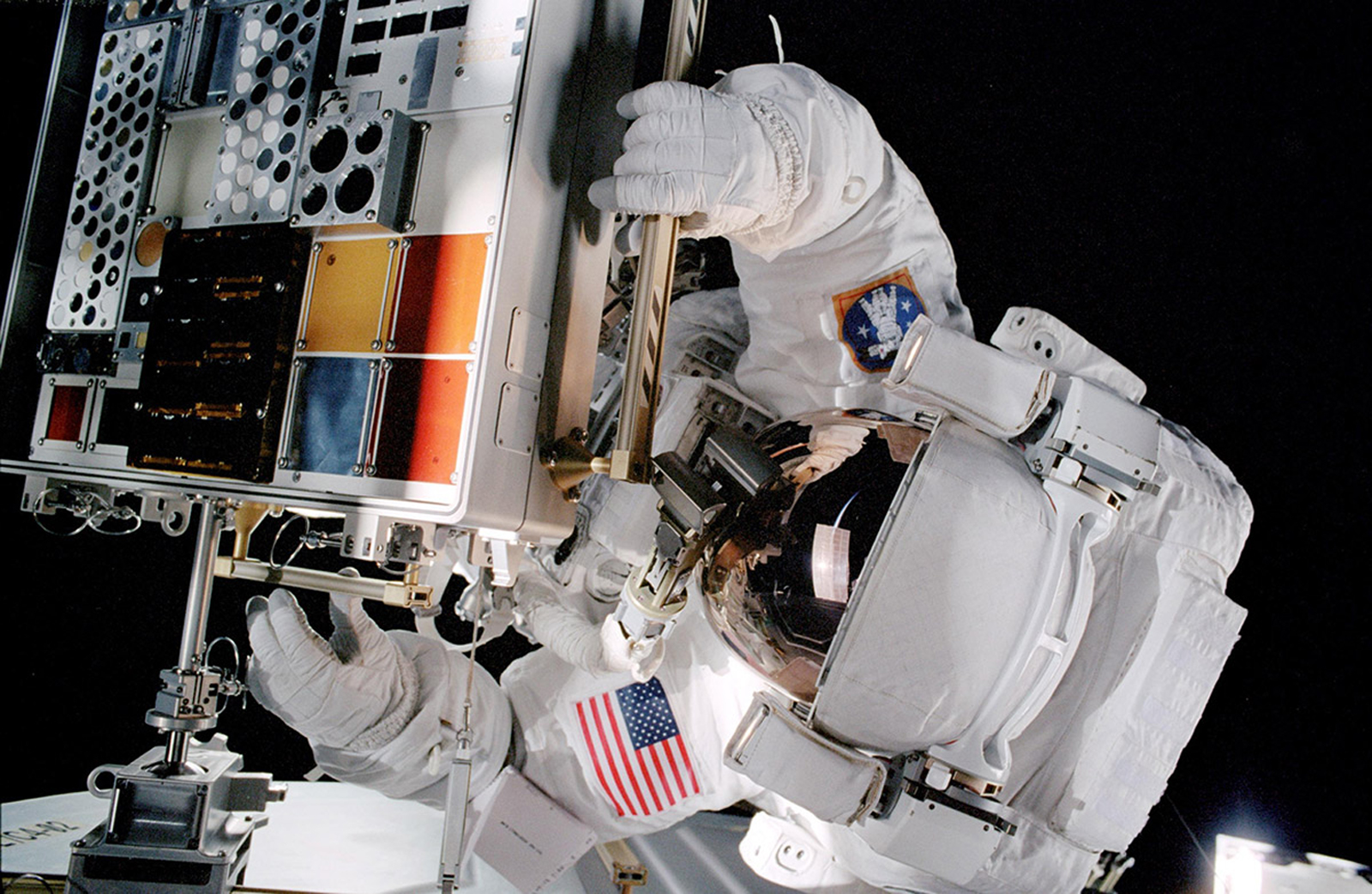 NASA
Selections for MISSE-11
The following NASA technologies were selected for the MISSE-11 mission, targeting a launch in spring 2019:
3D-MAT On-Orbit Exposure, Jay Feldman (NASA's Ames Research Center in California) – Ames's Three-Dimensional Multifunctional Ablative Thermal Protection System, or 3D-MAT, was developed to meet the strict structural and thermal protection requirements of the compression pad portion of the Orion spacecraft's heat shield. The technology has undergone a battery of structural, thermal, and aerothermal tests, qualifying it for Orion. The MISSE-11 mission will enable further evaluation of the effects of long-term, on-orbit exposure for this new aerospace composite, further validating its robustness for Orion and other applications.
Electrodynamic Dust Shield (EDS) Experiment, Carlos Calle (NASA's Kennedy Space Center in Florida) – Kennedy's EDS is an active dust mitigation technology that uses dynamic electric fields to remove dust from surfaces. NASA hopes to use the technology on missions encountering dusty planetary environments. Extensively tested in the lab and reduced-gravity flights, the EDS will benefit from long-term exposure to the space environment during MISSE-11. The experiment will provide data on the performance of the technology's electrodes, coatings, and electronics. In particular, data on EDS's exposure to full solar ultraviolet radiation during the daily passage of ISS through the precipitation of auroral electrons will be applicable to its use in the Martian environment.
Space Qualification Studies of Quad Photodiode, Focal Plane Array, and Solar Paint, Narasimha Prasad (NASA's Langley Research Center in Virginia) – New devices from Langley for imaging, sensing, and power generation will be assessed for performance in the space environment. Their validation in a long-duration ISS mission will have implications for possible use on missions and applications involving gravitation astrophysics, thermal/infrared imaging, and power generation and environmental sensing.
Risk Reduction for Mars Ice Home Materials, Sheila Thibeault (NASA's Langley Research Center) – Langley researchers have developed polymeric materials for the Mars Ice Home Project, a concept for sustainable habitation on the Red Planet in support of NASA's journey to Mars. Exposure of the candidate materials to the harsh space environment during MISSE-11 and analysis of post-flight results on strength, flexibility, mass erosion yield, and transparency to light in the visible range will help researchers select the materials with the lowest risk and best expected outcome for the project.
Materials Experiment for Long-Duration Exploration (MELDE), Miria Finckenor (NASA's Marshall Space Flight Center in Alabama) – Researchers at Marshall are testing a variety of materials, including ionic liquid epoxies and composites, solar sail materials, passive thermal control coatings, radiation shielding, window materials with atomic oxygen–resistant coatings, and radome/antenna materials. While not previously flown, these materials have been proposed for use on a wide variety of missions—from Orion to CubeSats and many other spacecraft. Testing on the MISSE flight facility will help determine the atomic oxygen erosion yield and optical property changes of the material samples due to the low-Earth orbit environment. This will advance the research from no available data to a technology readiness level (TRL) of 7 and provide investigators with necessary data for design, development, thermal modeling, and survivability.
Selections for MISSE-12 are expected in the coming weeks. The next MISSE call, for MISSE-13, is expected to open in summer 2018. Stay tuned to the Flight Opportunities website and newsletter for details.
The MISSE flight facility hardware and missions are funded by the International Space Station Program Office (ISSPO) and managed by Alpha Space Test & Research Alliance. NASA materials investigations are selected by NASA's Space Technology Mission Directorate (STMD) through the Flight Opportunities program. Managed at NASA's Armstrong Flight Research Center in Edwards, California, Flight Opportunities selects promising technologies from industry, academia, and government and provides opportunities for testing and technology demonstration.
STMD is responsible for developing the cross-cutting, pioneering new technologies and capabilities needed by the agency to achieve its current and future missions. Data from MISSE missions are available online in https://maptis.nasa.gov/
For more information about NASA's Flight Opportunities program as well as future MISSE missions, calls and opportunities, visit: https://www.nasa.gov/flightopportunities
Leslie Williams
NASA Armstrong Flight Research Center