Crew members aboard the International Space Station conducted scientific investigations during the week of March 20 that included monitoring changes to arteries that occur during spaceflight, testing the effect of certain drugs on heart cell function, and analyzing how exposure to space affects a variety of materials.
Here are details on some of the microgravity investigations currently taking place aboard the orbiting lab:
Oh, My Aging Heart
Astronauts can experience accelerated arterial stiffening and thicker artery walls after six months in space, and a daily session of aerobic exercise alone may not be sufficient to counteract these effects. Vascular Aging, an investigation from CSA (Canadian Space Agency) monitors these changes using ultrasounds of the arteries, blood samples, oral glucose tolerance tests, and wearable sensors. Results could help identify and assess risk to astronaut cardiovascular health and point to mechanisms for reducing that risk. For the aging population on Earth, understanding the mechanisms behind arterial stiffness could provide insight to guide prevention and treatment. During the week, crew members conducted a blood pressure monitoring session for the investigation.
More Help for Hearts
Credits: NASA
Research shows that microgravity exposure causes changes in heart cell function and gene expression that could lead to long-term damage. Cardinal Heart 2.0, sponsored by the ISS National Lab, tests whether clinically approved drugs reduce these changes. The investigation uses organoids, 3D structures made up of various types of heart cells that mimic the function of the entire organ. Results could support development of effective drug combinations to improve the health of astronauts and patients on Earth. Crew members removed samples from the GLACIER facility and conducted microscopy for the investigation during the week.
Making Mightier Materials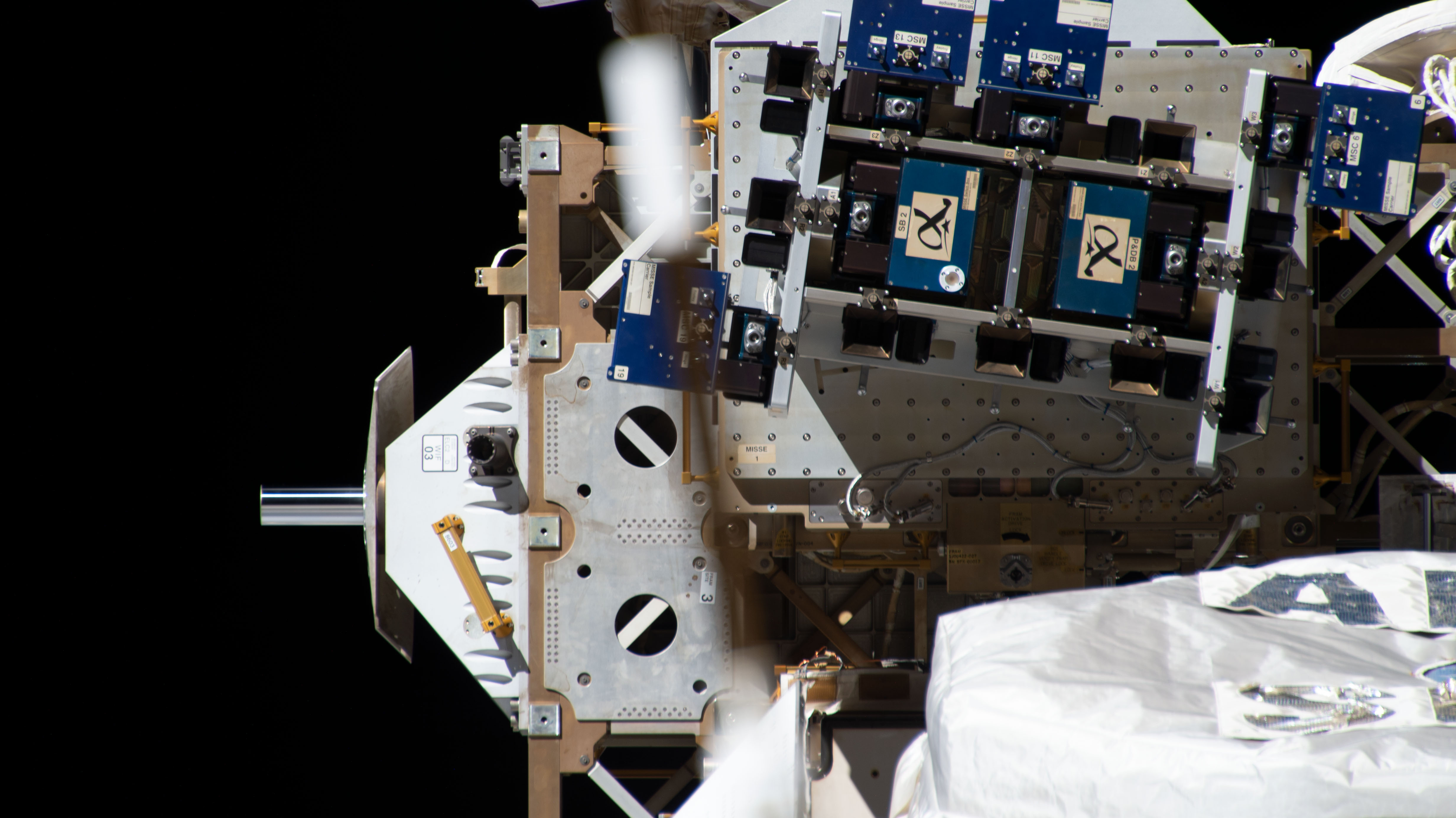 Credits: NASA
The MISSE series of investigations analyzes how exposure to space affects the performance and durability of specific materials and components. MISSE-17-NASA, sponsored by the ISS National Lab, tests a 3D-printed heat shield material, photonic devices, an adhesive, alloys, coatings, and other materials. Results could provide insight that supports faster development of better materials for future spacecraft, spacesuits, structures, and other components needed for space exploration. Materials shown to withstand the harsh environment of space have potential applications on Earth, including contributing to improved radiation protection and solar cells. During the week, crew members installed materials to sample carrier decks for exposure to the space environment.
Other Investigations Involving the Crew: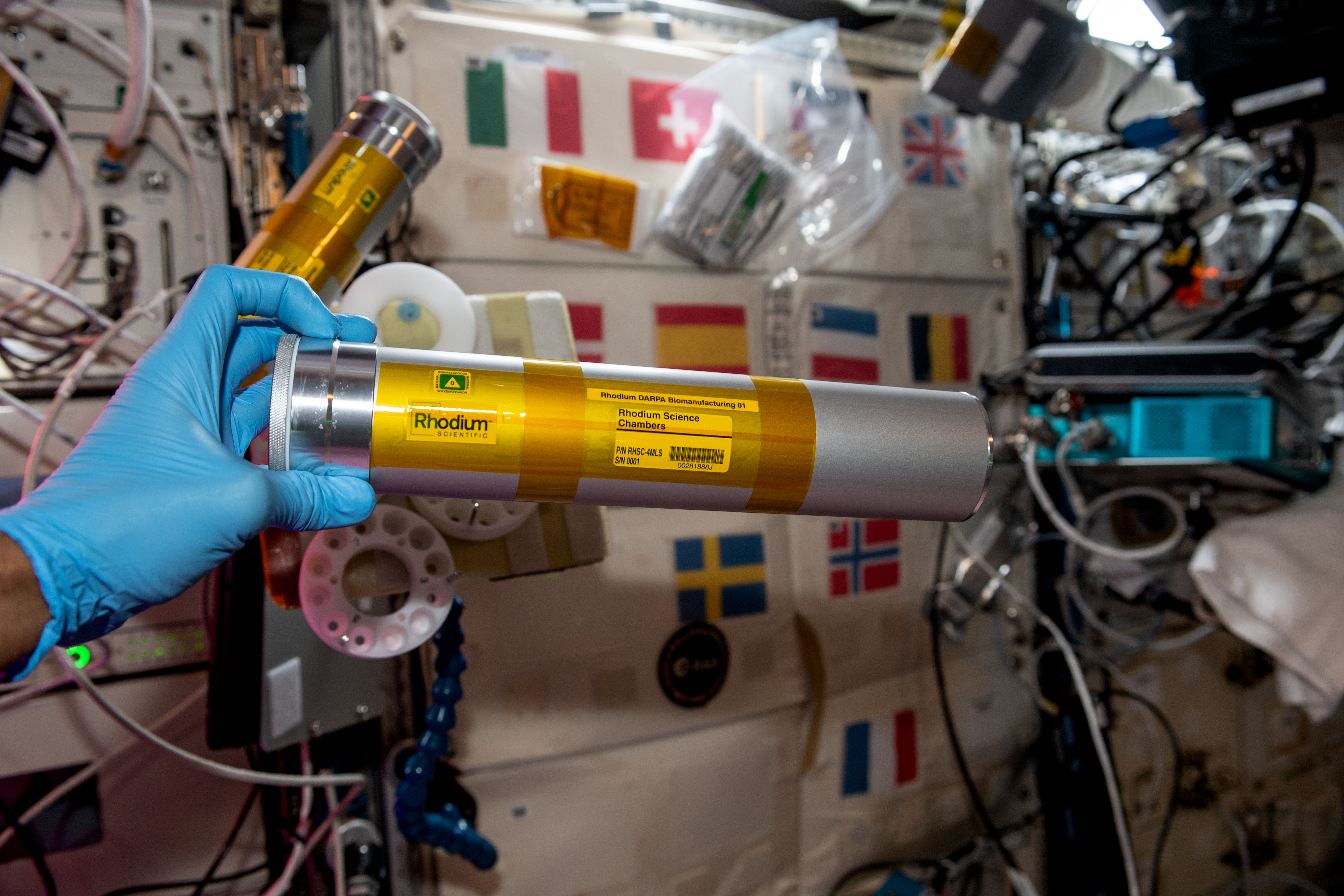 Credits: NASA
Monoclonal Antibodies PCG, sponsored by the ISS National Lab, crystallizes and assesses various therapeutic monoclonal antibodies in space. Microgravity enables production of higher quality crystals that could support less expensive development of drugs that are more stable and easier to administer to patients.
Rhodium DARPA Biomanufacturing 01, sponsored by the ISS National Lab, examines gravity's effect on production of drugs and nutrients from bacteria and yeast. Results could help improve biomanufacturing in space to supply future missions.
Lumina, an investigation from ESA (European Space Agency), demonstrates a dosimeter using optical fibers to monitor in the radiation dose received by crew members in real time. Monitoring radiation exposure is key to crew safety, and this technology has potential applications in the medical and nuclear industries on Earth.
ESA's Dreams demonstrates a wearable headband as an affordable and comfortable technology to monitor astronaut sleep quality. Sleep plays a major role in human health and well-being, and sleep issues can impair performance on missions in space and increase the risk of medical conditions such as cardiovascular diseases on Earth.
Veg-05 uses the station's Veggie facility to grow dwarf tomatoes and examine the effect of light quality and fertilizer on fruit production, microbial food safety, nutritional value, taste acceptability by the crew, and overall behavioral health benefits. Growing plants to provide fresh food and enhance the overall living experience for crew members supports future long-duration missions.
SoFIE-GEL studies how fuel temperature affects material flammability in microgravity. Results could improve understanding of early fire growth behavior, inform selection of fire-resistant spacecraft cabin materials, and help to determine optimal fire suppression techniques on future missions.
ISS Ham Radio provides students, teachers, and others the opportunity to communicate with astronauts using amateur radio units. Before a scheduled call, students learn about the station, radio waves, and other topics, and prepare a list of questions based on the topics they have researched.
John Love, ISS Research Planning Integration Scientist
Expedition 68