Credits: NASA
Crew members aboard the International Space Station conducted scientific investigations during the week of June 26 that included sampling space station air, water, and surfaces for contaminants; preparing to launch small satellites carrying a variety of student projects; and recording astronauts reading science-related children's books.
Here are details on some of the investigations currently taking place aboard the orbiting lab:
Monitoring Air, Water, and Surfaces
ISS Internal Environment samples air, water, and surfaces in the space station to provide a baseline of contaminants onboard. Results could identify the effects of a closed space environment on crew health and support development of systems to help maintain that health on future missions to the Moon and Mars. Increased understanding of the effects of closed environments also has applications for humans living in extreme conditions on Earth, such as submarines or the Arctic. During the week, crew members collected samples for the investigation.
Carrying Canadian CubeSats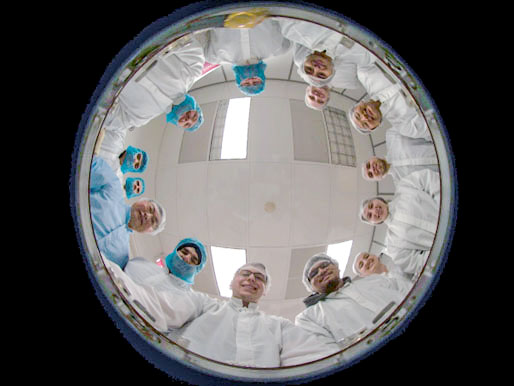 Credits: Nanoracks, LLC
The NRCSD-26 mission, sponsored by ISS National Lab, includes five CubeSats carrying projects designed by students at universities in Canada. In addition to their scientific objectives, these projects provide hands-on experience and promote interest in science, technology, engineering, and mathematics (STEM) studies and careers. During the week, crew members installed hardware to set up for deployment of these satellites:
Nanoracks-RADSAT-SK tests a radiation detection system and radiation protection from a purified form of melanin, a natural pigment found in many organisms.
Nanoracks-SC-ODIN captures data on dust in storms in Argentina and Namibia and monitors radiation received over time inside and outside of the satellite.
Nanoracks-ESSENCE monitors solar storms, arctic ice, permafrost thaw, and forests in the Canadian Arctic region and demonstrates recovery of attitude if one of a satellite's actuators fails.
Nanoracks-Iris observes weathering of geological samples from direct solar and background cosmic radiation and determines whether changes are visually detectable over short time scales.
Nanoracks-Ukpik-1 captures 360-degree images and video of Northern Canada with a virtual reality (VR) camera and facilitates educational outreach and public engagement in Ontario and Nunavut.
Reading with an Astronaut
For Story Time from Space, sponsored by the ISS National Lab, crew members videotape themselves reading children's books and completing simple scientific demonstrations. The videos are available from a library that includes accompanying educational materials. This program inspires interest in STEM and provides a tool for educators to meet curriculum and education standards. Improved literacy and STEM proficiency prepares the next generation for future careers, including those related to space. During the week, crew members took video of themselves reading Ticket to Space and Totality!
Other Investigations Involving the Crew:
Credits: NASA
Students compete to write software that controls one of the space station's Astrobee free-flying robots for Zero Robotics, sponsored by National Laboratory Education. The experience helps inspire young people to study computer science, engineering, and mathematics and pursue related careers.
PK-4, a scientific collaboration between ESA and Roscosmos, studies complex plasma crystals. Understanding how these crystals form in microgravity could lead to new research methods, improved spacecraft designs, and enhanced use of plasmas in industry on Earth.
The JAXA (Japan Aerospace Exploration Agency) Kibo Robot Challenge 4 provides students the opportunity to create software that solves various problems using NASA's Astrobee and JAXA's Internal Ball Camera free-flying robots. The program helps inspire the next generation of scientists, engineers, and leaders.
Plant Habitat-03 examines whether adaptations in one generation of plants grown in space can transfer to the next generation. Identifying adaptations to spaceflight is a first step toward developing plants better suited for contributing to future space missions.
John Love, ISS Research Planning Integration Scientist
Expedition 69