Researchers from the University of Kentucky in Lexington have developed a delivery system designed to carry research samples and other small payloads from astronauts on the International Space Station back to Earth. Such delivery systems could aid NASA's efforts to gather data and test instruments in support of the agency's goal of returning to the Moon.
Returning spacecraft must pass through Earth's atmosphere at hypersonic speeds, generating searing temperatures at upwards of 3,600 degrees Fahrenheit. That is why advanced thermal protection system (TPS) materials are critical to the success of technologies like the Kentucky Reentry Universal Payload System (KRUPS). Such systems could also one day deliver small payloads to Mars or other celestial bodies with harsh atmospheric entry conditions.
On April 15, 2021, researchers tested KRUPS in Madras, Oregon, on a high-altitude balloon from Near Space Corporation, made possible with funding from NASA's Flight Opportunities program. Rigged to Near Space's small balloon system, the 11-inch diameter KRUPS capsule achieved an altitude of approximately 100,000 feet. Researchers are now analyzing data gathered from the flight.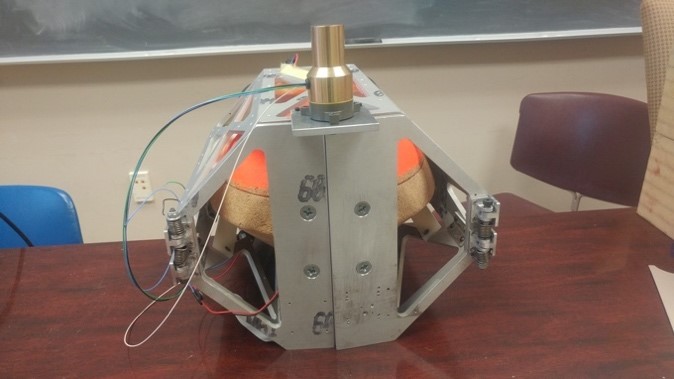 Although the balloon did not expose KRUPS to the temperatures needed to test its thermal protection, it did provide an important preparatory step in advance of an upcoming orbital test of the TPS. Later in 2021, three KRUPS units, along with other research payloads, will travel to the International Space Station aboard Northrop Grumman's Cygnus spacecraft. When the resupply spacecraft leaves the station loaded with trash and waste, it will burn up during reentry into Earth's atmosphere, releasing the test capsules.
Researchers expect the units to survive reentry thanks to their TPS materials developed by NASA's Ames Research Center in California's Silicon Valley and NASA's Johnson Space Center in Houston in collaboration with Oak Ridge National Laboratory. The KRUPS units will splash down in the Pacific Ocean and will not be recovered; however, researchers will use data sent via satellite from the units during reentry and descent to validate algorithms that increase the robustness of TPS designs. On other future missions, the compact KRUPS units could hold instruments, such as spectrometers or other small sensors.
The recent balloon flight allowed researchers to test the technology's electronics and communications systems to validate their performance and help ensure the success of the upcoming reentry test.
"This is why the balloon flight made possible by Flight Opportunities was even more critical to prepare KRUPS for the testing on the station resupply flight," said Alexandre Martin, principal investigator for KRUPS at the University of Kentucky. "Testing our communication systems will ensure we get the TPS data we need on a much higher risk orbital mission."
About Flight Opportunities
The Flight Opportunities program is funded by NASA's Space Technology Mission Directorate (STMD) at the agency's Headquarters in Washington, and managed at NASA's Armstrong Flight Research Center in Edwards, California. NASA's Ames Research Center in California's Silicon Valley manages the solicitation and evaluation of technologies to be tested and demonstrated on commercial flight vehicles.