Forty-five years ago, the Voyager 1 spacecraft began an epic journey that continues to this day. The second of a pair of spacecraft, Voyager 1 lifted off on Sept. 5, 1977, 16 days after its twin left on a similar voyage. NASA's Jet Propulsion Laboratory (JPL) in Pasadena, California, managed the two spacecraft on their missions to explore the outer planets. Taking advantage of a rare planetary alignment to use the gravity of one planet to redirect the spacecraft to the next, the Voyagers planned to use Jupiter's gravity to send them on to explore Saturn and its large moon Titan. They carried sophisticated instruments to conduct their in-depth explorations of the giant planets. Both spacecraft continue to return data as they make their way out of our solar system and enter interstellar space.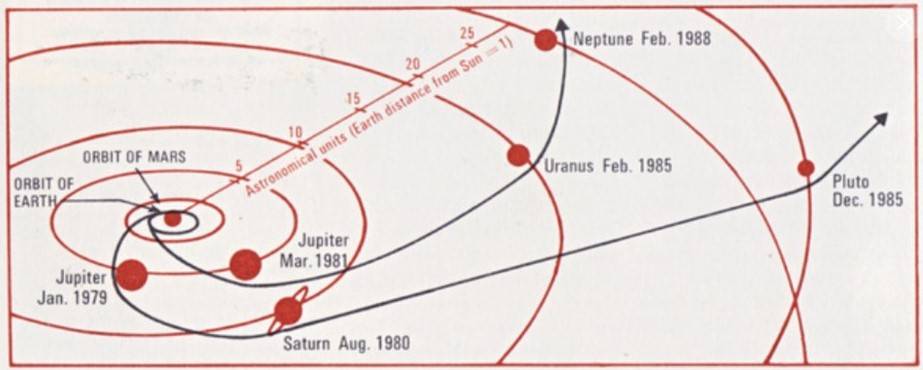 Proposed trajectories for the Thermoelectric Outer Planet Spacecraft Grand Tour, canceled in 1971.
In the 1960s, mission designers at JPL noted that the next occurrence of a once-every-175-year alignment of the outer planets would happen in the late 1970s. A spacecraft could take advantage of this opportunity to fly by Jupiter and use its gravity to bend its trajectory to visit Saturn, and repeat the process to also visit Uranus, Neptune, and Pluto. Launching several missions to visit each planet individually would take much longer and cost much more. The original plan to send two pairs of Thermoelectric Outer Planet Spacecraft on these Grand Tours proved too costly leading to its cancellation in 1971. The next year, NASA approved a scaled-down version of the project to send a pair of Mariner-class spacecraft in 1977 to explore just Jupiter and Saturn, with an expected five-year operational life. On March 7, 1977, NASA Administrator James C. Fletcher announced the renaming of these Mariner Jupiter/Saturn 1977 spacecraft as Voyager 1 and 2. Scientists held out hope that one of them could ultimately visit Uranus and Neptune, thereby fulfilling most of the original Grand Tour's objectives – Pluto would have to wait several decades for its first visit.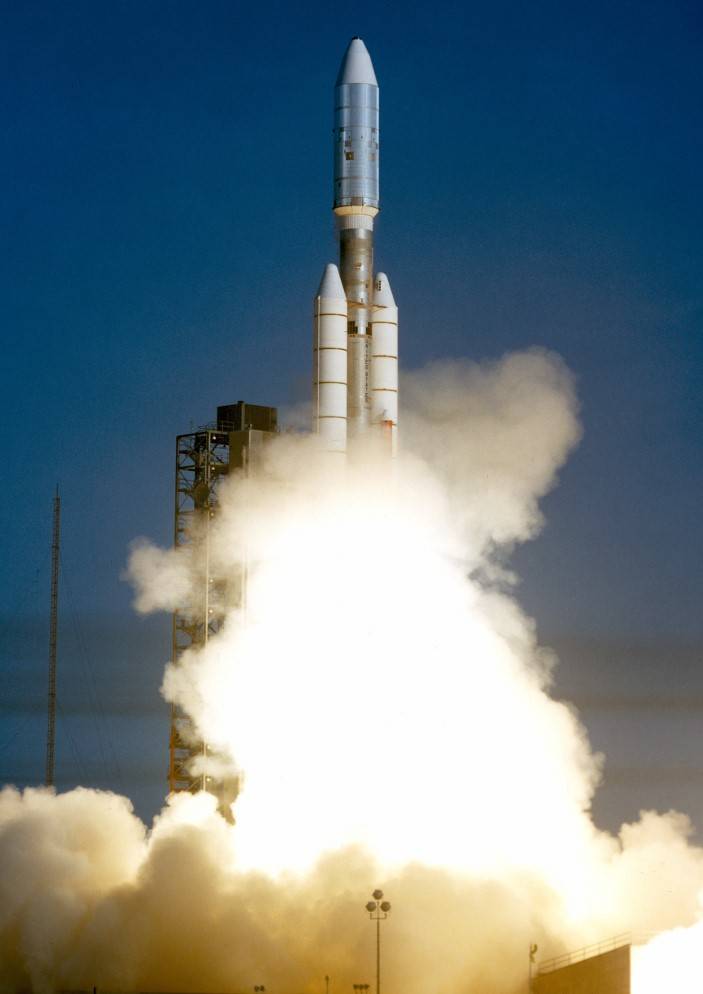 Left: Illustration from 1975 of the Mariner Jupiter/Saturn 1977 mission.
Middle: Model of the Voyager spacecraft. Right: Launch of Voyager 1.
Each Voyager carried a suite of 11 instruments to study the planets during each encounter and to learn more about interplanetary space in the outer reaches of the solar system, including:
An imaging science system consisting of narrow-angle and wide-angle cameras to photograph the planet and its satellites.
A radio science system to determine the planet's physical properties.
An infrared interferometer spectrometer to investigate local and global energy balance and atmospheric composition.
An ultraviolet spectrometer to measure atmospheric properties.
A magnetometer to analyze the planet's magnetic field and interaction with the solar wind.
A plasma spectrometer to investigate microscopic properties of plasma ions.
A low-energy charged particle device to measure fluxes and distributions of ions.
A cosmic ray detection system to determine the origin and behavior of cosmic radiation.
A planetary radio astronomy investigation to study radio emissions from Jupiter.
A photopolarimeter to measure the planet's surface composition.
A plasma wave system to study the planet's magnetosphere.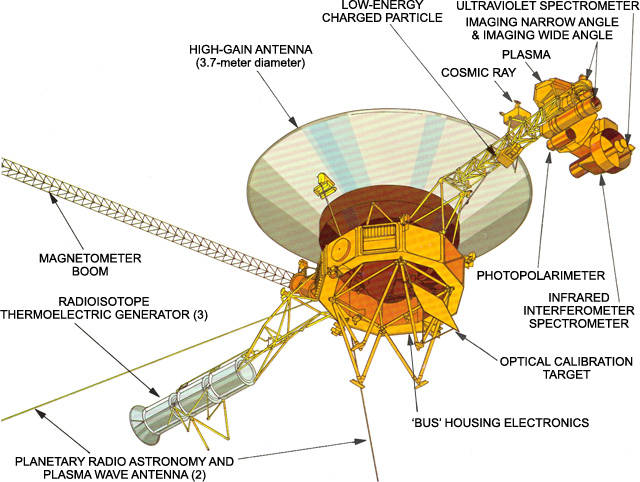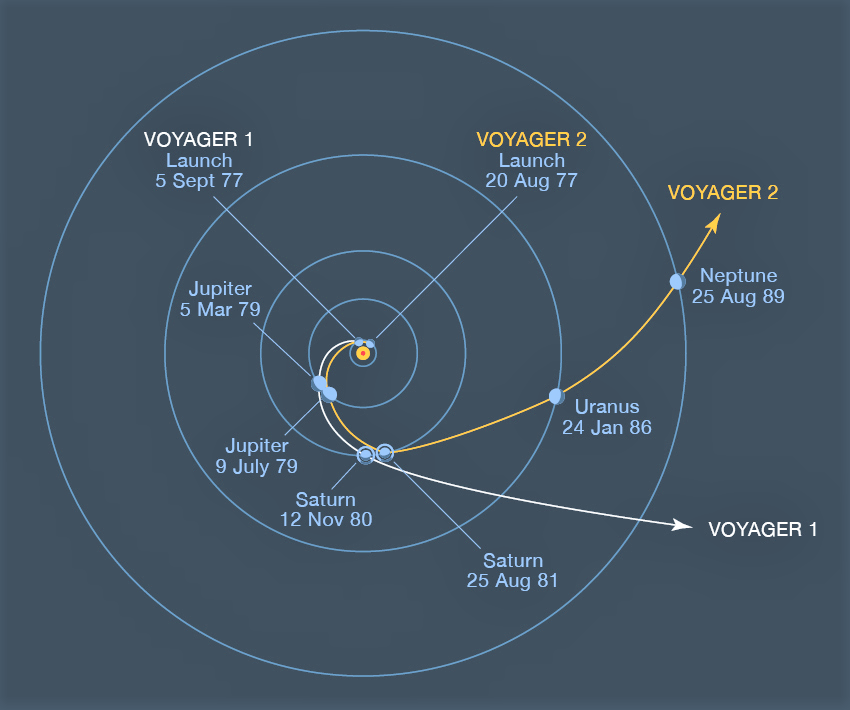 Left: Schematic of the Voyager spacecraft, illustrating the science experiments.
Right: Trajectories of the Voyagers through the solar system.
Voyager 1 lifted off on Sept. 5, 1977, atop a Titan IIIE-Centaur rocket from Launch Complex 41 at Cape Canaveral Air Force Station, now Cape Canaveral Space Force Station, in Florida. Two weeks after its launch, from a distance of 7.25 million miles, Voyager 1 turned its camera back toward its home planet and took the first single-frame image of the Earth-Moon system. The spacecraft successfully crossed the asteroid belt between Dec. 10, 1977, and Sept. 8, 1978.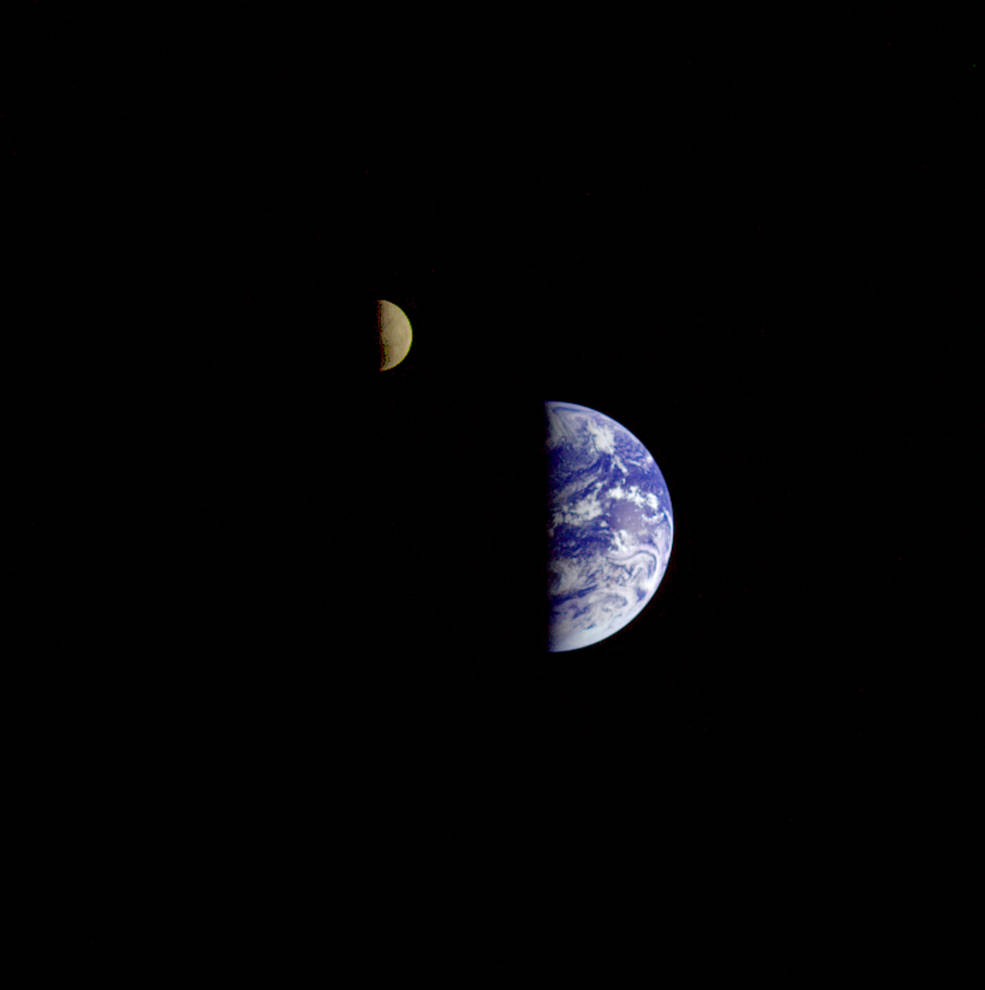 Left: Voyager 1 image of the Earth-Moon system. Middle: Voyager 1 image of Jupiter and
its Great Red Spot. Right: Voyager 1 image of Jupiter's thin rings, backlit by the Sun.
Although Voyager 1 launched two weeks after its twin, it traveled on a faster trajectory and arrived at Jupiter four months earlier. Voyager 1 conducted its observations of Jupiter between Jan. 6 and April 13, 1979, making its closest approach of 216,837 miles from the planet's center on March 5. The spacecraft returned 19,000 images of the giant planet, many of Jupiter's satellites, and confirmed the presence of a thin ring encircling it. Its other instruments returned information about Jupiter's atmosphere and magnetic field. Jupiter's massive gravity field bent the spacecraft's trajectory and accelerated it toward Saturn.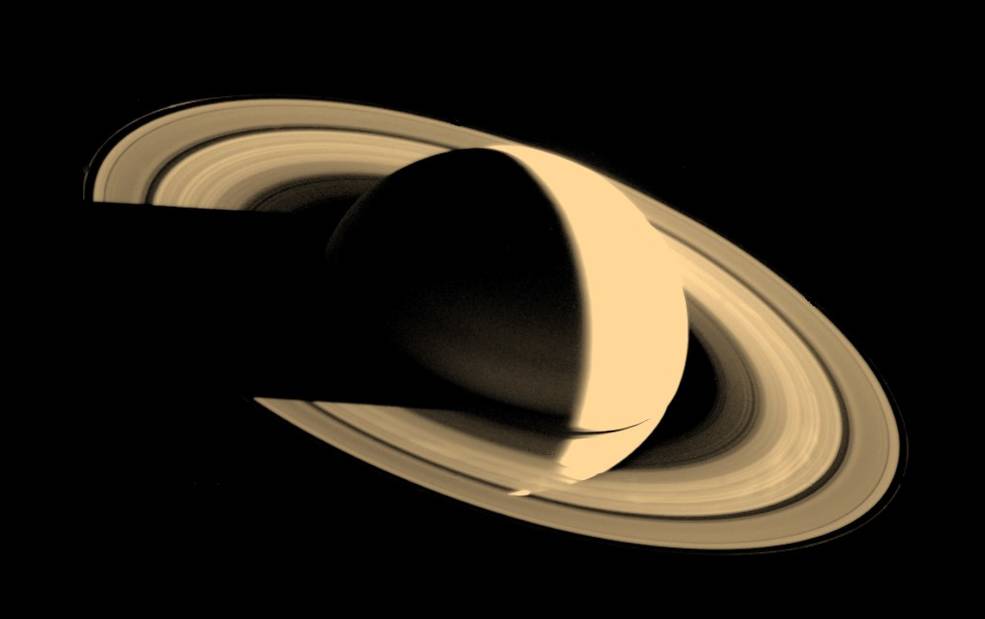 Left: Voyager 1 image of Saturn, partially backlit by the Sun. Right: Voyager 1
image of Saturn's largest moon Titan, with evidence of a blue atmospheric haze layer.
Voyager 1 began its long-range observations of Saturn on Aug. 22, 1980, passed within 114,500 miles of the planet's center on Nov. 12, and concluded its studies on Dec. 14. Because of its interest to scientists, mission planners chose the spacecraft's trajectory to make a close flyby of Saturn's largest moon Titan – the only planetary satellite with a dense atmosphere – just before the closest approach to the planet itself. This trajectory, passing over Saturn's south pole and bending north over the plane of the ecliptic, precluded Voyager 1 from making any additional planetary encounters. The spacecraft flew 4,033 miles from Titan's center, returning images of its unbroken orange atmosphere and high-altitude blue haze layer. During the encounter, Voyager 1 returned 16,000 photographs, imaging Saturn, its rings, many of its known satellites and discovering several new ones, while its instruments returned data about Saturn's atmosphere and magnetic field.


Voyager 1's family portrait of six planets taken 3.7 billion miles from Earth.
On Feb. 14, 1990, more than 12 years after it began its journey from Earth and shortly before controllers permanently turned off its cameras to conserve power, Voyager 1 spun around and pointed them back into the solar system. In a mosaic of 60 images, it captured a "family portrait" of six of the solar system's planets, including a pale blue dot called Earth more than 3.7 billion miles away. Fittingly, these were the last pictures returned from either Voyager spacecraft. On Feb. 17, 1998, Voyager 1 became the most distant human-made object, overtaking the Pioneer 10 spacecraft on their way out of the solar system. In February 2020, to commemorate the photograph's 30th anniversary, NASA released a remastered version of the image of Earth as Pale Blue Dot Revisited.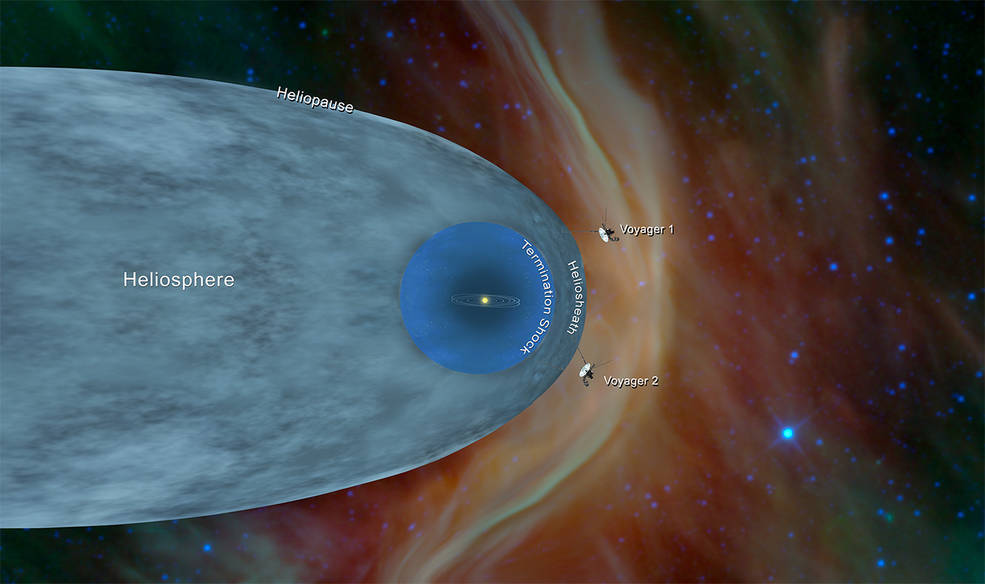 Left: Remastered Voyager 1 photograph of Earth, Pale Blue Dot Revisited, taken
from 3.7 billion miles away, released in February 2020. Earth is the tiny point of
light near the image's center. Right: An illustration showing the position of the
Voyager 1 and 2 spacecraft outside of the heliosphere, a protective bubble
created by the sun that extends well past the orbit of Neptune.
On New Year's Day 1990, both spacecraft officially began the Voyager Interstellar Mission as they inexorably made their escape from our solar system. On Aug. 25, 2012, Voyager 1 passed beyond the heliopause, the boundary between the heliosphere, the bubble-like region of space created by the Sun, and the interstellar medium. Its twin followed suit six years later. Today, 45 years after its launch and 14.6 billion miles from Earth, four of Voyager 1's 11 instruments continue to return useful data, having now spent 10 years in interstellar space. Signals from the spacecraft take nearly 22 hours to reach Earth, and 22 hours for Earth-based signals to reach the spacecraft. Engineers expect that the spacecraft will continue to return data from interstellar space until about 2025 when it will no longer be able to power its systems. And just in case an alien intelligence finds it one day, Voyager 1 like its twin carries a gold-plated record that contains information about its home planet, including recordings of terrestrial sounds, music, and greetings in 55 languages. Engineers at NASA thoughtfully included Instructions on how to play the record.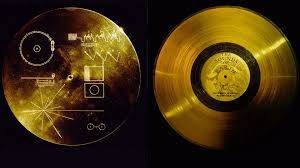 The gold disc carried by each Voyager.
The voyage continues…