The Marshall Star for June 14, 2023.
In This Week's Star
Retired Astronaut Cady Coleman Shares In-Space Experiences, Tours Marshall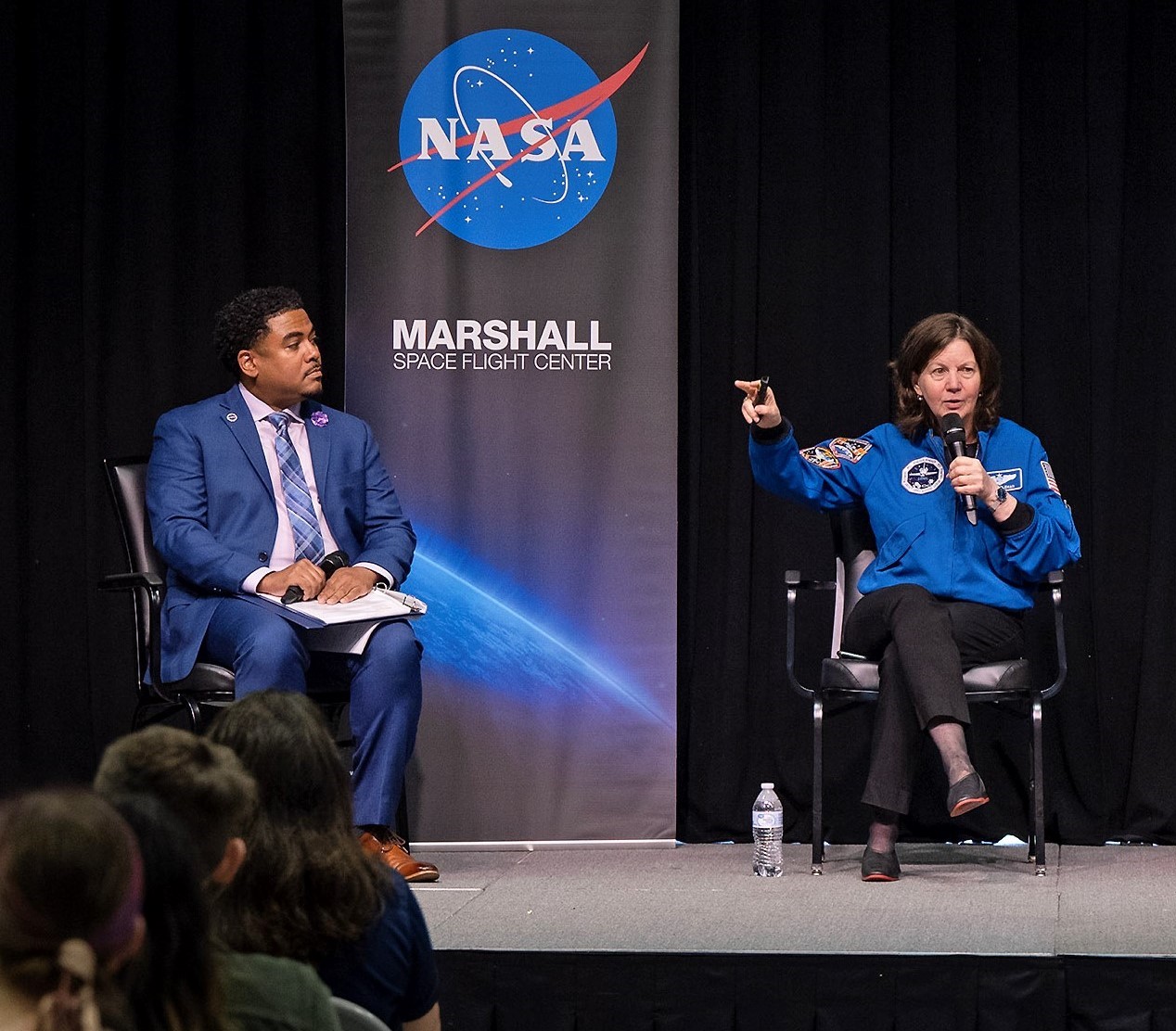 Moderator Lance D. Davis, left, listens asretired NASA astronaut Dr. Cady Coleman, right, speaks to audience members at NASA's Marshall Space Flight Center about her experiences of living and working in space during a panel discussion on June 8 at Activities Building 4316. She joined guest speakers to discuss aspects of social isolation and separation astronauts may experience during long-duration missions to the Moon, Mars, and beyond. Coleman spent more than 180 days in space during two space shuttle missions and a six-month expedition to the International Space Station (ISS) from 1995 to 2011. Coleman concluded her two-day visit with a facility tour of Marshall on June 9 featuring overviews of the ISS Payload Operations Control Center, the SLS (Space Launch System) rocket, and Human Landing Systems program. (NASA/Charles Beason)
Cady Coleman, retired NASA astronaut, test drives a lunar rover on Marshall's Lunar Regolith Terrain Field during an overview of how the center is developing capabilities for mapping, navigation, mobility on the surface of the Moon. (NASA/Christopher Blair)
I Am Artemis: Kristin Morgan
Art history, a travel agent's advice, and inspiration from a tragedy were all part of NASA engineer Kristin Morgan's journey to her role today of helping supply rocket engines for NASA's powerful SLS (Space Launch System) rocket. The super heavy lift rocket – along with the Orion spacecraft, human landing systems, and the Gateway in orbit around the Moon – is part of the backbone of the agency's Artemis deep space exploration program. Morgan is the Contracting Officer's Representative in the SLS Liquid Engines Office at NASA's Marshall Space Flight Center. Since 2019, Morgan has managed contracts for the RS-25 and RL10 liquid-fueled engines. SLS is powered by a core stage with four RS-25 engines, as well as two solid-propellant boosters and an in-space stage powered by an RL10 engine, and will launch Orion, its crew, and large cargo into Earth orbit and on to the Moon.
Morgan started college as an art history major at the University of Florida in Gainesville. Despite her love of literature, art, and music, she began loading up on math courses and decided that engineering might provide more of the kinds of opportunities she wanted. Her mother, a travel agent, recommended materials engineering based on her business contacts. Morgan went on to earn both her bachelor's and master's degrees in materials science engineering.
Her first job after college was in durability, damage tolerance, and fleet maintenance supporting the F-16 fighter jet program at Lockheed Aeronautics in Fort Worth, Texas. Then the Space Shuttle Columbia accident happened, which drew her to the recovery effort.
She moved from the company's Texas operation to its shuttle external tank operation at NASA's Michoud Assembly Facility in New Orleans. There, she investigated the external tank foam insulation as part of the work to return the shuttle to flight. Later, she found a laboratory job at Marshall, testing materials for various projects, including the RS-25 engine that once powered the space shuttle and now is the main engine for SLS flights to deep space.
Seeking experience beyond her lab work, Morgan transferred to a Marshall group looking at the center's strengths and where it should focus for the future. One of her projects was an early study of additive manufacturing and its possibilities for rocket engine development.
Having seen Marshall's work from the lab and center-level, she wondered how those areas applied to a spaceflight project.
"How do these big projects get done?" she recalled thinking before joining the SLS Liquid Engines Office. "It's challenging in that there's lots of people, lots of stakeholders, lots of interests. Balancing them all is a challenge, and I like it."
She found the answer to her question as the Contracting Officer's Representative for the SLS Liquid Engine Office, managing contracts for flight engines incorporating the additive manufacturing technology she helped nurture.
Currently, 24 new RS-25 engines are in production for missions beginning with Artemis V, employing additive manufacturing and other updated technologies and materials to make the engine 30% more affordable than the ones modified for use on earlier Artemis missions.
"I think I'm on the right path," Morgan said. "I never know where that path is going to lead. To me this has been a natural progression. People throw around the word 'passion,' but I love working with NASA and the Space Launch System Program."
NASA Marshall, FBI to host Juneteenth Festival
NASA's Marshall Space Flight Center and the FBI have partnered to host Marshall's second annual Juneteenth festival on June 16 at 11 a.m. in Activities Building 4316. The event is in celebration of the federal holiday observed on June 19, which marks the end of slavery in the United States and commemorates African American freedom.
FBI Associate Deputy Director Brian Turner, who joined the bureau in 2002 and has supported anti-crime and counter-terrorism efforts in Iraq, Europe, and across the United States, will provide the keynote address. The event will also include games, a dance performance by Lecoledance Company, and a line dance tutorial.
Exhibitors will share information on health and disease prevention and will display goods and apparel, celebrating Juneteenth and the shared American experience. Additionally, a number of local food trucks will be in the 4316 parking lot.
The festival is jointly organized by Marshall's Office of Diversity and Equal Opportunity, Black Employees and Allies at Marshall, or BEAM, and FBI African American Millennials, or FAAM.
Marshall Team Members Named Finalists for Top Federal Award
A pair of team members from NASA's Marshall Space Flight Center are among the finalists for this year's Samuel J. Heyman Service to America Medals, also known as the Sammies, honoring outstanding federal employees who are addressing many of our country's greatest challenges.
Selected from more than 350 nominations, Brian Key, Scott Bellamy, and NASA's DART (Double Asteroid Redirection Test) team, are finalists for the Science, Technology and Environment award.
Named for the Partnership for Public Service's late founder, Samuel J. Heyman, an American businessman and philanthropist, these awards recognize federal employees who "break down barriers, overcoming huge challenges, and get results." Ralph Roe, retired NASA chief engineer, is a finalist for the Career Achievement award.
"The DART team led by Brian Key and Scott Bellamy, and Ralph Roe are some of the very best of NASA, and we are beyond excited to see them recognized for their contributions and leadership," said NASA Administrator Bill Nelson. "These individuals have shaped the course of human space exploration, inspiring everyday Americans through innovation. They are very deserving of this honor through the Sammie award."
Science, Technology and Environment Award
NASA's DART team are finalists for the Science, Technology and Environment Award. Managed by Key and Bellamy, the team directed a mission that, for the first time in human history, deflected an asteroid as a test for planetary defense.
NASA's DART spacecraft launched in November 2021 and successfully impacted its target asteroid, Dimorphos, on Sept. 26, 2022. While Dimorphos posed no hazard to Earth, DART's successful collision with the asteroid demonstrated one method of asteroid deflection, known as kinetic impactor technology.
Following the collision with the asteroid, the team continued to obtain and analyze data from ground-based telescopes and radar facilities around the world to understand the efficiency of momentum transfer from DART's roughly 14,000 mph collision with its target. These data, in tandem with the images returned by various spacecraft and telescopes, are helping scientists understand the nature of the surface of Dimorphos, how much material was ejected by the collision, and how fast it was ejected – all factors that can help us determine how effectively this technique can modify an asteroid's orbit.
Most recently, the DART team has received several top awards, including the National Space Club and Foundation Aerospace Award and the Space Foundation Achievement Award.
Center Leaders Meet with Team Members During Meals with Mentors Event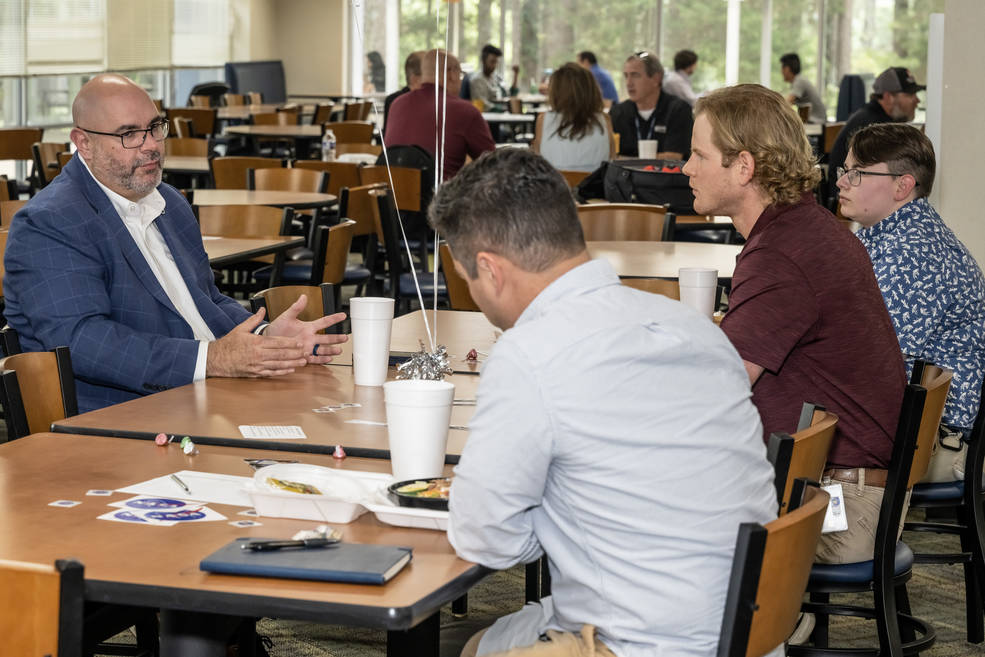 NASA's Marshall Space Flight Center Deputy Director Joseph Pelfrey talks with team members during the first Meals with Mentors lunch at the cafeteria in Building 4203 on June 6. Marshall's Mentoring Program Office will be hosting monthly Meals with Mentors events, where team members will have the opportunity to have lunch and chat with different leaders from around the center. The next event is planned for July 13 during the regular lunch period, 11 a.m. – 1 p.m. (NASA/Mick Speer)
NASA Crews Spray Foam Insulation on Artemis III Rocket Hardware
Teams at NASA's Marshall Space Flight Center have completed applying a spray-on foam insulation to the launch vehicle stage adapter (LVSA) for the Artemis III mission. The LVSA is a cone-shaped piece of hardware that connects the SLS (Space Launch System) rocket's upper and lower stages and partially encloses the engine of the interim cryogenic propulsion stage. The spray-on foam insulation is a type of thermal protection system that is used to protect the Moon rocket's hardware from the extreme temperatures, forces, and sounds it'll experience during launch and ascent. Unlike other parts of the mega rocket, the thermal protection system for the LVSA is applied entirely by hand using a tool similar to a spray gun. It is the largest piece of SLS hardware to be hand sprayed. Teams started applying the thermal protection system in March. The LVSA in this video will be used for Artemis III, the mission that will land the first woman and first person of color on the lunar surface. The LVSA is fully manufactured at Marshall by NASA, lead contractor Teledyne Brown Engineering, and the Jacobs Space Exploration Group's ESSCA contract. (NASA)
Webb Proves Galaxies Transformed the Early Universe
In the early universe, the gas between stars and galaxies was opaque – energetic starlight could not penetrate it. But 1 billion years after the big bang, the gas had become completely transparent. Why? New data from NASA's James Webb Space Telescope has pinpointed the reason: The galaxies' stars emitted enough light to heat and ionize the gas around them, clearing our collective view over hundreds of millions of years.
The results, from a research team led by Simon Lilly of ETH Zürich in Switzerland, are the newest insights about a time period known as the Era of Reionization, when the universe underwent dramatic changes. After the big bang, gas in the universe was incredibly hot and dense. Over hundreds of millions of years, the gas cooled. Then, the universe hit "repeat." The gas again became hot and ionized – likely due to the formation of early stars in galaxies, and over millions of years, became transparent.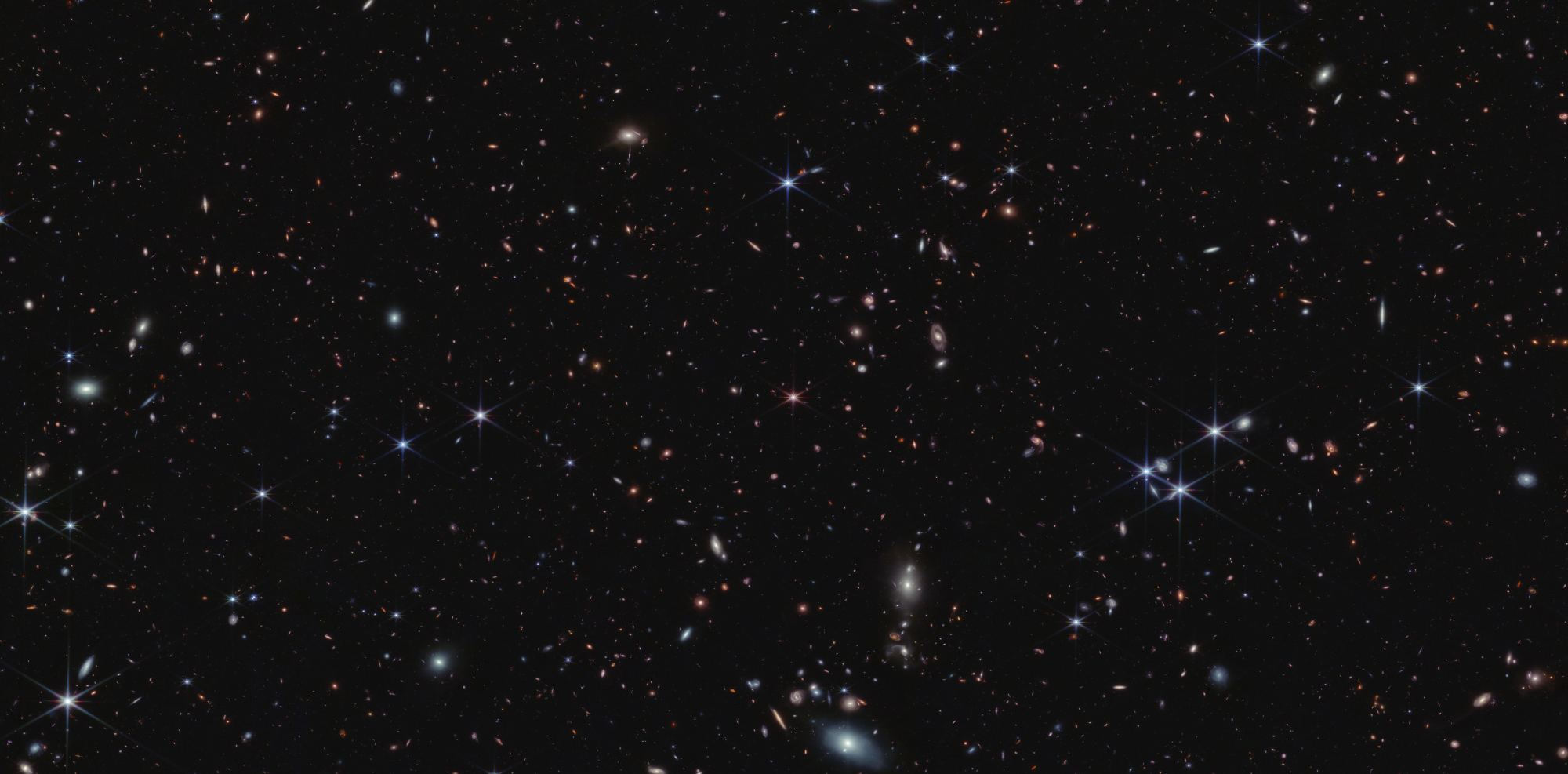 Researchers have long sought definitive evidence to explain these transformations. The new results effectively pull back the curtain at the end of this reionization period. "Not only does Webb clearly show that these transparent regions are found around galaxies, we've also measured how large they are," explained Daichi Kashino of Nagoya University in Japan, the lead author of the team's first paper. "With Webb's data, we are seeing galaxies reionize the gas around them."
These regions of transparent gas are gigantic compared to the galaxies – imagine a hot air balloon with a pea suspended inside. Webb's data shows that these relatively tiny galaxies drove reionization, clearing massive regions of space around them. Over the next hundred million years, these transparent "bubbles" continued to grow larger and larger, eventually merging and causing the entire universe to become transparent.
Lilly's team intentionally targeted a time just before the end of the Era of Reionization, when the universe was not quite clear and not quite opaque – it contained a patchwork of gas in various states. Scientists aimed Webb in the direction of a quasar – an extremely luminous active supermassive black hole that acts like an enormous flashlight – highlighting the gas between the quasar and our telescopes. (Find it at the center of this view: It is tiny and pink with six prominent diffraction spikes.)
As the quasar's light traveled toward us through different patches of gas, it was either absorbed by gas that was opaque or moved freely through transparent gas. The team's groundbreaking results were only possible by pairing Webb's data with observations of the central quasar from the W. M. Keck Observatory in Hawaii, and the European Southern Observatory's Very Large Telescope and the Magellan Telescope at Las Campanas Observatory, both in Chile. "By illuminating gas along our line of sight, the quasar gives us extensive information about the composition and state of the gas," explained Anna-Christina Eilers of MIT in Cambridge, Massachusetts, the lead author of another team paper.
The researchers then used Webb to identify galaxies near this line of sight and showed that the galaxies are generally surrounded by transparent regions about 2 million light-years in radius. In other words, Webb witnessed galaxies in the process of clearing the space around them at the end of the Era of Reionization. To put this in perspective, the area these galaxies have cleared is approximately the same distance as the space between our Milky Way galaxy and our nearest neighbor, Andromeda.
Until now, researchers didn't have this definitive evidence of what caused reionization – before Webb, they weren't certain precisely what was responsible.
What do these galaxies look like? "They are more chaotic than those in the nearby universe," explained Jorryt Matthee, also of ETH Zürich and the lead author of the team's second paper. "Webb shows they were actively forming stars and must have been shooting off many supernovae. They had quite an adventurous youth!"
Along the way, Eilers used Webb's data to confirm that the black hole in the quasar at the center of this field is the most massive currently known in the early universe, weighing 10 billion times the mass of the Sun. "We still can't explain how quasars were able to grow so large so early in the history of the universe," she shared. "That's another puzzle to solve!" The exquisite images from Webb also revealed no evidence that the light from the quasar had been gravitationally lensed, ensuring that the mass measurements are definitive.
The team will soon dive into research about galaxies in five additional fields, each anchored by a central quasar. Webb's results from the first field were so overwhelmingly clear that they couldn't wait to share them. "We expected to identify a few dozen galaxies that existed during the Era of Reionization – but were easily able to pick out 117," Kashino explained. "Webb has exceeded our expectations."
Lilly's research team, the Emission-line galaxies and Intergalactic Gas in the Epoch of Reionization (EIGER), have demonstrated the unique power of combining conventional images from Webb's NIRCam (Near-Infrared Camera) with data from the same instrument's wide-field slitless spectroscopy mode, which gives a spectrum of every object in the images – turning Webb into what the team calls a "spectacular spectroscopic redshift machine."
The James Webb Space Telescope is the world's premier space science observatory. Webb will solve mysteries in our solar system, look beyond to distant worlds around other stars, and probe the mysterious structures and origins of our universe and our place in it. Webb is an international program led by NASA with its partners, ESA (European Space Agency) and the Canadian Space Agency.
Stennis Conducts 10th RS-25 Engine Certification Test
NASA conducted the 10th certification test of an RS-25 engine June 8, continuing a critical hot fire series to facilitate production of new engines for future SLS (Space Launch System) missions to deep space. Operators on the Fred Haise Test Stand at NASA's Stennis Space Center fired the RS-25 certification engine for more than eight minutes (500 seconds), the same amount of time the four RS-25 engines must fire to help launch the SLS rocket for the Artemis missions to the Moon in preparation for future journeys to Mars. The engine also fired as high as 113% power during the test, exceeding the 111% power level needed during launch and providing a margin of operational performance safety. There are two additional tests in this summer test series to certify production of new RS-25 engines by lead contractor Aerojet Rocketdyne. The 11th test of the 12-part series is scheduled to occur June 15 between 1-3 p.m. CDT and will be broadcast live on NASA Stennis Facebook and YouTube. (NASA)
Psyche Mission Progress Featured on 'This Week at NASA'
An independently appointed review board determined that actions taken by NASA, the agency's Jet Propulsion Laboratory, and Caltech to put the Psyche mission on track for an October 2023 launch have been outstanding. The mission is featured in "This Week @ NASA," a weekly video program broadcast on NASA-TV and posted online.
The Psyche spacecraft will travel to and study a metal-rich asteroid of the same name. The board was convened last summer after the mission team requested to delay the spacecraft's August 2022 launch.
Psyche is part of the Discovery Program, which is managed by Planetary Missions Program Office at NASA's Marshall Space Flight Center.
View this and previous episodes at "This Week @NASA" on NASA's YouTube page.