Team members from Kennedy Space Center's Environmental Management Branch are ensuring the spaceport's shores remain stable by using mangroves to help create living shorelines.
By Jason Costa
NASA's John F. Kennedy Space Center
With its 140,000 acres located along the Atlantic coastline and within the Indian River Lagoon estuary, NASA's Kennedy Space Center has long taken measures to ensure its shorelines remain resilient. The most recent effort includes rescuing some of the greatest allies against erosion: mangroves.
"Mangroves have a root structure that stabilizes the shoreline – nature's original infrastructure for shoreline protection," said Jeffrey Collins, environmental protection specialist in the spaceport's Environmental Management Branch. "They also provide structure for nesting and roosting birds, habitat and nursery areas for aquatic species, and benefits to lagoon water quality."
The mangrove seedlings got their start following Hurricanes Ian and Nicole in 2022. While tropical force winds and rising waters battered the shoreline, they also deposited a great deal of red and black mangrove seeds in an area undergoing restoration along the western shoreline of the Banana River Lagoon. Even though the storms damaged the nearly finished project, the seeds found hospitable conditions for taking root.
This spring, workers in the area replaced sand and finished an offshore wave break. The project is designed as a living shoreline. Unlike hardened, fixed-height seawalls that are prone to failure from higher waves, living shorelines help reduce erosion and improve water quality while also providing a habitat for fish and wildlife. They also provide conditions for shore-stabilizing flora like mangroves to flourish, allowing areas to adapt naturally to rising sea levels.
Before completing the living shoreline project, workers are first removing over 100 healthy mangrove seedlings. The seedlings will be repotted and held in nearby surface water protected from wind, waves, and ongoing maintenance activities until they can be replanted along the shoreline later.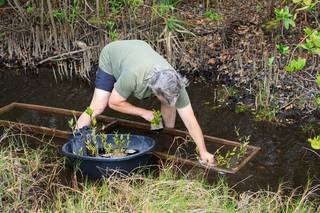 "It's an odd concept thinking mangroves need to be 'rescued' because they do really well in harsh environments," said Collins. "While the project already includes some planting for stabilization, these additional mangroves will provide a jump-start toward a fully protected shoreline with ecological benefits."
When mature, a strip of mangroves about six feet thick can reduce a wave's impact on the shoreline by up to 90% than if the shoreline had little or no vegetation. By incorporating mangroves, seagrass, and oysters into the living shoreline, Kennedy hopes to help prevent erosion and create a stabilized, high-value tidal habitat for spawning, nesting, and feeding by horseshoe crabs, aquatic turtles, and shorebirds.
"These projects are critical to protecting Kennedy's coastline and infrastructure," Collins said. "Sea level is rising – approximately a half foot over the past 20 years – resulting in shoreline loss during fall high-water events, regardless of hurricane activity. In fact, a recently completed study indicates approximately 88% of Kennedy's shoreline is in retreat."
Shoreline resiliency is a focus for the spaceport, and living shoreline projects are included in the Indian River Lagoon Health Initiative Plan, which Kennedy environmental experts developed in coordination with Merritt Island National Wildlife Refuge, Canaveral National Seashore, and Cape Canaveral Space Force Station.
The recent mangrove rescue also has benefits beyond the shoreline. Jeanne Ryba of Kennedy's Environmental Management Branch coordinated the mangrove rescue as part of a series of team-building activities for spaceport employees who asked what they could do to help the lagoon. She planned several hands-on activities and hopes to strengthen teams at Kennedy and benefit the lagoon at the same time.
"The team-building activity is part of our outreach to help create a culture of sustainability, which is one of the government's goals for the federal workforce," said Ryba. "Sustainability and environmental stewardship are center priorities and NASA values, so it's great to provide team-building opportunities that also support the environment."