Read this feature in Spanish here.
University of Puerto Rico-Río Piedras
In space, water is precious. Recycling water efficiently is vital for astronauts aboard the International Space Station and those who will one day travel to the Moon and Mars.
For years, the space station has recycled urine to reduce space launches' need to replenish water supplies. While recycling has been successful, a team of University of Puerto Rico-Río Piedras researchers are working on making a more efficient process and gaining more usable water at a lower cost. The work is a collaboration with NASA by doctoral students Liz Santiago-Martoral and Alondra Rodriguez-Rolon, with the mentorship of professor Eduardo Nicolau.
Their research involves lyotropic liquid crystals used in cosmetic gels to retain moisture, and the urease enzyme, found in algae and plants. A mixture of soap and water is an example of what lyotropic liquid crystals do (lyo- "dissolve" and tropic – "change").
The method uses a membrane, a barrier that allows some substance in while blocking others, coated with lyotropic liquid crystal gel that serves as the host for the urease enzyme to break down the urea.
A salt solution on the membrane's other side creates a change in pressure, pulling urine through the membrane. As the urine goes through the membrane, the urease enzyme breaks it into its components – water, ammonia, and carbon dioxide.
"The good thing is that we were not only planning to obtain clean water, but we also want to use those byproducts for energy storage and energy production," said Santiago-Martoral. "You don't have to clean as much because bio-membranes tend to be self-cleaning. They can regenerate themselves in case of some disruption in their structure."
Such a system would require less energy and mechanical force.
The team works on a small-scale system, tinkering with the design, looking at issues like providing a better environment for the enzymes and the size of the membranes, as well as incorporating lessons learned from astronauts who experimented in zero-gravity.
"There's still a lot of troubleshooting that needs to be done in order to provide a large-scale system that can be implemented into the ISS," Santiago-Martoral said.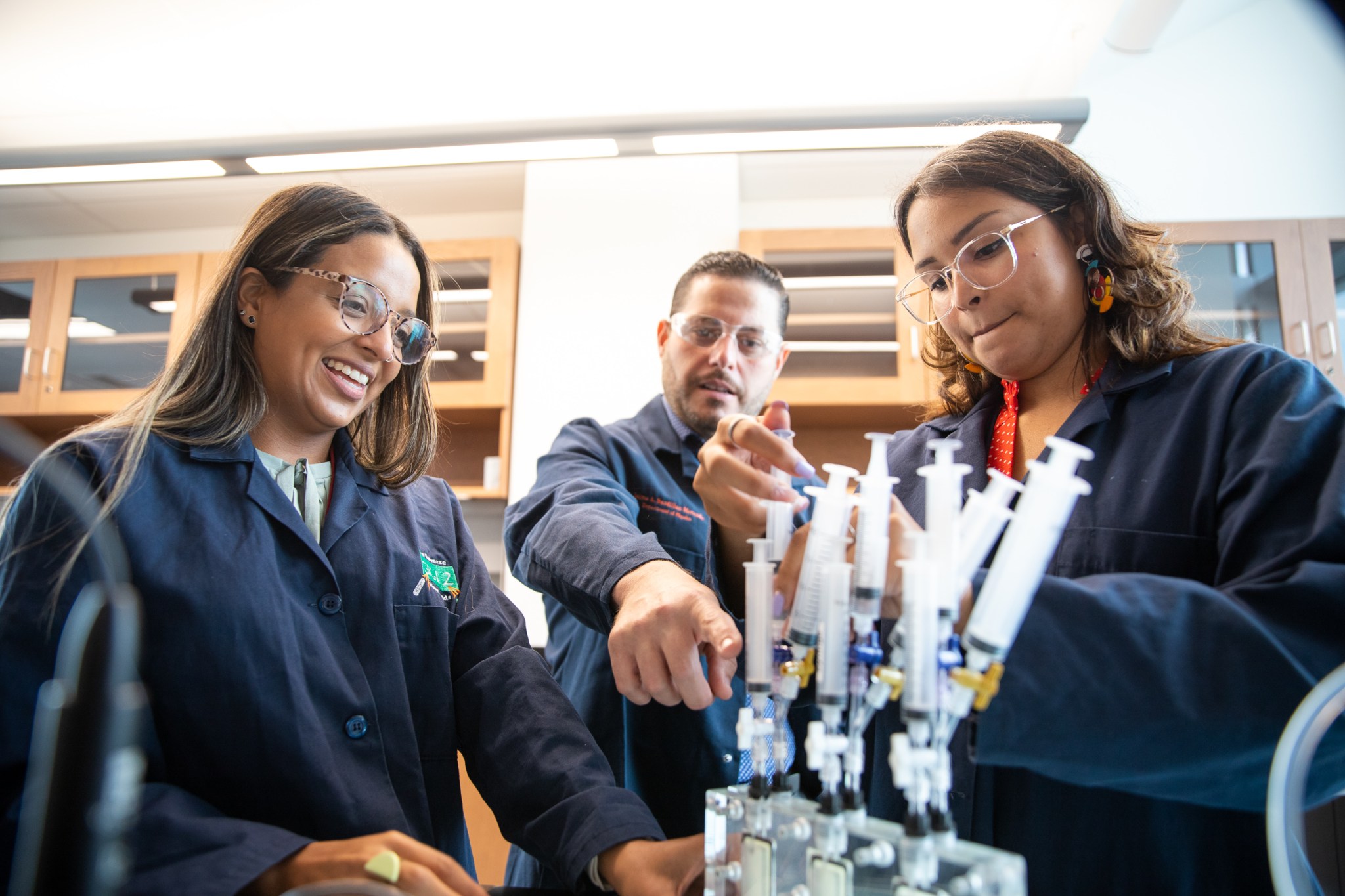 University of Puerto Rico-Río Piedras
Linking Students, Faculty with NASA
The research was spurred by NASA's MUREP (Minority University Research and Education Project) Institutional Research Opportunity, or MIRO, program administered by the NASA Armstrong Flight Research Center in Edwards, California. MUREP, provides competitive awards to minority-serving institutions to conduct research aligned with NASA missions.
The partnership with NASA provides opportunities for faculty and students, including fellowships, other grant program awards, and internships, as well as a chance for sending experiments on zero-gravity flights and to the International Space Station.
The collaboration with NASA provides validation for the university's research center, showing it has the capabilities, the resources, and the environment to meet the agency's goals, Nicolau said.
"For me, it has really helped my career grow tremendously," Nicolau said. "When I became a professor, to me it was a natural step to continue looking for those opportunities for my students that I had. It's that small seed you're planting with our students, giving them the opportunity they need to be successful."
In 2019, Nicolau led the successful effort to win additional MIRO funding, creating the Puerto Rico Space Partnership for Research Innovation and Training, or PR-SPRinT. That center's goal is to provide opportunities for students and faculty to conduct research related to NASA mission goals.
Rodriguez-Rolon is a MUREP Fellow, a program aimed at providing STEM experience while directly contributing to the agency's mission. She is interested in water remediation and its potential applications for the Artemis program and other missions to the Moon and beyond.
"I want to inspire girls to want to be in science," Rodriguez-Rolon said. "It's an honor to represent the university's NASA center, to represent women in chemistry, and the Latin women at NASA."
MIRO helped the university provide space for students, especially from disadvantaged communities, to pursue careers in science, technology, and engineering. It also inspired them to pursue higher education degrees, Santiago-Martoral said.
"It has been a growth experience and I am very grateful for it," Santiago-Martoral said. "It has widened my view of what I want as a chemist and a researcher. I have a greater desire to work with an agency that provides me with creativity in terms of my work and research."