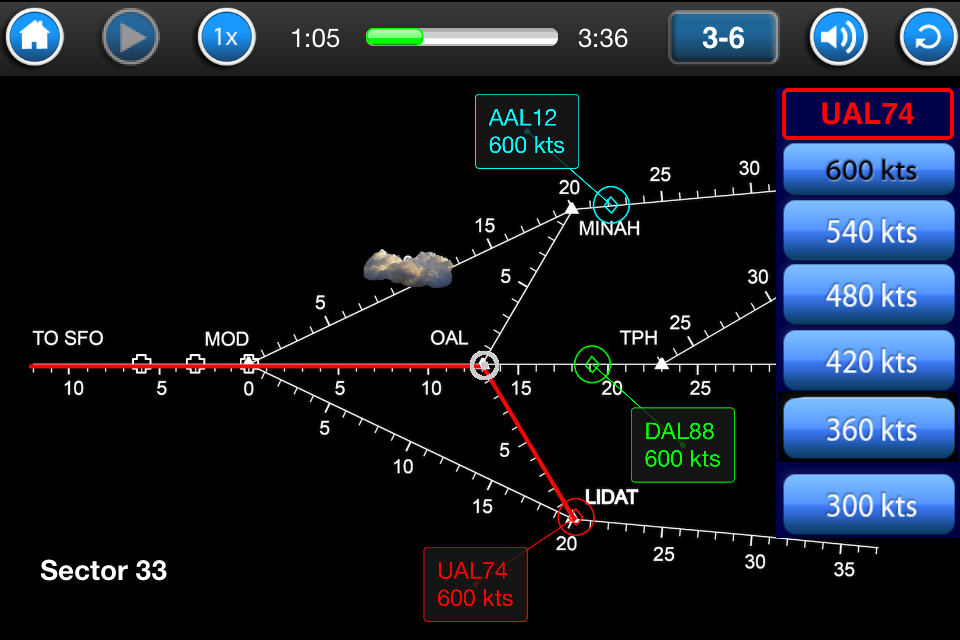 NASA
Angry birds in space may be OK, but angry pilots in the sky are another thing altogether.
NASA in January released an educational game called Sector 33 in which the goal is to keep imaginary pilots and their airliners happy by remaining a safe distance in the sky from each other using math and problem-solving skills.
In the game, available free of charge for Apple iPhone and iPad devices, the player acts as an air traffic controller by guiding airplanes through a sector of airspace spanning Nevada and California.
The player can adjust the planes' path and speed to safely reach certain spots in the sky in the fastest time possible, while at the same time keeping the planes a specific distance from each other.
So far the app has been a big hit with the online community, earning a top rating of five stars with more than 60 percent of those offering customer reviews.
"Users of Sector 33 are telling us that they love the app, it's fun yet educational, and makes gamers think on their feet as they try to solve the various air traffic control problems built into the game," said Gregory Condon, manager of NASA's Smart Skies Education Project based at the Ames Research Center in California.
NASA
Sector 33 is based on Smart Skies Line Up With Math, an educational software title developed under the direction of NASA's Aeronautics Research Mission Directorate and distributed in cooperation with the Federal Aviation Administration and National Air Traffic Controllers Association.
Smart Skies has been used in middle school classrooms across the United States since 2005.
The math-focused game also aligns with the NASA Office of Education's mission to engage students in activities related to science, technology, engineering and mathematics.
An Android version of the Sector 33 app is in development and will be made available in the Android Marketplace in the coming months.
Learn How to Get Sector 33: https://www.nasa.gov/centers/ames/Sector33/iOS/index.html