After serving with NASA for nearly four decades, the agency's YO-3A, an unusual airplane designed to fly silently, recently departed Armstrong Flight Research Center for its new home at the Vietnam Helicopters Museum (VHM) in Concord, California. One of only 11 aircraft of this type built by Lockheed Missiles & Space Company (LMSC) in 1969, the "Quiet Star" had a colorful history.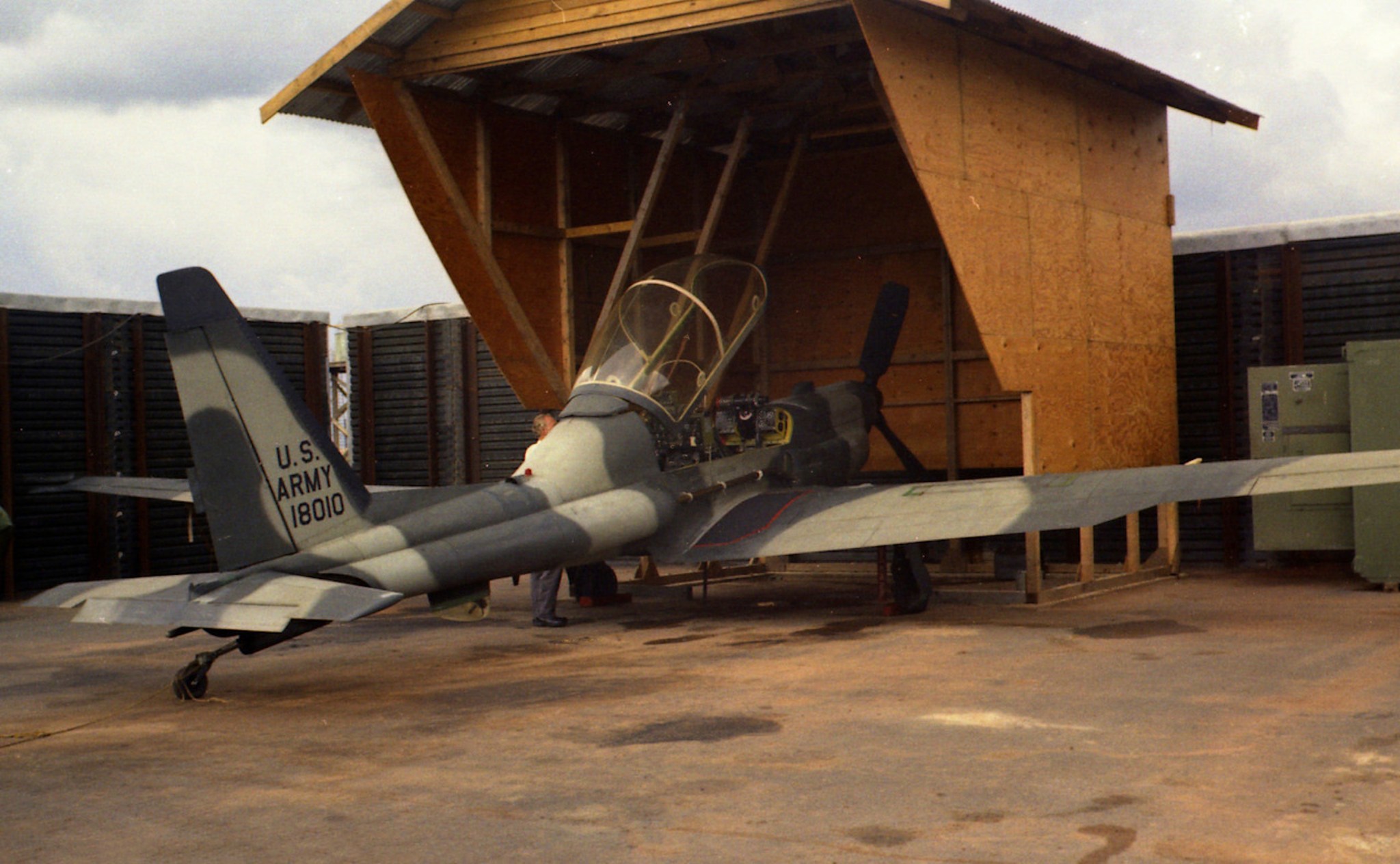 In response to Army requirements for a covert, nighttime battlefield observation platform, LMSC designers extensively modified a Schweizer SGS 2-32 glider, adding a muffled engine and bubble canopy. Pilot and observer were seated in tandem, with the observer in the forward position. The engine was equipped with a belt-drive system to turn the propeller more slowly and quietly than a conventional gear-reduction system. A special muffler reduced engine exhaust noise. Additionally, the YO-3A had extra insulation and sealed valve covers to reduce noise from internal equipment. The Quiet Star was equipped with a custom-made wooden propeller that had a wider chord than a conventional propeller for a similarly sized airplane. Polished and lacquered, the three-bladed prop designed for LMSC by master craftsman Ole Fahlin and built up from layers of Canadian Birch plywood one-sixteenth of an inch thick, was practically a work-of-art.
Nine YO-3A aircraft saw service in Vietnam where they were flown in concert with Army attack helicopters during dangerous nighttime combat missions. Amazingly, during 14 months of operation in 1970 and 1971, none were shot down or damaged by enemy fire. The Louisiana Department of Wildlife and Fisheries subsequently acquired two of the aircraft and used them to aid in catching poachers, and the Federal Bureau of Investigations employed the YO-3A as a surveillance aircraft during an experimental program in Southern California. NASA's airplane was the last YO-3A completed at Lockheed's Sunnyvale, California, facility. Following combat service in Southeast Asia it was transferred to an airframe and powerplant mechanics school. NASA's Ames Research Center near Sunnyvale acquired the YO-3A from the school in 1977 and restored it to flight status.
Technicians at Ames equipped the Quiet Star with wingtip- and tail-mounted microphones and recording devices to assess the in-flight acoustic signatures of a variety of Army helicopters and tilt-rotor aircraft, as well as for SR-71 sonic boom measurements. NASA transferred the YO-3A to the agency's Dryden Flight Research Center (now Armstrong) at Edwards, California, in June 1997 where it remained in in flyable storage until October 2004. It was then deployed to Ames for nearly two years before returning to Armstrong, where it was flown only sporadically. According to VHM project coordinator and historian Kurt Olney, the YO-3A was eventually declared surplus and the museum purchased it at auction from the General Services Administration.
"VHM is the best possible home for the YO-3A," Olney said, "because they have the resources to maintain and fly the airplane."
Olney and pilot Richard Osborne inspected the airplane at Armstrong, with concurrence from a representative of the Federal Aviation Administration, before flying it first to Fox Field near Lancaster and eventually to Concord. They expressed gratitude to numerous NASA personnel who maintained the YO-3A through the years and those who supported the airplane's departure to its new home. These included Armstrong Aircraft Maintenance Division chief Tom Grindle and research pilots Tim Williams and Hernan Posada. In years past crew chief Monte Hodges, now retired, and pilot Bill Brockett provided invaluable support. Olney also expressed gratitude to the late Ed Lewis who flew the plane on research missions and shared his expertise with the VHM team. Olney noted, "I especially want to thank crew chief Dale Hogg for his insights and critical maintenance information, and most importantly the actions he took [to maintain] the airplane in preparation for this day. The Vietnam Helicopter Museum will continue to share this amazing airplane with the public for many years to come."