The Little Prince author Antoine de Saint-Exupéry said, "If you want to build a ship, don't drum up the men to gather wood, divide the work and give orders. Instead, teach them to yearn for the vast and endless sea." Likewise, we can get people to care about science and technology by conveying the wonder of exploring the universe. Enter art. Art can express the spirit and quest of discovery, and by doing so, inspire.
Credits: Maggie Masetti
NASA's James Webb Space Telescope appears to fall neatly into the nexus of art and science. Webb is the largest and most complex space telescope built to date, with 18 mirrors optimized for reflecting infrared light to help us peer back in time at the universe right after the Big Bang. The mirrors are also visually-stunning.
"The first time NASA Goddard got to see the "face" of Webb – those beautiful, giant, golden mirrors – was magical," said Maggie Masetti, the project's social media lead and website manager at NASA's Goddard Space Flight Center in Greenbelt, Maryland. "Getting to see one's self reflected in something that will see the first stars and galaxies is a humbling experience, and one that makes you think about how humanity is tied in with the things we are exploring."
Credits: Jedidiah Dore
It was with this in mind that Masetti organized a unique event – the chance for artists to sit in front of the Webb telescope itself, learn about its mission, and be inspired to create. Twenty-five applicants were selected to visit in November 2016, and peered into Goddard's giant cleanroom where the telescope was being tested. The results of that visit are now on display at the NASA Goddard Visitor Center.
At the entry to the exhibit sits a gold-plated, 3-D printed sculpture created by Ashley Zelinskie, showing hands reaching out of the Webb telescope mirror into the unknown. Behind it are walls of art, as well as a few other free-standing installations. The artists featured in the exhibit were chosen to represent a broad range of artistic media and styles, including watercolor, 3-D printed sculpture, silk screening, acrylics, sumi-e, comic and poster art, letterpress, mixed media, jewelry-making, fiber art, ink, kite-making, tattoo, scientific illustration, poetry, songwriting and video.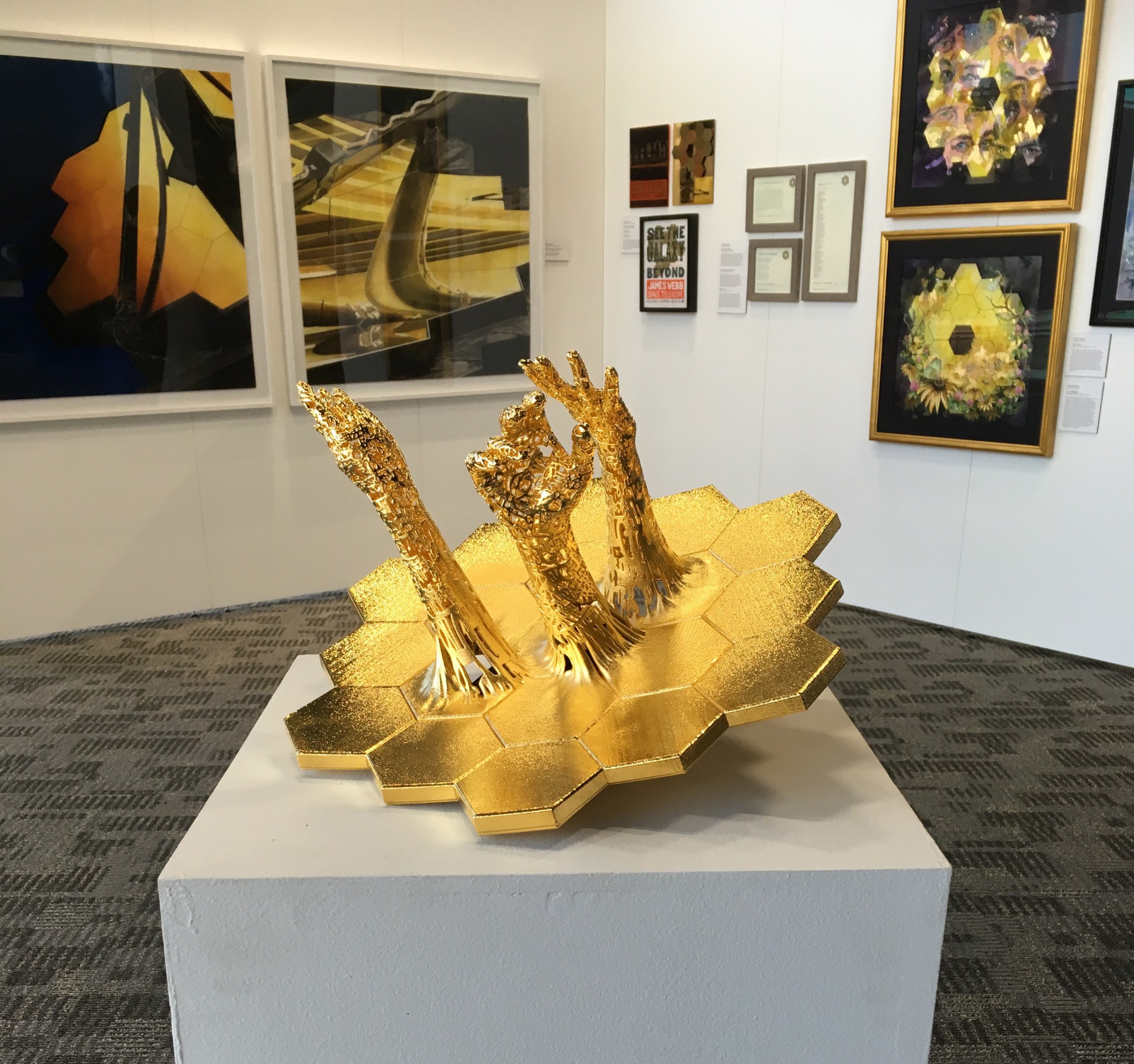 Credits: Maggie Masetti
After seeing Webb telescope in person, fiber artist and quilter Sue Reno said, "It's one of the finest examples of the adage, 'form follows function,' that I've ever seen. It's a highly engineered technological marvel, designed and calibrated for utility and efficiency. It's slated to perform in an unforgiving environment and provide vast quantities of specialized data. All of that is worthy of admiration. But independent of that knowledge, I was still awe-struck by its undeniable beauty. Those 18 golden mirrors, shining in the clean room, reflecting my visage back to me, were incredibly inspirational. Over the many hours I spent crafting my artwork, I came to regard the telescope with a sort of warm affection. Its beauty may be inadvertent, but it makes it more approachable on a human scale." Reno created a large art quilt that features a hand-worked depiction of the telescope in front of fiber art and beaded nebulae and galaxy, surrounded by cyanotypes and solar dye prints of Reno reflected in the actual telescope.
"Popular art can elevate the profile of real scientific discoveries in a practical way," said comic artist Veronica Guzzardi. "My job is to be a cheerleader for all the wonderousness of the universe. To help everyone understand, in the unique ways we are able, is the job of every artist and scientist." Guzzardi created two pieces for the exhibit – a large graphical poster, as well as a comic zine that tells a personal story of her visit to see Webb.
Credits: Maggie Masetti
James Webb Space Telescope Project Manager, Bill Ochs added, "There is an inherit connection between artist and engineers. We both start with a blank sheet of paper and use the tools of our trades and vision to create."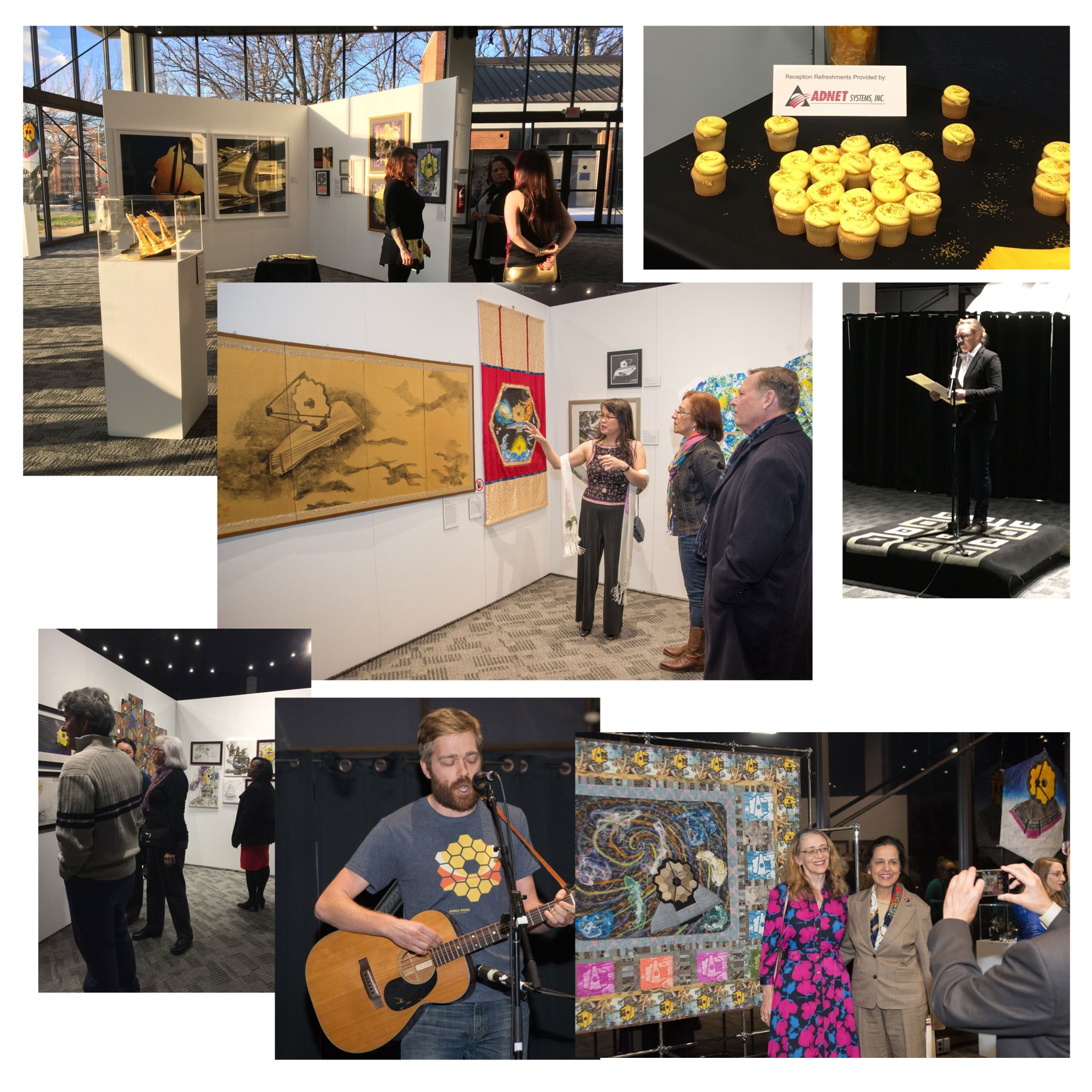 Credits: Maggie Masetti, Jolearra Tshiteya, Sue Reno, Ophelia Chambliss
The exhibit opened with a reception on March 2nd, and is now free and open to the public until April 16th, 2017, with a possible extension into May. All the art may also be viewed via a web gallery: https://jwst.nasa.gov/jwstArt/.
The James Webb Space Telescope is the world's most advanced space observatory. This engineering marvel is designed to unravel some of the greatest mysteries of the universe, from discovering the first stars and galaxies that formed after the Big Bang to studying the atmospheres of planets around other stars. It is a joint project of NASA, the European Space Agency and the Canadian Space Agency.
For information and directions to the see the exhibit at the NASA Visitor's center, visit: https://www.nasa.gov/centers/goddard/visitor/directions/index.html
To learn more about NASA's Webb telescope, visit: www.jwst.nasa.gov or www.nasa.gov/webb
Maggie Masetti
NASA's Goddard Space Flight Center, Greenbelt, Maryland