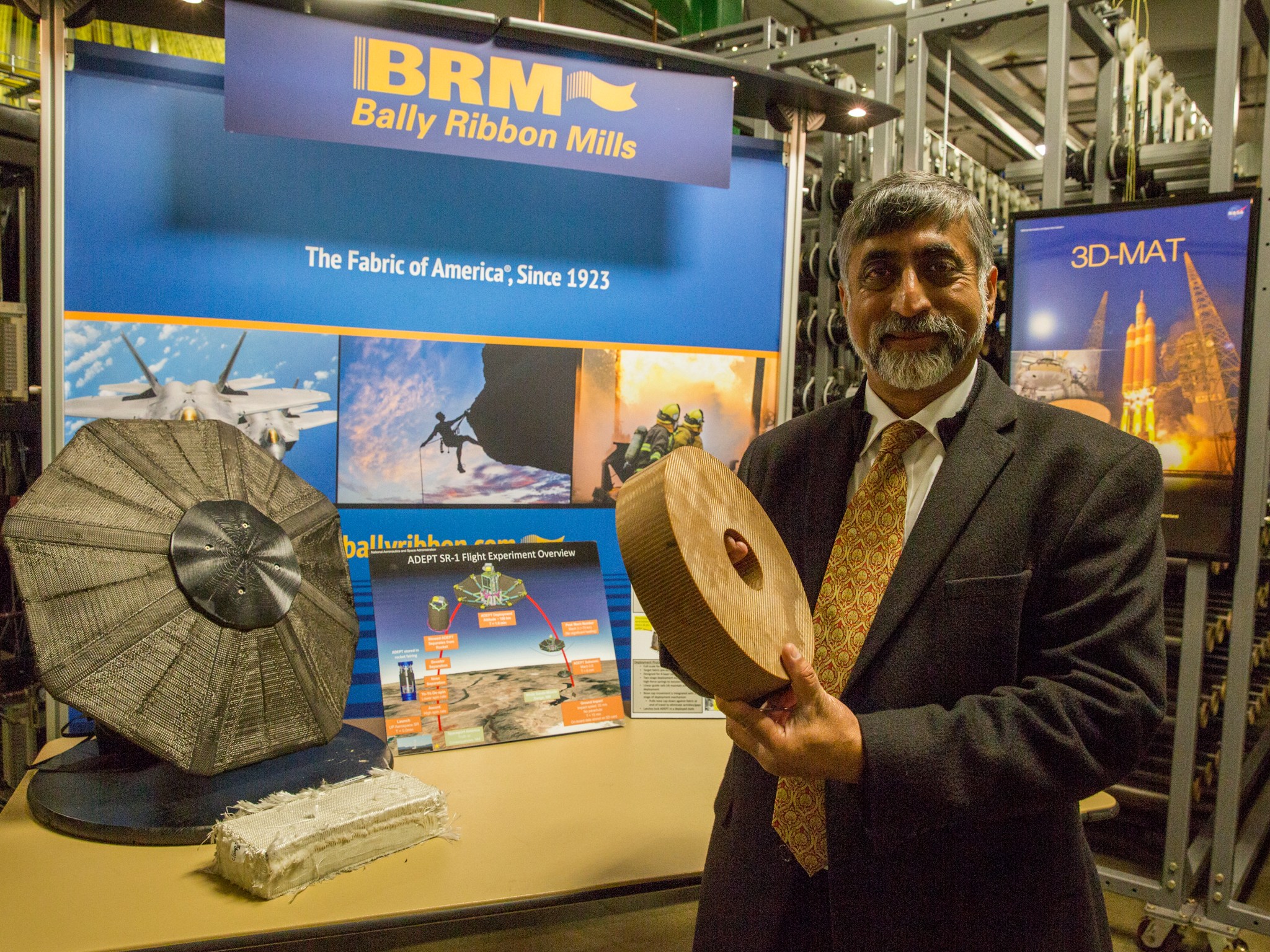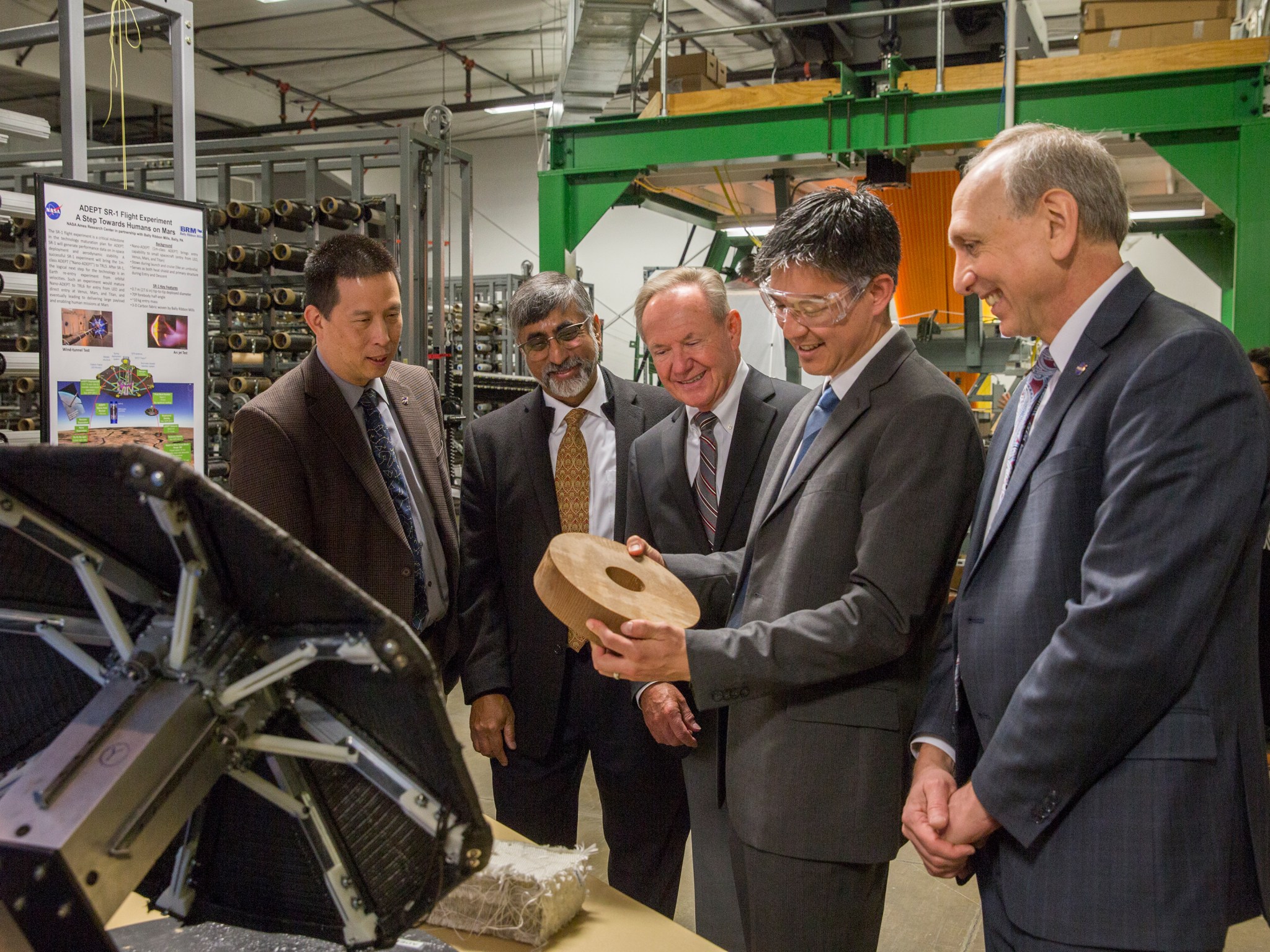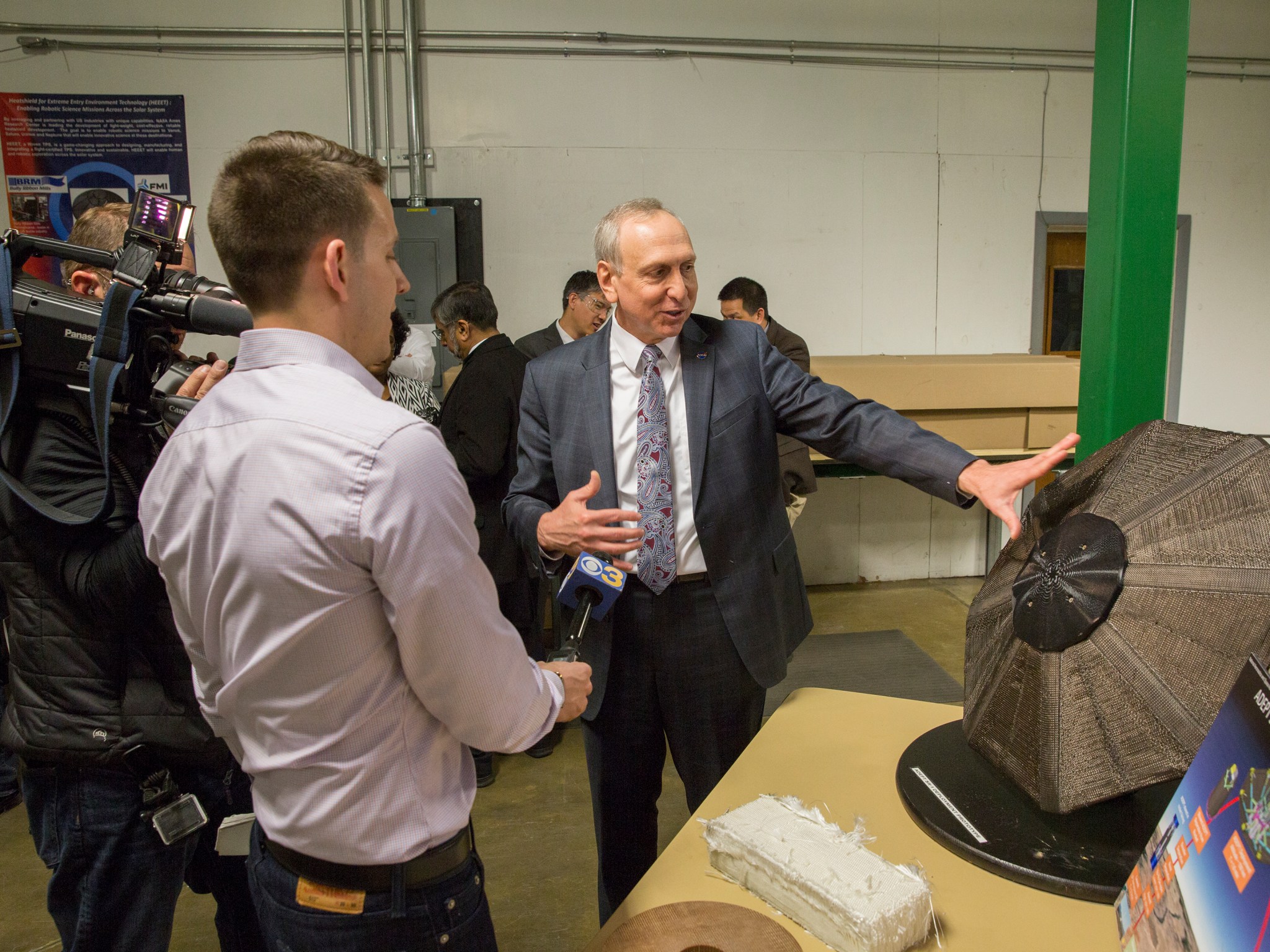 Weaving processes created millennia ago are part of the most cutting-edge technology on NASA's Orion spaceship that may one day shield humans from heat as they ride all the way to Mars and back.
That same technology is finding a home on Earth as well, enabling thicker, denser composite materials for race cars, among other applications.
It started with a connection problem: there are points across Orion's heat shield surface that must link the crew capsule to its service module and, ultimately, the rocket. "At these points, you have to use a very strong, robust material," explains materials engineer Jay Feldman, technical lead for the 3-D Multifunctional Ablative Thermal Protection System (3D-MAT) at NASA's Ames Research Center.
But great insulators are often not particularly strong.
Luckily, Feldman and other engineers at Ames were already working with partners at weaving company Bally Ribbon Mills on next-generation heat-shielding material. Together, they were developing a three-dimensional quartz-fiber composite, woven using classic shuttle looms upgraded for the modern era.
Three-dimensional woven composites offered big advantages over layered 2-D woven composites used in previous spacecraft. "When you have fibers going in all three directions, it's very, very strong," explains Feldman. "And we can also tailor the composition so it has relatively low thermal conductivity."
An Old Art
Bally Ribbon Mills, in Bally, Pennsylvania was a natural partner for the project. A leading U.S. manufacturer of two and three-dimensional textiles, the company's client list includes the U.S. Air Force, Formula One racing teams and biomedical companies.
The firm's expertise extends back to 1923, when the family-owned company started out weaving silk hat bands. Three generations later the company had evolved into a high-tech custom engineering firm, explains Mark Harries, part of the fourth generation of his family to run the textile company.
"That's when we really found our niche," Harries says.
The NASA partnership, and the resulting material, have generated a lot of excitement at the space agency, prompting a January 2015 visit to the mill by then-NASA Administrator Charles Bolden, who declared: "From this day on, the path to Mars goes through Bally, Pennsylvania."
For Orion, the threads are made of quartz, which is an excellent insulator and also capable of transmitting electrical signals.
Bally Ribbon Mills had to design new equipment to meet NASA's needs: a thicker textile and, to improve compression strength, the same number of fibers going in all three directions.
The final product "is like a brick," says senior textile engineer Curt Wilkinson.
Elegant Design
But the design is truly elegant, says Ethiraj Venkatapathy, project manager and chief technologist for the Entry Systems and Technologies Division at Ames. "The material can be a structure, it can be a thermal protection system, it can be a shock absorber, and it can carry loads," he says, a contrast to designs that tend to focus on just one discipline.
Already the designers of Orion are looking at other spots where the 3D-MAT material may be incorporated. And outside NASA, government agencies and aerospace companies have expressed interest.
The work for NASA has also increased the product line the company offers in more frequently used materials, like carbon fiber, to its long-standing clients, including Formula One car manufacturers.
"It increases the size of the parts they can make," Wilkinson says, which "gives them more opportunities for different locations in the car."
Yet underneath the high-tech add-ons, the core of the process is the same type of shuttle looms the company used for silk in the 1920s. It's an evolution that has kept nearly 300 jobs in central Pennsylvania, where most of the other textile mills have long gone out of business.
"We incorporate modern electronic components, and we also build and incorporate our own take-up systems, but the loom itself is extremely old," Wilkinson says. "Using the same age-old steps of weaving, we're now weaving material that's going to go to Mars."
Bally Ribbon Mills' latest work with NASA is on the heatshield for extreme entry environment technology (HEEET) project for the agency's Game Changing Development program. The HEEET project aims to develop the technology the agency needs for a heatshield to protect science payloads upon entry into Saturn or Venus that encounter extreme conditions. Bally took 18 months to design, develop and assemble the world's most unique loom for weaving materials for the HEEET project. There is no other loom in the world that can weave 3-D, multi-layer materials to meet specifications for a heatshield that can withstand heating conditions much more extreme than those encountered by NASA's Mars Science Laboratory Curiosity rover mission in 2012.
NASA has a long history of transferring technology to the private sector. Each year, the agency's Spinoff publication profiles about 50 NASA technologies that have transformed into commercial products and services, demonstrating the wider benefits of America's investment in its space program. Spinoff is a publication of the Technology Transfer Program in NASA's Space Technology Mission Directorate.
To learn more about this NASA spinoff, read the original article from Spinoff 2017.
For more information on how NASA is bringing its technology down to Earth, visit:
Naomi Seck
Goddard Space Flight Center