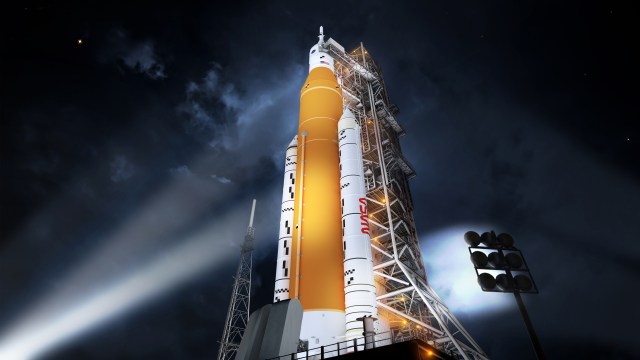 Grade Levels
Grades K-4, Grades 5-8, Grades 9-12
Subject
Engineering Design, History, Mathematics, Physical Science, Technology, Scientists and Inventors, Timelines, Geometry, Measurement and Data Analysis, Trigonometry, Forces and Motion, Physics, Rocketry
Type
Educator Guides, Lesson Plans / Activities
Few classroom topics generate as much excitement as rockets. The scientific, technological, engineering and mathematical foundations of rocketry provide exciting classroom opportunities for authentic hands-on, minds-on experimentation. The activities and lesson plans contained in this educator guide emphasize hands-on science, prediction, data collection and interpretation, teamwork, and problem solving. The guide also contains background information about the history of rockets and basic rocket science. The rocket activities in this guide support national curriculum standards for science, mathematics and technology.
The guide contains new and updated lessons and activities from the original Rockets Educator Guide.
Introductory Pages
A Pictorial History of Rockets
What Comes Next
How Rockets Work
Applying Newton's Laws
Rocket Activities
Pop Can Hero Engine
3…2…1…PUFF!
Heavy Lifting
Newton Car
Rocket Races
Pop! Rocket Launcher Directions
Pop! Rockets
Foam Rocket
Launch Altitude Tracker
Water Rocket Launcher Directions
Water Rocket Construction
Project X-51
NASA RECOMMENDS DISCONTINUATION OF STUDENT ROCKET ACTIVITY
In 2012 an air pressurized paper rocket launcher being used by an educator failed. This launcher is described in NASA's Rockets Educator Guide, publications EG-2011-11-223-KSC, pp. 86-90 and EG-2008-05-060-KSC, pp. 86-90. NASA completed an engineering investigation into the failure and determined that the launcher, or design equivalents, should not be used. NASA has removed the launcher design from its website and its education curriculum. Individuals and organizations should immediately discontinue use of the launcher published in the referenced NASA publications. The point of contact for additional information is Diane DeTroye, NASA Office of Education, at nasaedpartners@nasa.gov. We request that your organization assist NASA in disseminating this information as widely as possible throughout the education community.