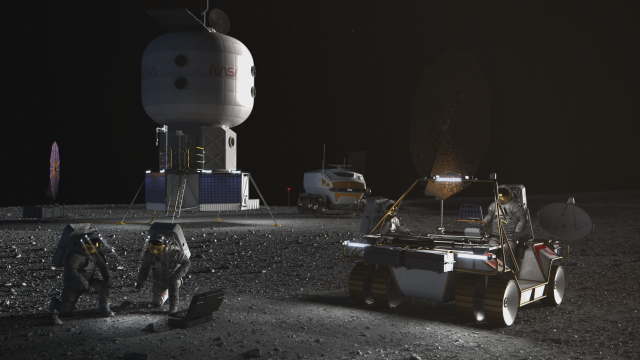 Education Opportunity
Contests and Challenges, Events, In Person
Grade Levels
Higher Education
Subject
Engineering Design, Human Space Exploration, Life Science, Space Science, Technology, Present and Future, Living and Working in Space, Missions to Planets and Moons, Space Station
NASA is pioneering the future of space exploration as we extend humanity's presence further into the solar system. The 2024 RASC-AL Competition is seeking undergraduate and graduate teams to develop new concepts that leverage innovation to improve our ability to operate on the Moon, Mars and beyond. Each team's response should address novel and robust technologies, capabilities, and operational models that support expanding humanity's ability to thrive beyond Earth. In this year's competition, teams and their faculty advisors are invited to design and propose innovative solutions with supporting original engineering and analysis in response to one of the four themes below:
Long Duration Mars Simulation at the Moon
Sustained Lunar Evolution
AI-Powered Self-Replicating Probes – an Evolutionary Approach
Large-Scale Lunar Crater Prospector
RASC-AL competitions fuel innovation for aerospace systems concepts, analogs, and technology prototyping by bridging gaps through university engagement. RASC-AL is open to undergraduate and graduate university-level students studying fields with applications to human space exploration (i.e., aerospace, bio-medical, electrical, and mechanical engineering; and life, physical, and computer sciences). RASC-AL projects allow students to incorporate their coursework into real aerospace design concepts and work together in a team environment. Interdisciplinary teams are encouraged.
Up to 14 teams may be chosen to compete at the RASC-AL Forum in Cocoa Beach, Florida. Each team will receive a monetary award to facilitate full participation in the RASC-AL Forum. The teams with the top two winning papers will be invited to present their design projects to industry experts at a major aerospace conference in 2024, such as AIAA ASCEND (travel stipends provided).
Proposals are due March 7, 2024.
See the RASC-AL Competition Website for full details.