NASA is inviting the public to help search for possible undiscovered worlds in the outer reaches of our solar system and in neighboring interstellar space. A new website, called Backyard Worlds: Planet 9, lets everyone participate in the search by viewing brief movies made from images captured by NASA's Wide-field Infrared Survey Explorer (WISE) mission. The movies highlight objects that have gradually moved across the sky.
"There are just over four light-years between Neptune and Proxima Centauri, the nearest star, and much of this vast territory is unexplored," said lead researcher Marc Kuchner, an astrophysicist at NASA's Goddard Space Flight Center in Greenbelt, Maryland. "Because there's so little sunlight, even large objects in that region barely shine in visible light. But by looking in the infrared, WISE may have imaged objects we otherwise would have missed."
WISE scanned the entire sky between 2010 and 2011, producing the most comprehensive survey at mid-infrared wavelengths currently available. With the completion of its primary mission, WISE was shut down in 2011. It was then reactivated in 2013 and given a new mission assisting NASA's efforts to identify potentially hazardous near-Earth objects (NEOs), which are asteroids and comets on orbits that bring them into the vicinity of Earth's orbit. The mission was renamed the Near-Earth Object Wide-field Infrared Survey Explorer (NEOWISE).
The new website uses the data to search for unknown objects in and beyond our own solar system. In 2016, astronomers at Caltech in Pasadena, California, showed that several distant solar system objects possessed orbital features indicating they were affected by the gravity of an as-yet-undetected planet, which the researchers nicknamed "Planet Nine." If Planet Nine — also known as Planet X — exists and is as bright as some predictions, it could show up in WISE data.
The search also may discover more distant objects like brown dwarfs, sometimes called failed stars, in nearby interstellar space.
"Brown dwarfs form like stars but evolve like planets, and the coldest ones are much like Jupiter," said team member Jackie Faherty, an astronomer at the American Museum of Natural History in New York. "By using Backyard Worlds: Planet 9, the public can help us discover more of these strange rogue worlds."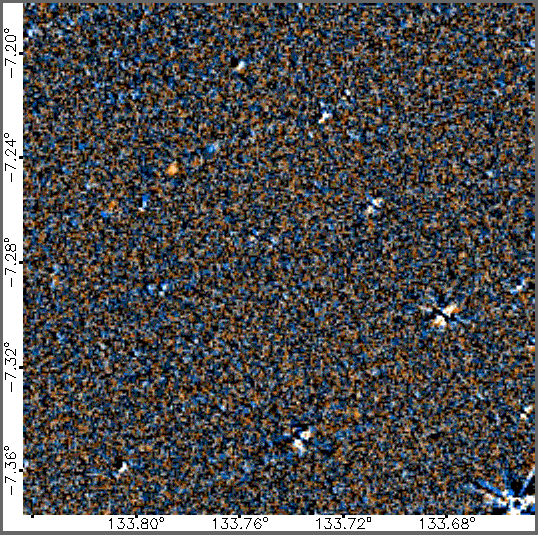 Credit: NASA/WISE
Unlike more distant objects, those in or closer to the solar system appear to move across the sky at different rates. The best way to discover them is through a systematic search of moving objects in WISE images. While parts of this search can be done by computers, machines are often overwhelmed by image artifacts, especially in crowded parts of the sky. These include brightness spikes associated with star images and blurry blobs caused by light scattered inside WISE's instruments.
Backyard Worlds: Planet 9 relies on human eyes because we easily recognize the important moving objects while ignoring the artifacts. It's a 21st-century version of the technique astronomer Clyde Tombaugh used to find Pluto in 1930, a discovery made 87 years ago this week.
On the website, people around the world can work their way through millions of "flipbooks," which are brief animations showing how small patches of the sky changed over several years. Moving objects flagged by participants will be prioritized by the science team for follow-up observations by professional astronomers. Participants will share credit for their discoveries in any scientific publications that result from the project.
"Backyard Worlds: Planet 9 has the potential to unlock once-in-a-century discoveries, and it's exciting to think they could be spotted first by a citizen scientist," said team member Aaron Meisner, a postdoctoral researcher at the University of California, Berkeley, who specializes in analyzing WISE images.
Backyard Worlds: Planet 9 is a collaboration between NASA, UC Berkeley, the American Museum of Natural History in New York, Arizona State University, the Space Telescope Science Institute in Baltimore, and Zooniverse, a collaboration of scientists, software developers and educators who collectively develop and manage citizen science projects on the internet.
NASA's Jet Propulsion Laboratory in Pasadena, California, manages and operates WISE for NASA's Science Mission Directorate. The WISE mission was selected competitively under NASA's Explorers Program managed by the agency's Goddard Space Flight Center. The science instrument was built by the Space Dynamics Laboratory in Logan, Utah. The spacecraft was built by Ball Aerospace & Technologies Corp. in Boulder, Colorado. Science operations and data processing take place at the Infrared Processing and Analysis Center at Caltech, which manages JPL for NASA.
For more information about Backyard Worlds: Planet 9, visit: http://backyardworlds.org
For more information about NASA's WISE mission, visit: https://www.nasa.gov/wise
By Francis Reddy
NASA's Goddard Space Flight Center, Greenbelt, Md.