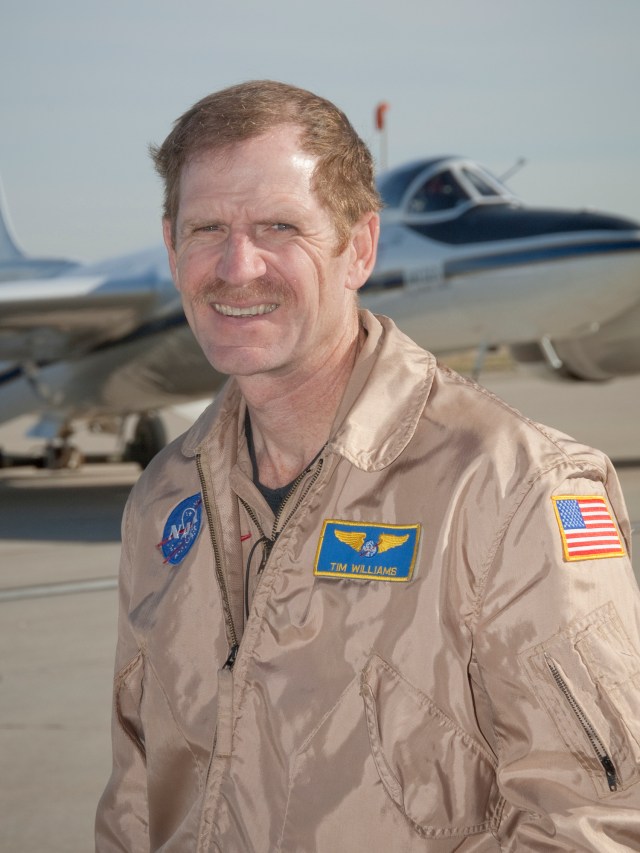 Timothy L. Williams
NASA Pilot
Timothy L. Williams is a research test pilot at NASA's Armstrong Flight Research Center in Edwards, California. He flies airborne science and test aircraft and is a team member on test programs, supporting mission planning, procedures and safety-related operational elements.
Experience
Williams flies a diverse array of science, research and mission support aircraft at Armstrong. He is the project pilot for NASA's first all-electric experimental aircraft, the X-57 Maxwell, and flies the ER-2 high-altitude science aircraft, C-20A environmental science research aircraft, F/A-18, T-34C and TG-14 research motorglider.
Williams began work at NASA in September 2008, following an extensive flying career in the U.S. Air Force. He has flown in support of NASA science deployments to Greenland, Iceland and Costa Rica in NASA's C-20A carrying Jet Propulsion Laboratory's synthetic aperture radar and to Iceland in the ER-2. In addition to his current assignments, he has also flown NASA's Stratospheric Observatory for Infrared Astronomy (SOFIA) 747SP, YO-3A quiet research aircraft and Global Hawk remotely controlled aircraft.
Retired from the U.S. Air Force with the rank of lieutenant colonel, during his military career Williams served as a C-130 commander during multiple campaigns; a U-2 pilot conducting sensitive reconnaissance missions worldwide; a U-2 instructor pilot at Beale Air Force Base in California; and a project pilot on the Edwards Air Force Base airborne laser program. He was commander of U-2 Programmed Depot Maintenance and Flight Test in Palmdale, California, from 2005 to 2008.
Education
Williams holds bachelor's and master's degrees in electrical engineering from the California Institute of Technology. He is a graduate of Class 98B at the U.S. Air Force Test Pilot School at Edwards Air Force Base. He is a member of the Order of Daedalians, a fraternal order of U.S. military pilots; the American Institute of Aeronautics and Astronautics; and the Society of Experimental Test Pilots.