John D. Baker – NESC Academy Biography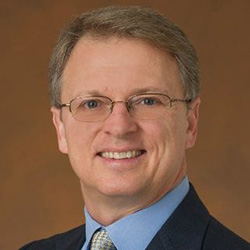 John Baker is currently a program manager with nearly 30 years of experience at the Jet Propulsion Laboratory (JPL) in Pasadena, California, and he is an instructor at the California Institute of Technology's Division of Engineering and Applied Science. At JPL, he leads the development of human exploration studies and the development of low-cost robotic exploration systems. His most recent study has been considering how to send humans to Mars and return them affordably. He is also developing a new product line of small and low-cost planetary spacecraft. Mr. Baker also ran a recent drop-test project to gather data in support of the design of the Orion Crew Module for water landing. Previously, he was a program executive at NASA headquarters for the successful for Lunar Reconnaissance Orbiter (LRO) mission to the Moon. Before that, he managed the Mars Science Laboratory "Curiosity" Rover Project Engineering effort and developed numerous Space Shuttle remote sensing and educational payloads. Mr. Baker led the development of numerous new innovative software applications, hardware technologies and mission concepts.
Over his career, he has held positions in program and line management, systems engineering, avionics design engineering and mission operations for space systems and technologies. He has also received numerous citations and awards including the Exceptional Service Medal from NASA. He earned his degree in electrical engineering from Colorado State University.