Credits: Courtesy of D. Jennings
Name: Donald Jennings
Formal Job Classification: Aerospace engineer
Organization: Code 553, Detector Systems Branch, Applied Engineering and Technology Division
What do you do and what is most interesting about your role here at Goddard? How do you help support Goddard's mission?
Over my 40-plus years at Goddard, I have worked mostly in infrared planet spectroscopy, which involves looking at planetary atmosphere composition. I started in a laboratory and then worked with the Voyager Infrared Interferometer Spectrometer (IRIS) project, then Cassini's Composite Infrared Spectrometer (CIRS), and the New Horizons Pluto mission's composite infrared spectrometer.
An infrared spectrometer allows us to study the heat coming off of a planet. Each planet has a unique spectral signature based on its particular atmosphere's composition and temperature.
I am now a Goddard senior fellow. My whole career has been developing infrared instruments and then using them to look at a variety of astronomical objects including the Earth.
What is your educational background?
I went to Northern Arizona University in Flagstaff for my undergraduate degree in physics. I attended the University of Tennessee in Knoxville for my doctorate in physics.
How did you come to work at Goddard?
It happened that I knew somebody working in the Voyager group. I gave him my résumé and he circulated it. In February 1976, Groundhog Day, I began working in what is now the Planetary Systems Branch as a postdoctoral fellow. In October 1977, I became a civil servant in the same group.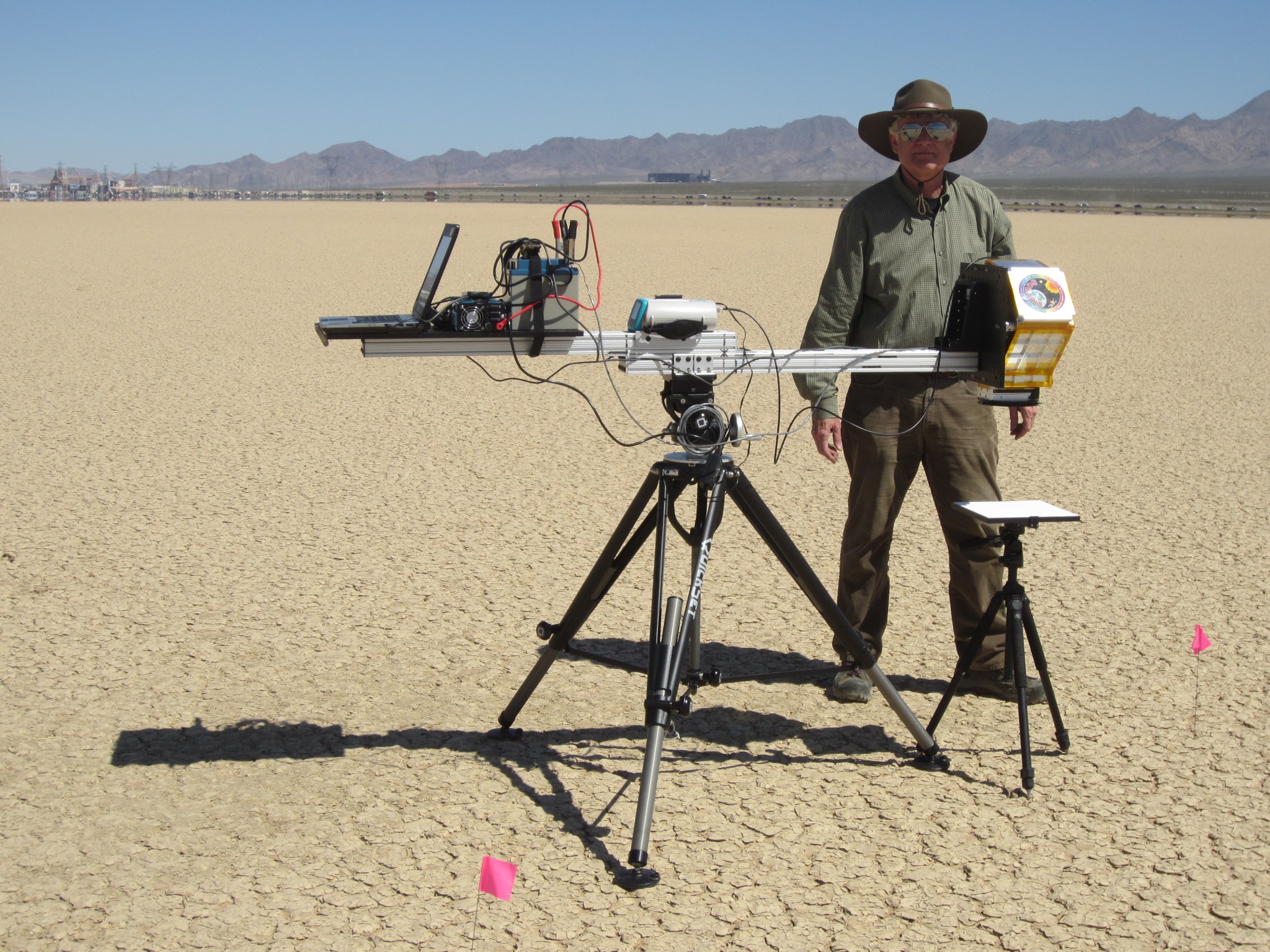 Credits: Courtesy of D. Jennings
What are some of your career highlights?
I have worked on many missions. In 1981, I helped identify several molecules in Titan's atmosphere based on data from Voyager.
In 1988, I began working on the Supernova 1987 A, which we observed in infrared. We measured some infrared atomic lines that could only be observed using the equipment we developed.
I then flew a spectrometer on the space shuttle to look at the infrared space shuttle glow. When the space shuttle was in orbit, it gave off a faint infrared signature caused by impacts with the thin upper atmosphere.
Around 1987, I began working on the Cassini mission, my longest project. My friends from the Voyager days began developing the Cassini mission's CIRS and asked me help them with the design. Cassini launched in 1997 and will end its mission in September 2017.
After Cassini launched, I began working very hard on the New Horizons mission to Pluto. A group of us at Goddard designed and built an infrared imager for the mission. It was exciting and highly successful when, in 2015, as the whole world watched, the spacecraft encountered Pluto. The spacecraft is continuing to an object in the Kuiper Belt and will arrive in January 2019.
It's been a wonderful trip!
Is Cassini an unusually long and successful mission?
Credits: Courtesy of D. Jennings
Cassini was conceived in the early '80s. The spacecraft has been in flight for 20 years. By any standard, Cassini is a long mission which has produced a lot of good data.
It is very satisfying to see something that you have worked with from inception to build to launch and see it fulfill and actually exceed its scientific purpose. We found so many new things that we were not originally looking for with Cassini.
Scientists are always looking for discoveries. We are always hoping for discoveries.
What is unusual about your career path?
It is not unheard of, but very few people work as a scientist and then switch over to engineering. In 2012, I transitioned from the science to the engineering side of Goddard.
I thought I was mostly working with engineers at that time, so it seemed logical to join their team. I had lots of friends in engineering already. I thought it would be a different set of challenges involving a new group of people. I am still very involved with my Cassini and New Horizons colleagues. I manage to do both engineering and science and it has worked out very well.
What helps scientists and engineers collaborate?
Goddard is made up of a lot of different disciplines. At Goddard, a typical mission includes people from a variety of scientific and engineering backgrounds. Once the mission begins, the people on the mission work as a single group.
Scientists and engineers approach problems differently. A scientist is looking for how to collect information to answer questions about the universe and the engineer is looking at how to build the thing to do that. But they are both addressing the same goals, only looking from different directions.
Another difference is how each looks at uncertainty. An engineer looks at uncertainty in terms of tolerances and margins which can be managed. A scientist looks at uncertainty as a measure of how something is not predictable.
When the mission comes together, the key is communication. Scientists and engineers need to understand what each is doing and be willing to ask questions. We all want the mission to succeed and we need to think outside our disciplines to make it succeed. When problems come up, good communication allows us to discuss and solve them.
What keeps you at Goddard?
I like it here. I would never seriously consider leaving. I've always enjoyed what I was doing and the people I worked with here. There is always something interesting, some new challenge, coming along.
What are your current projects at Goddard?
We are developing an infrared camera for the International Space Station. We're also building a suite of infrared cameras for the total eclipse of the sun on Aug. 21. We will view the eclipse in a location about an hour north of Boise, Idaho, which will be on the center line of the eclipse. We are going to Idaho because it is more likely to have clear weather.
Who or what inspired you?
When I was a little kid, I really thought that astronaut Alan Shepard was cool. He had a good sense of humor and seemed really, really competent. Also he was taking a big, big chance. I always admire people who really enjoy what they are doing.
Another person I admire is Richard Feynman, who always looked like he was having a good time. Feynman was a Nobel Prize winner from the 20th century and a very famous physicist who did a lot of great thinking.
I also remember Sputnik. My father took me in the backyard and showed me this light moving across the sky. I knew it was important because all the adults thought it was important.
Who are your favorite authors?
I will read anything, but especially enjoy real-life explorer books such as the travel logs by Ernest Shackleton or Lewis and Clark. I like to read history in general.
By Elizabeth M. Jarrell
NASA's Goddard Space Flight Center, Greenbelt, Md.
Conversations With Goddard is a collection of Q&A profiles highlighting the breadth and depth of NASA's Goddard Space Flight Center's talented and diverse workforce. The Conversations have been published twice a month on average since May 2011. Read past editions on Goddard's "Our People" webpage.