As we continue to celebrate Hispanic Heritage Month, the NASA Office of Small Business Programs is pleased to share the contributions of Bastion Technologies Inc. (Bastion), a Hispanic-owned company that supports NASA's missions. Their primary role is in Safety & Mission Assurance at NASA's Marshall Space Flight Center in Huntsville, Alabama. This includes systems engineering, where they have worked on design and analysis activities for the International Space Station, space shuttle, and Artemis programs.
Bastion engages in critical assessments to ensure the highest standards of safety and reliability in NASA missions. Their team provides mission assurance support for both crewed and uncrewed flight systems at various other NASA centers such as Stennis Space Center, Ames Research Center, Glenn Research Center, and NASA's Jet Propulsion Laboratory. In addition to supporting the success of NASA missions, they have prioritized the safety of our astronauts and valuable payloads. As a result, Bastion has received the Marshall Space Flight Center Safety Award for maintaining an exemplary safety record, with 2 million work hours without any injuries. 
NASA has also recognized Bastion with the Space Flight Awareness Award for their role in multiple aspects of the Space Launch Program, particularly in ensuring the successful delivery and launch of the Artemis I launch vehicle.  During Artemis I, NASA's SLS (Space Launch System), soared into the sky and sent the Orion spacecraft on a 1.4-million-mile journey beyond the Moon and back. The Space Launch System is NASA's heavy-lift rocket and serves as the cornerstone for human exploration beyond Earth's orbit. The SLS is the only rocket capable of sending the Orion spacecraft, four astronauts, and transporting extensive cargo directly to the Moon within a single mission.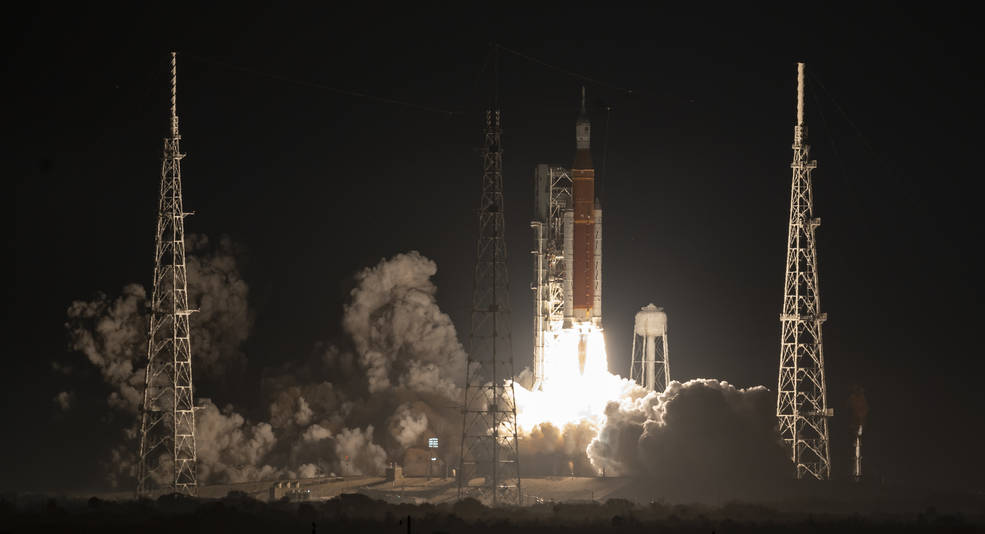 NASA/Bill Ingalls
They have also aided in a 12-test series of the new RS-25 engines at the agency's Stennis Space Center in Mississippi, which are integral to future SLS rocket missions. For over three decades, the RS-25 engine powered the space shuttle, completing 135 missions. This engine stands as one of the most rigorously tested large rocket engines in history, with over 3,000 starts and an accumulated firing time exceeding 1 million seconds through ground tests and flight. Throughout the Space Shuttle Program, the RS-25 underwent numerous design enhancements aimed at improving durability, reliability, safety, and performance.
Furthermore, Bastion's assistance in projects such as the Sample Cartridge Assembly and Copper Indium Sulfide Defect Growth  has been critical in completing the CISDG-C1 hardware for shipment and launch on the 28th SpaceX commercial resupply services mission for NASA. It launched to the International Space Station from the agency's Kennedy Space Center in Florida on June 3, 2023.  On this mission, SpaceX's Dragon spacecraft transported several thousand pounds of essential hardware,  scientific experiments, and technology demonstrations. It also encompassed research on plant stress adaptation, investigations into genetic structures known as telomeres, as well as the deployment of satellite projects designed by Canadian students. 
Lastly, Bastion's contribution to the Life Science Glovebox payload has seen a significant increase, with them completing 2.5 times as many integrated safety assessments in 2023 as they did in 2022. The Life Sciences Glovebox is a sealed work area in the International Space Station  which provides bioisolation and waste control. Crew members can perform experimental procedures in cell, insect, aquatic, plant, and animal developmental biology.
NASA/MSFC/Steve Moon 
Jorge Hernandez, the CEO of Bastion Technologies Inc. shares how his unique identity as a Hispanic professional continues to influence his daily work with NASA and Bastion in profound ways.  "Growing up in a culturally rich and diverse background, I have brought a unique perspective to problem-solving and teamwork. I've learned to adapt to different challenges and appreciate the value of diversity in the workplace," says Hernandez.   
He goes on to emphasize that Bastion actively supports mentorship and advocates for underrepresented minorities in STEM fields, aiming to inspire the next generation of diverse professionals to reach for the stars. 
"Bastion's journey supporting NASA has been deeply influenced by my heritage, which has driven our company to excel and promote diversity within the agency. Bastion is proud to contribute to NASA's mission and play our part in advancing our understanding of the universe." – Jorge Hernandez
By: Maliya Malik
NASA Office Of Small Business Programs Intern