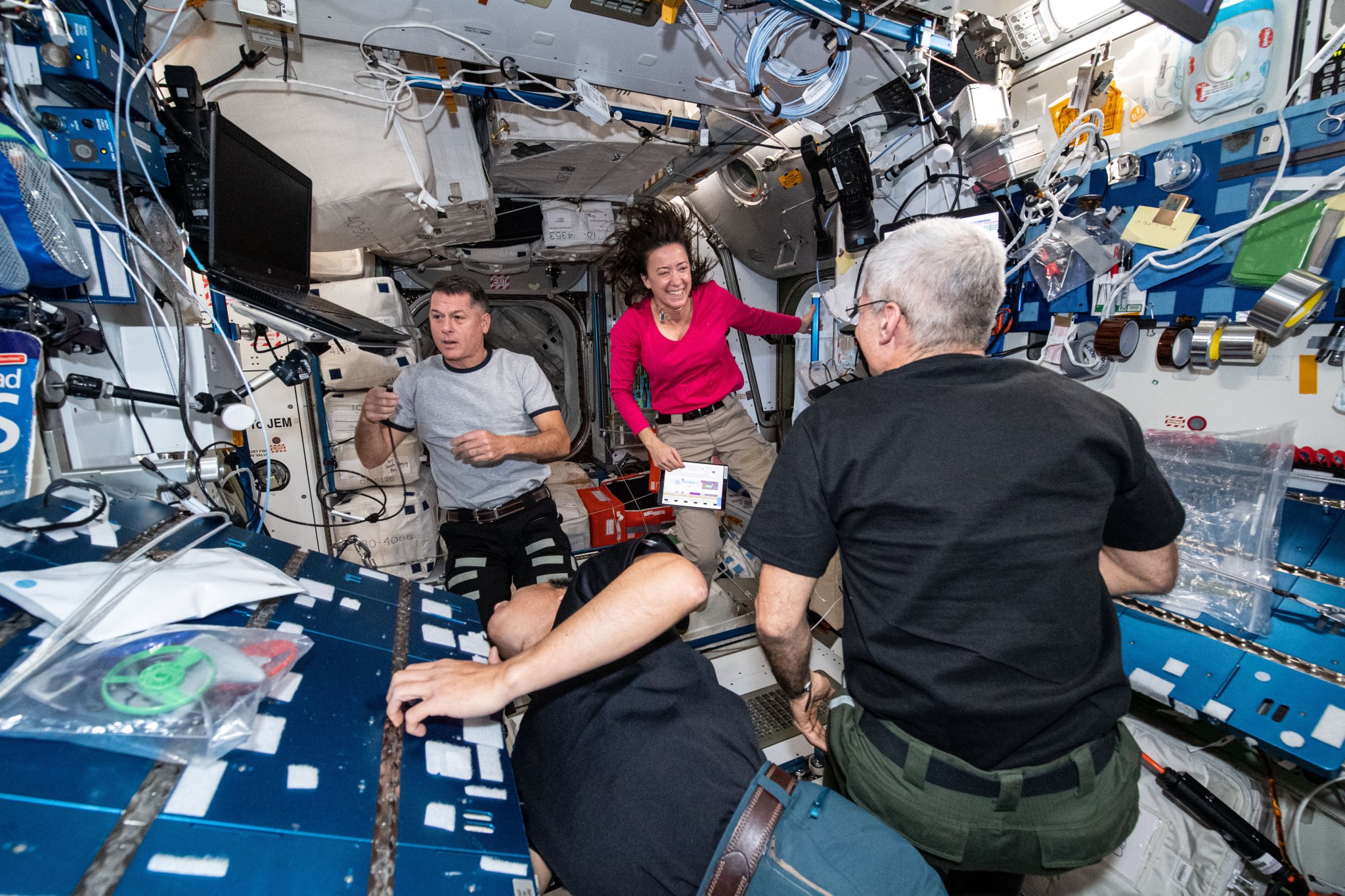 Credits: NASA
Students across the globe have opportunities this week to hear from astronauts aboard the International Space Station. The Earth-to-space calls air live on NASA Television, as well as the NASA app, and the agency's website, where they are also available on-demand.
On Wednesday, July 28, NASA astronaut Mark Vande Hei and Japan Aerospace Exploration Agency astronaut Akihiko Hoshide will answer prerecorded video questions from interns at various U.S. federal agencies beginning at 1:25 p.m. The downlink is facilitated by the NASA internships team in cooperation with internship representatives from NASA, the U.S. Geological Survey, the National Oceanic and Atmospheric Administration, the U.S. Department of Defense, and the U.S. Forest Service. The event will promote international partnerships and interagency collaboration. Mike Kincaid, NASA's associate administrator for STEM Engagement, will offer prerecorded opening remarks. NASA Administrator Bill Nelson and NASA Deputy Administrator Pam Melroy will give prerecorded opening remarks for a National Intern Day event scheduled to air on NASA Television.
The event will be held virtually. Media interested in NASA's internship program and the interns' experience with the downlink should contact Abel Morelos at 650-622-2176 or abel.morelos@nasa.gov.
Also on July 28, NASA astronaut Megan McArthur and ESA (European Space Agency) astronaut Thomas Pesquet will answer prerecorded video questions from students in the greater San Antonio area beginning at 10:25 a.m. This downlink is hosted by the WEX Foundation and will be part of WEX Space Fest 2021, which also will include a keynote address from Josef Schmid, NASA flight surgeon in the Medical Operations Branch at Johnson Space Center in Houston.
The event will be held virtually. Media interested in the students' experience and WEX Foundation should contact Paco Felici at 210-260-3218 or paco.felici@portsanantonio.us
On Monday, July 26, Vande Hei and Pesquet answered prerecorded video questions from students across Bulgaria at 11 a.m. EDT. The downlink was facilitated by the U.S. Embassy in Bulgaria in partnership with the Atlantic Club of Bulgaria and a network of more than 30 Bulgarian organizations. Sofia Science and Technology Park hosted a day of STEM activities to coincide with the downlink. U.S. Ambassador to Bulgaria Herro Mustafa delivered prerecorded opening remarks and Solomon Passy, former Bulgarian minister of foreign affairs and president of the Atlantic Club of Bulgaria, shared prerecorded closing remarks.
The event was held virtually. Media interested in the students' experiences and organizations' event should contact Passy at +359-887-451-44 or solomonpassy@gmail.com.
Linking students directly to astronauts aboard the space station provides unique, authentic experiences designed to enhance student learning, performance, and interest in science, technology, engineering, and mathematics. Astronauts living in space on the orbiting laboratory communicate with NASA's Mission Control Center in Houston 24 hours a day through the Space Network's Tracking and Data Relay Satellites.
For more than 20 years, astronauts have continuously lived and worked on the space station, testing technologies, performing science, and developing the skills needed to explore farther from Earth. Through NASA's Artemis program, the agency will return astronauts to the Moon, with eventual human exploration of Mars. Inspiring the next generation of explorers – the Artemis Generation – ensures America will continue to lead in space exploration and discovery.
Follow America's Moon to Mars exploration at:
https://www.nasa.gov/topics/moon-to-mars
Follow NASA astronauts on social media at:
https://twitter.com/NASA_Astronauts
See videos and lesson plans highlighting research on the International Space Station at:
https://www.nasa.gov/stemonstation
-end-