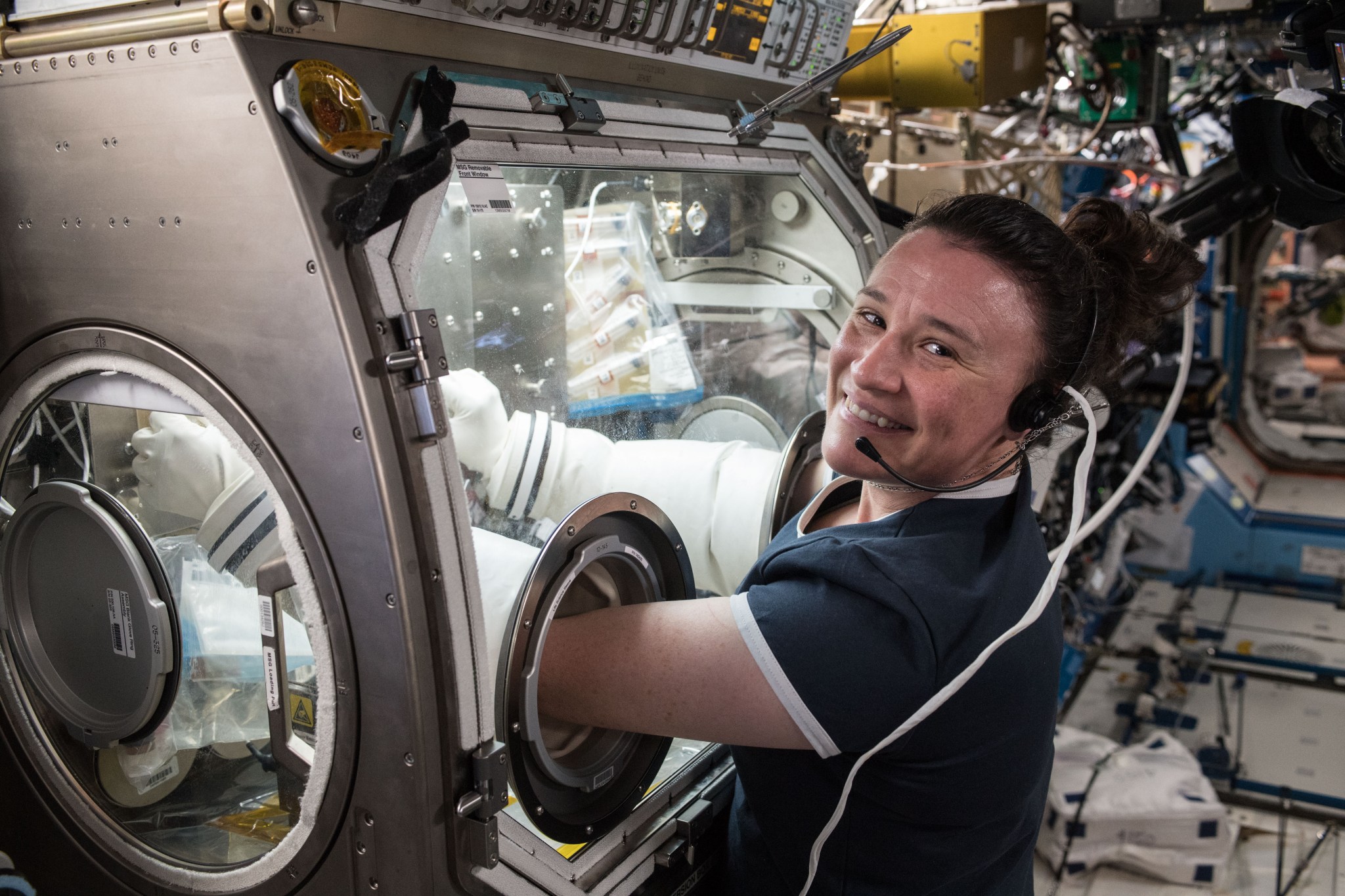 University and middle school students from South Dakota, and junior high students from Texas, will talk live with astronauts on the International Space Station next week. Both Earth-to-space calls are part of NASA's Year of Education on Station, and will air live on NASA Television and the agency's website.
NASA astronaut Ricky Arnold will answer questions from students gathered at Dakota State University in Madison, South Dakota, at 12:10 p.m. EDT Monday, Aug. 27. Students from the university and sixth through eighth graders from Madison Central School District will participate. The younger students are enrolled in Earth and space science courses exploring the theme of science and engineering in zero or low-gravity environments. Arnold is expected to discuss topics such as gravity, water cycles, rocketry, astronomy, mechanics and radiation. The event will be held in the Beacom Institute of Technology, 8010 N. Washington Ave., Madison. Media interested in covering should contact Jim Maloney at james.maloney@dsu.edu or 605-480-0013.
Later in the week, NASA astronaut Serena Auñón-Chancellor will talk with students gathered at Eugene Kranz Junior High School in Dickinson, Texas, at 9:30 a.m. Thursday, Aug. 30. Students from Barber Middle School in Dickinson will join the students at Kranz Junior High as part of an academy serving high-performing students from across the district. Kranz Junior High, named in honor of legendary Apollo-era NASA flight director and long-time Dickinson resident Gene Kranz, is a brand new facility serving seventh and eighth graders. The address is 12850 FM 346, Dickinson. Media interested in covering the event should contact Tammy Dowdy at tdowdy@dickinsonisd.org or 281-229-6080.
Linking students directly to astronauts aboard the space station provides unique, authentic experiences designed to enhance student learning, performance and interest in science, technology, engineering and mathematics. Astronauts living in space on the orbiting laboratory communicate with NASA's Mission Control Center in Houston 24 hours a day through the Space Network's Tracking and Data Relay Satellites (TDRS).
In addition to the calls with students, astronaut Drew Feustel will participate in a conversation with Sky Sports, which covers London Formula One racing, at 10:25 a.m. Tuesday, Aug. 28. That conversation also will air live on NASA Television and the agency's website.
Follow the astronauts on social media at:
See videos and lesson plans highlighting research on the International Space Station at:
-end-
Katherine Brown
Headquarters, Washington
202-358-1288
katherine.m.brown@nasa.gov
Carla Santiago
Johnson Space Center, Houston
281-483-7150
carla.a.santiago@nasa.gov