Hundreds of scientists and engineers (even the occasional astronaut) pass through Goddard's gates every day. One of science fiction's most famous astronauts joined the mix on February 29.
Nichelle Nichols, best known in the role of Star Trek's Lt. Uhura, keynoted Goddard's 2012 Martin Luther King, Jr., and African-American History Month commemorative presentation.
As part of the U.S.S. Enterprise's racially- and culturally-diverse crew in the 23rd century, Lt. Uhura explored the galaxy and famously went where no one had gone before.
Back in the 20th century, when Star Trek first aired in the 1960s, there were no multiracial spaceship crews: "Nichelle Nichols was living out future equality a generation before the first African-American astronauts," said Dr. Christyl Johnson, Goddard's deputy director for science and technology.
Johnson introduced Nichols to a packed auditorium. The crowd erupted in applause as Nichols entered, singing the opening melody of the original Star Trek title theme. (Nichols' performing career began singing with renowned jazz musician Duke Ellington.)
These photographs were taken during Nichelle Nichols's visit to NASA's Goddard Space Flight Center on Feb. 29, 2012.
But it was a portrayal that nearly ended just as it began. "I grew up planning to be a great star in theater," Nichols said. As the show's first season was wrapping up, she went to Star Trek creator Gene Roddenberry and told him she planned to resign "to pursue my first love."
Roddenberry pleaded with her to stay and convinced Nichols to take the weekend to think it over. That Saturday Nichols attended an NAACP fundraiser. One of the event promoters asked her if she would meet with a fan.
"I stood up and turned around, and looked into the beautiful face of Dr. Martin Luther King – my leader!" Nichols said.
They discussed the cultural significance of Nichols's role and her intent to depart television for the stage. She reflected on King's response: "You cannot leave; you cannot abdicate," he told her. "You don't know what you mean to us. Every night that you're on, we can look on and see what we're fighting for."
On Monday Nichols shared the experience with Roddenberry and said she would stay with Star Trek. "He said, 'God bless Dr. Martin Luther King. Somebody knows what I'm trying to achieve,'" Nichols said. "Bless Dr. King for bringing me to my senses."
"I stayed, and I never looked back," she said. "I'm very glad that I did." Her continued role on Star Trek eventually served to help bring the diversity of the Enterprise to the diversity of NASA's astronaut corps.
"I had always been proud of our feats in space," Nichols said. "But something always bothered me: Where are the women? Where are the people of color?" She began discussing her concerns with fans at Star Trek conventions.
A speech Nichols gave on the subject caught the ear of NASA officials, who enlisted her help to recruit the first women and minority astronauts for the Space Shuttle Program in the late 1970s.
Nichols's role as one of television's first black characters to be more than just a stereotype and one of the first women in a position of authority (she was fourth in command of the Enterprise) inspired thousands of applications from women and minorities.
Among them: Ronald McNair, Frederick Gregory, Judith Resnick, first American woman in space Sally Ride, and current NASA Administrator Charlie Bolden.
Former NASA astronaut Mae Jemison often cited her Star Trek fandom – specifically Nichols's performance in the program – as having inspired her interest in space. As a mission specialist on the STS-47 flight of space shuttle Endeavour in 1992, Jemison became the first African-American woman in space.
"Now more than ever, we're exploring space beyond the 'beyond,'" Nichols said. "I wish I could live forever so I could live to see it, because we're on our way to the 23rd century that Gene Roddenberry gave us. … All our posterity will benefit from the growth of NASA."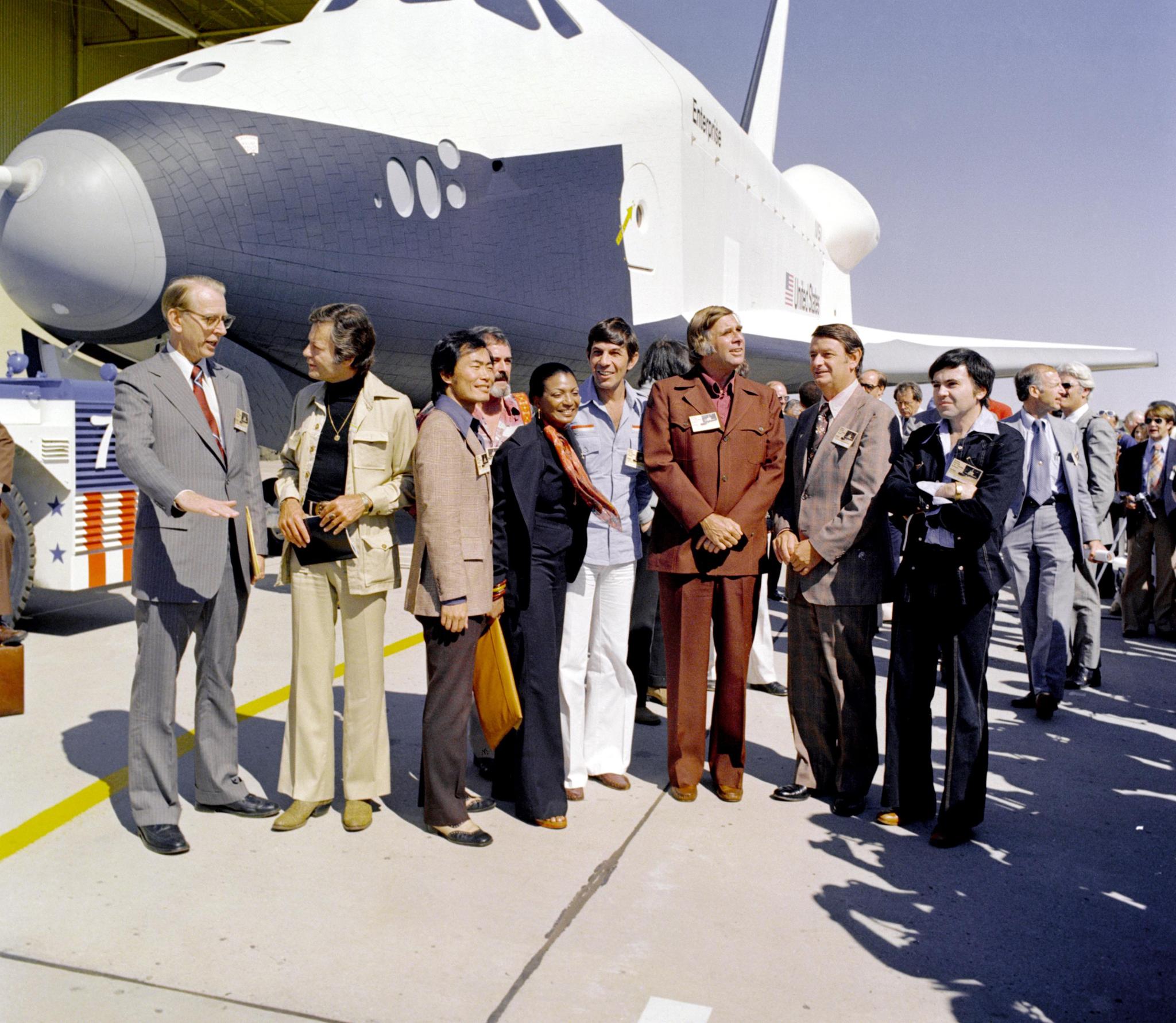 Following the presentation, Nichols entertained questions from the crowd, posed for photos and signed autographs.
Wednesday's commemoration also featured Eleanor Roosevelt High School's color guard, and musical performances from Suitland High School and the Washington Area Performing Arts Society's Children of the Gospel Choir. Other event speakers included Crystal Moten, deputy chief of the center's Equal Opportunity Programs Office, and Kristen Soper, from the office of Sen. Barbara Mikulski (D-Md.).
Nichols is not the first Star Trek cast member to visit Goddard. George Takei (Mr. Sulu) shared his experiences growing up in a World War II Japanese-American internment camp during a presentation to Goddard employees in 2008. Connor Trinneer, who played Chief Engineer "Trip" Tucker on "Star Trek: Enterprise," toured the center's Hubble facilities in 2006.
The 2012 event was sponsored by the Equal Opportunity Programs Office in partnership with the African-American Advisory Committee (AAAC), and the Center-wide Planning Committee.
Related Links