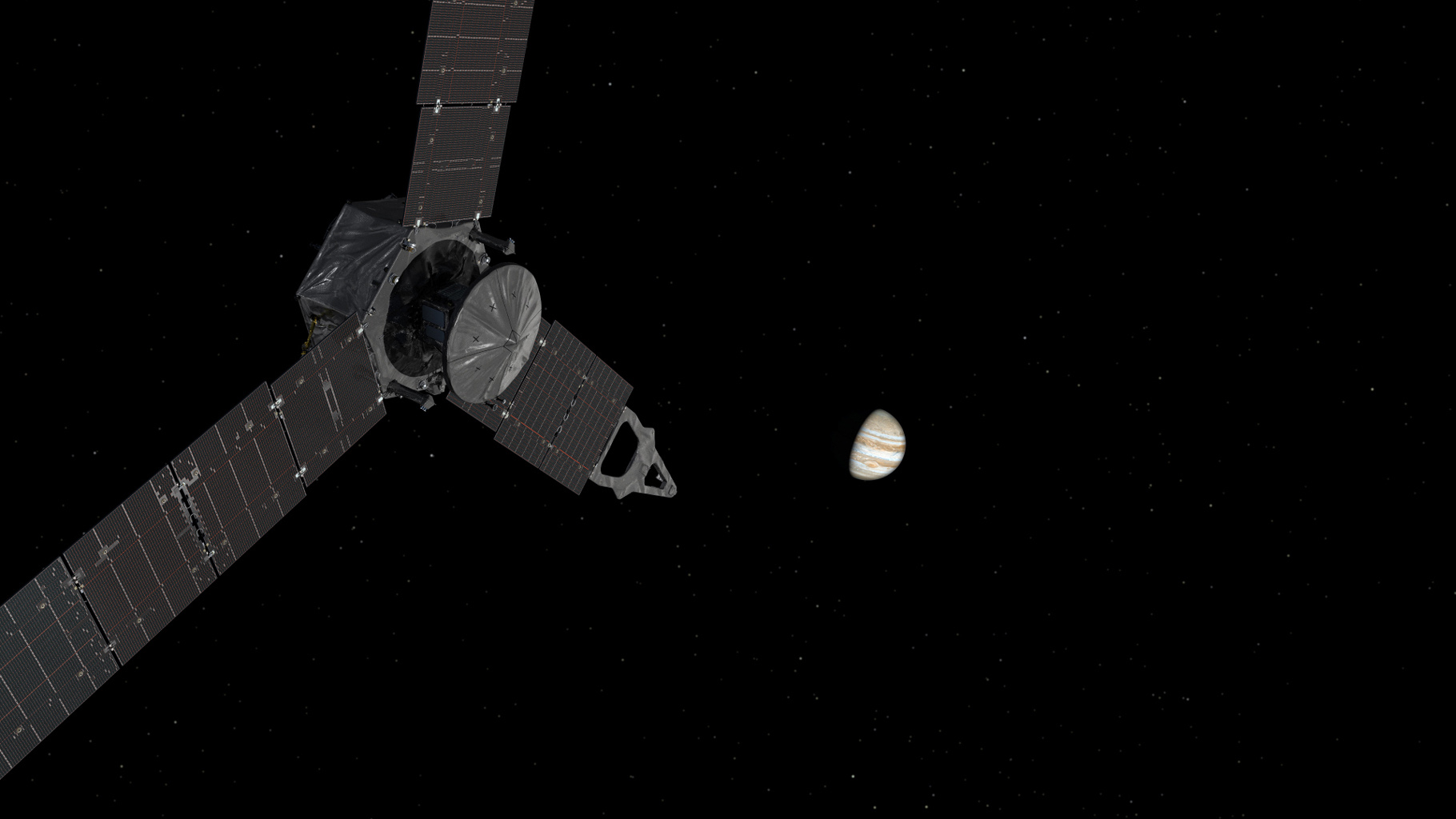 Scientists from NASA's Juno mission to Jupiter will discuss their first in-depth science results in a media teleconference at 2 p.m. EDT Thursday, May 25, when multiple papers with early findings will be published online by the journal Science and Geophysical Research Letters.
Editor's note: Materials from the briefing are now published.
News release: A Whole New Jupiter: First Science Results from NASA's Juno Mission
The teleconference participants are:
Diane Brown, program executive at NASA Headquarters in Washington
Scott Bolton, Juno principal investigator at Southwest Research Institute in San Antonio
Jack Connerney, deputy principal investigator at NASA's Goddard Space Flight Center in Greenbelt, Maryland
Heidi Becker, Juno radiation monitoring investigation lead at NASA's Jet Propulsion Laboratory in Pasadena, California
Candy Hansen, Juno co-investigator at the Planetary Science Institute in Tucson, Arizona
To participate in the teleconference, media must email their name and affiliation to Laurie Cantillo at laura.l.cantillo@nasa.gov by noon Thursday. Media and the public also may ask questions during the briefing on Twitter using #askNASA.
Juno launched on Aug. 5, 2011, from Cape Canaveral Air Force Station, Florida, and arrived in orbit around Jupiter on July 4, 2016. In its current exploration mission, Juno soars low over the planet's cloud tops, as close as about 2,100 miles (3,400 kilometers). During these flybys, Juno probes beneath the obscuring cloud cover of Jupiter and studies its auroras to learn more about the planet's origins, structure, atmosphere and magnetosphere.
Audio of the briefing will stream live at:
https://www.nasa.gov/live
Visuals will be posted at the start of the event at:
More information on the Juno mission is available at:
Follow the mission on social media at:
http://www.facebook.com/NASAJuno
http://www.twitter.com/NASAJuno
-end-
Dwayne Brown / Laurie Cantillo
Headquarters, Washington
202-358-1726 / 202-358-1077
dwayne.c.brown@nasa.gov / laura.l.cantillo@nasa.gov
DC Agle
Jet Propulsion Laboratory, Pasadena, Calif.
818-393-9011
agle@jpl.nasa.gov
Nancy Neal Jones
Goddard Space Flight Center, Greenbelt, Md.
301-286-0039
nancy.n.jones@nasa.gov
Deb Schmid
Southwest Research Institute, San Antonio
210-522-2254
dschmid@swri.org