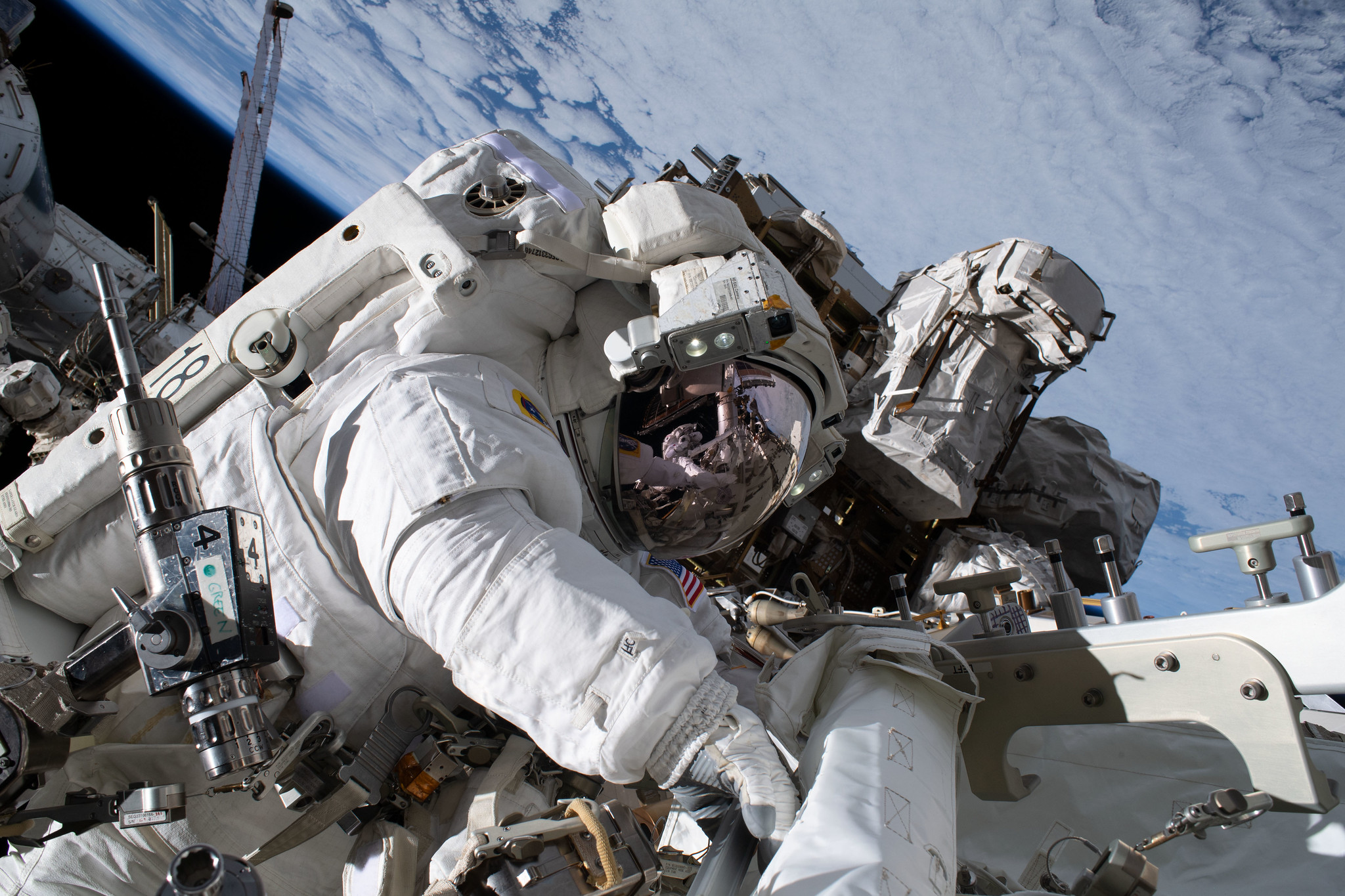 Two astronauts aboard the International Space Station will conduct a spacewalk Thursday, Feb. 2, to continue the installation of hardware for future power system upgrades. The spacewalk is scheduled to begin at 8:15 a.m. EST and last about six and a half hours.
The agency will provide live coverage of the spacewalk beginning at 6:45 a.m., on NASA Television, the NASA app, and the agency's website.
On Feb. 2, NASA astronaut Nicole Mann and Japan Aerospace Exploration Agency (JAXA) astronaut Koichi Wakata will exit the station's Quest airlock to complete installation of a mounting platform on the 1A power channel as part of a planned solar array augmentation on the starboard side of the station's truss.
The duo will complete the installation of the mounting platform that was started during a spacewalk on Jan. 20, relocate and install an articulating portable foot restraint from the P6 truss for future spacewalk tasks, and if time permits, complete cable routing on the 1B power channel.
The installation is part of a series of spacewalks to augment the station's power channels with new International Space Station Roll-Out Solar Arrays (iROSAs). Four iROSAs have been installed so far, and two additional arrays will be mounted to the installed platforms during future spacewalks following their arrival this year on NASA's SpaceX 28th commercial resupply services mission.
Mann will serve as extravehicular crew member 1 and will wear a suit with red stripes. Wakata will serve as extravehicular crew member 2 and will wear an unmarked suit. The spacewalk will be the second for both Mann and Wakata.
Get breaking news, images and features from the space station on the station blog, Instagram, Facebook, and Twitter.
Learn more about International Space Station research and operations at:
-end-
Lora Bleacher
Headquarters, Washington
202-358-1100
lora.v.bleacher@nasa.gov
Sandra Jones
Johnson Space Center, Houston
281-483-5111
sandra.p.jones@nasa.gov