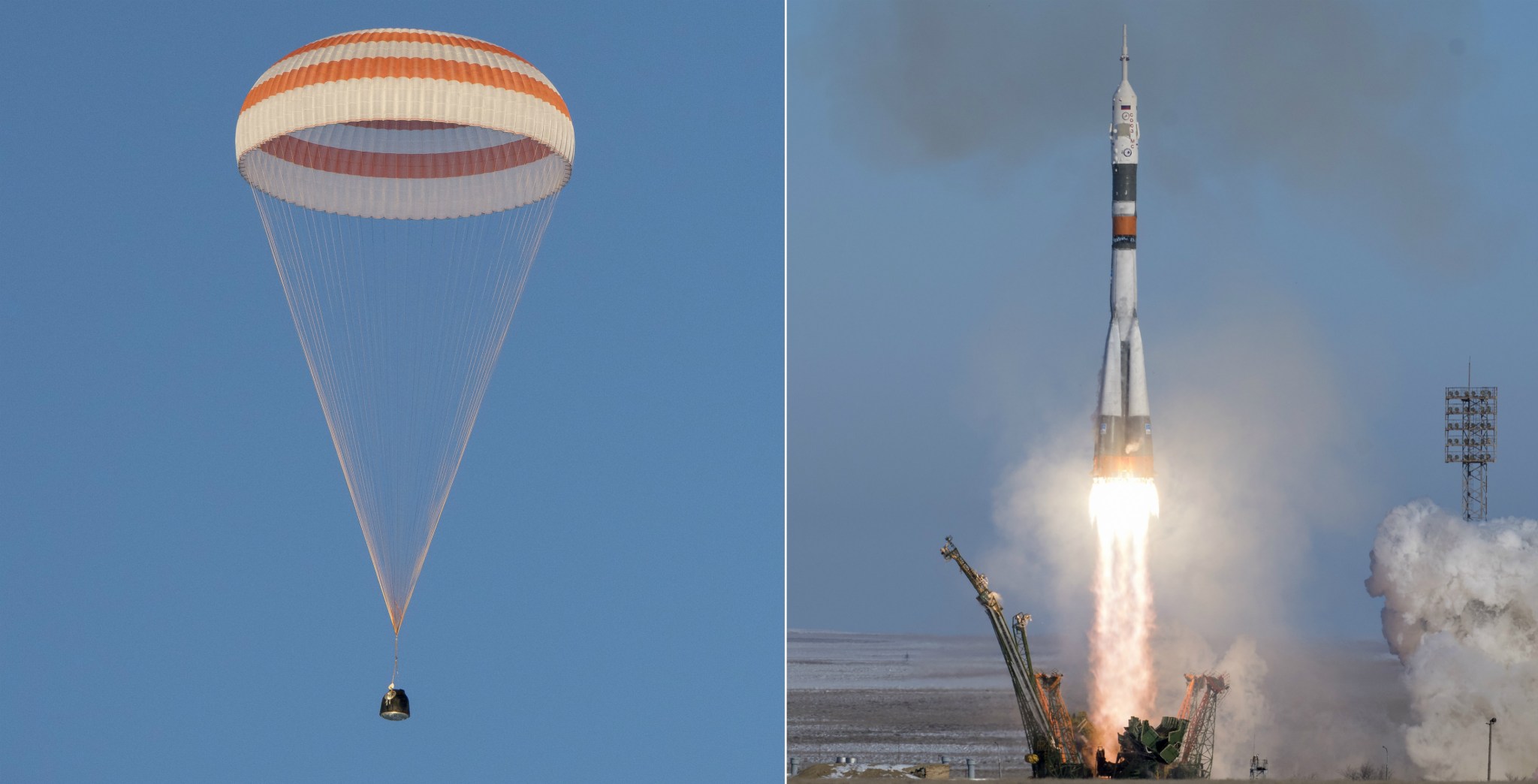 Three of the crew members currently aboard the International Space Station are scheduled to end their mission on the orbiting laboratory on Sunday, June 3. A few days later, another trio of space travelers will depart for the station on a launch scheduled for Wednesday, June 6. Live coverage of both the landing and launch will air live on NASA Television and the agency's website.
In advance of the departure, the traditional change of command ceremony on Friday, June 1, will see Expedition 55 Commander Anton Shkaplerov of Roscosmos hand over command of the station to NASA's Drew Feustel for Expedition 56.
Shkaplerov and Flight Engineers Scott Tingle of NASA and Norishige Kanai of the Japan Aerospace Exploration Agency (JAXA) will close the hatch to the Soyuz MS-07 spacecraft and undock from the Rassvet module as they head for a parachute-assisted landing on the steppe of Kazakhstan a little more than three hours later. The crew is completing a mission spanning 168 days, with 2,688 orbits of the Earth and a journey of 71.2 million miles. The mission also marks the first spaceflight for Tingle.
After landing, the crew will return by helicopter to the recovery staging city in Karaganda, Kazakhstan, where Tingle and Kanai will board a NASA plane for a flight back to Houston while Shkaplerov returns to his home in Star City, Russia.
At the time of undocking, Expedition 56 will begin formally aboard the station, with Feustel, NASA astronaut Ricky Arnold and Oleg Artemyev of Roscosmos comprising a three-person crew for several days.
At the Baikonur Cosmodrome in Kazakhstan, Sergey Prokopyev of Roscosmos, Serena Auñón-Chancellor of NASA and Alexander Gerst of ESA (European Space Agency) are preparing to launch in the Soyuz MS-09 spacecraft Wednesday, June 6, on a two-day journey to dock to the station.
Coverage of Expedition 55 landing and Expedition 56 launch activities will be as follows (all times EDT):
Friday, June 1
2:25 p.m. – Change of command ceremony with Anton Shkaplerov handing over station command to NASA astronaut Drew Feustel
Sunday, June 3
1:30 a.m. – Farewell and hatch closure coverage (hatch closure at 1:55 a.m.)
4:45 a.m. – Undocking coverage (undocking scheduled for 5:16 a.m.)
7:15 a.m. – Deorbit burn and landing coverage (deorbit burn at 7:47 and landing at 8:40 a.m.)
Wednesday, June 6
6:15 a.m. – Soyuz MS-09 launch coverage (launch at 7:12 a.m.)
Friday, June 8
8:15 a.m. – Docking coverage (docking scheduled for 9:07 a.m.)
10:30 a.m. – Hatch opening and welcome coverage
A full complement of video of the crew's prelaunch activities in Baikonur will air on NASA TV in the days preceding launch.
The crew members of Expedition 56-57 will continue work on hundreds of experiments in biology, biotechnology, physical science and Earth science aboard the International Space Station, humanity's only permanently occupied microgravity laboratory.
Get breaking news, images and features from the station on Instagram and Twitter at:
and
-end-
Stephanie Schierholz
Headquarters, Washington
202-358-1100
stephanie.schierholz@nasa.gov
Dan Huot
Johnson Space Center, Houston
281-483-5111
daniel.g.huot@nasa.gov