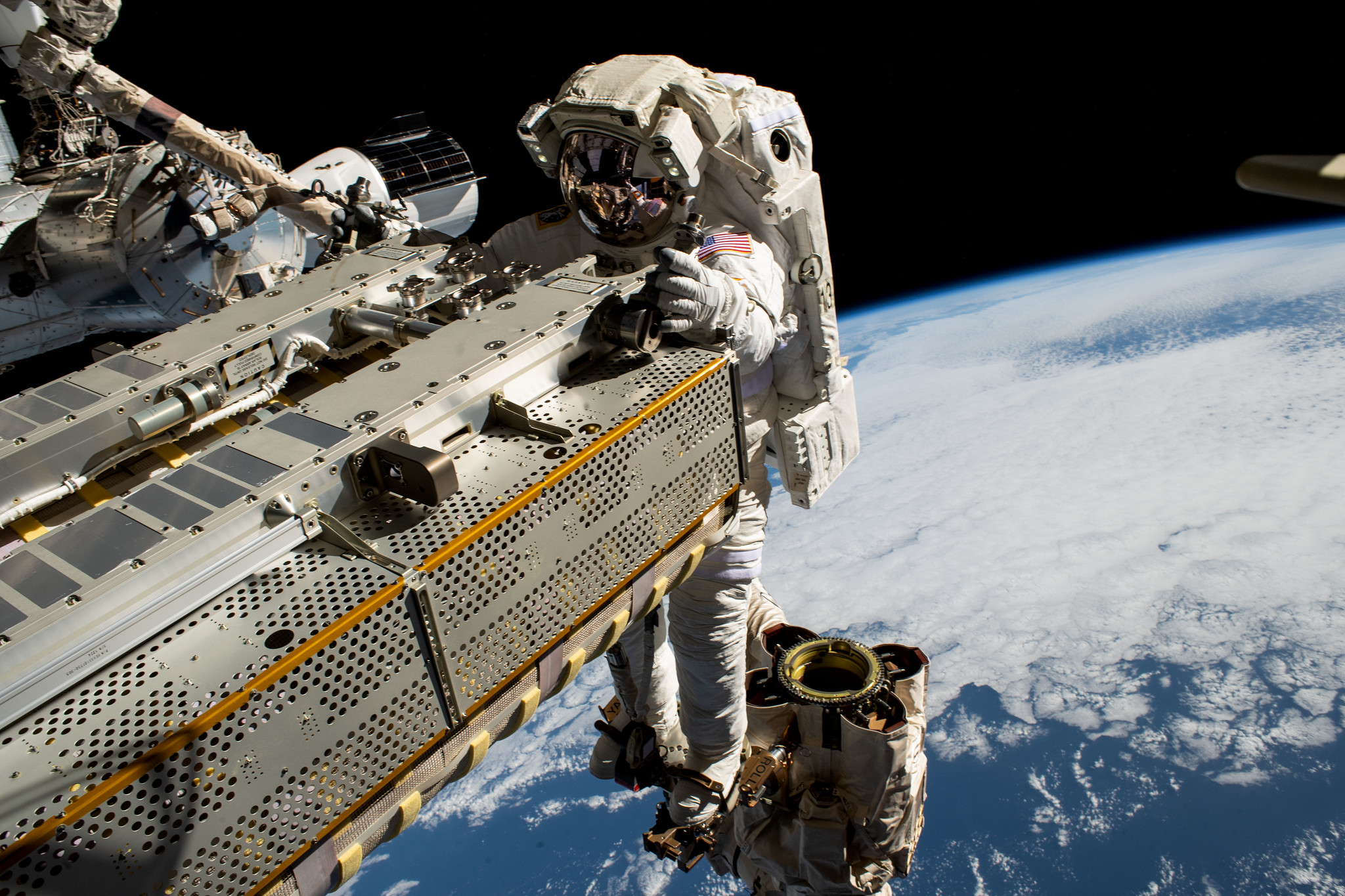 Credits: NASA
Editor's note: This advisory was updated Oct. 17, 2023 to note that the United States segment spacewalk scheduled for Oct. 19 has been postponed. NASA will issue new advisories with coverage details as more information becomes available.
Editor's note: This advisory was updated Oct. 13, 2023, to reflect a change in the dates for the spacewalks now scheduled for Oct. 19 and Oct. 30.
Editor's note: On Oct. 11, 2023, the agency announced two United States segment spacewalks have been postponed.
Two upcoming spacewalks outside the International Space Station to conduct science research and station maintenance will feature NASA astronauts, both first-time spacewalkers.
NASA astronaut Loral O'Hara will participate in spacewalks on Thursday, Oct. 19, and Monday, Oct. 30, with ESA (European Space Agency) astronaut Andreas Mogensen joining her on the first, and NASA astronaut Jasmin Moghbeli joining her on the second.
Agency experts will preview the spacewalks during a news conference at 1 p.m. EDT on Friday, Oct. 6, from NASA's Johnson Space Center in Houston.
Live coverage of the news conference and spacewalks will air on NASA Television, the NASA app, and the agency's website.
News conference participants are:
Dana Weigel, deputy manager, International Space Station Program, NASA Johnson
Elias Myrmo, spacewalk flight director, NASA Johnson
Faruq Sabur, U.S. spacewalk 89 officer, NASA Johnson
Sandra Fletcher, U.S. spacewalk 90 officer, NASA Johnson
Media interested in participating in person or by phone must contact the Johnson newsroom no later than 10 a.m., Friday, Oct. 6, by calling 281-483-5111 or emailing jsccommu@mail.nasa.gov. To ask questions by phone, reporters must dial into the news conference no later than 15 minutes prior to the start of the call. Questions may also be submitted on social media using #AskNASA.
The first spacewalk is scheduled to begin at 8:35 a.m. and last about six hours with NASA TV coverage beginning at 7 a.m.
On Oct. 19, O'Hara and Mogensen will exit the station's Quest airlock to collect samples for analysis to see whether microorganisms may exist on the exterior of the orbital complex. They also will replace a high-definition camera on the port truss of the station and conduct other maintenance work to prepare for future spacewalks.
O'Hara will serve as extravehicular activity (EVA) crew member 1 and will wear a suit with red stripes. Mogensen will serve as extravehicular crew member 2 and will wear an unmarked suit. U.S. spacewalk 89 will be the first spacewalk for both crew members.
On Oct. 30, O'Hara and Moghbeli will complete the removal of a faulty electronics box, called a Radio Frequency Group, from a communications antenna on the starboard truss of the station and replace one of twelve Trundle Bearing Assemblies on the port truss Solar Alpha Rotary Joint. The bearings enable the station's solar arrays to rotate properly to track the sun as the station orbits the Earth. During this spacewalk, Moghbeli will serve as EVA crew member 1 and O'Hara will serve as EVA crew member 2. U.S. spacewalk 90 will be the first spacewalk for Moghbeli and second for O'Hara.
Times for the Oct. 30 spacewalk will be announced at a later date.
Get breaking news, images and features from the space station on the station blog, Instagram, Facebook, and X.
Learn more about International Space Station research and operations at:
-end-
Lora Bleacher / Julian Coltre
Headquarters, Washington
202-358-1100
lora.v.bleacher@nasa.gov / julian.n.coltre@nasa.gov
Sandra Jones
Johnson Space Center, Houston
281-483-5111
sandra.p.jones@nasa.gov