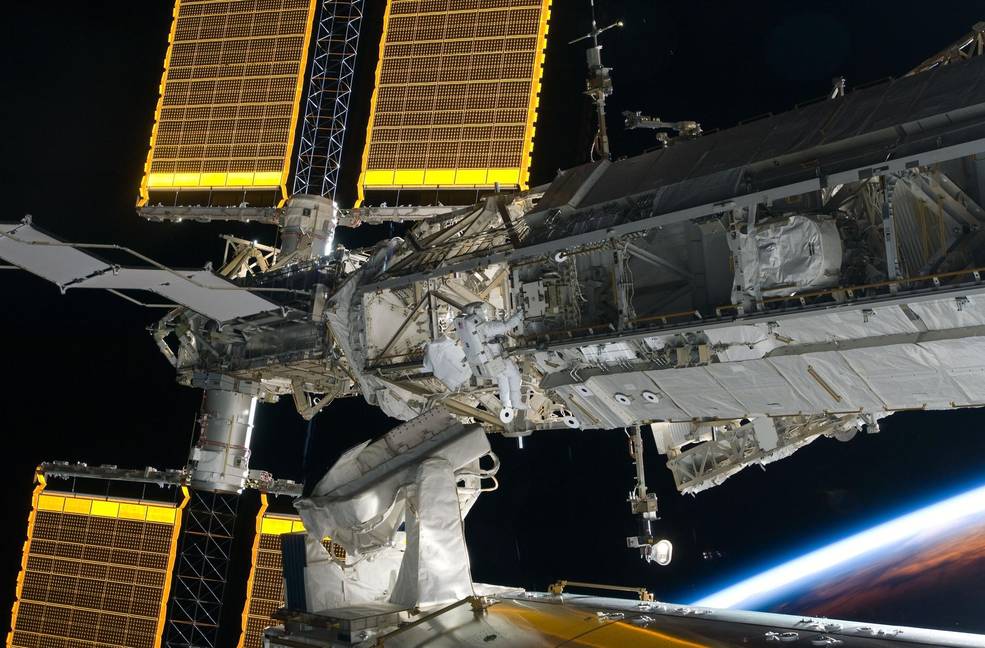 NASA
Two crew members, including a NASA astronaut, living aboard the International Space Station will conduct a spacewalk Friday, April 28, to continue installation of hardware to support future power system upgrades. Agency experts will preview the spacewalk during a live news conference at 2 p.m. EDT on Monday, April 24, from NASA's Johnson Space Center in Houston.
Interested media must contact the Johnson newsroom no later than 11 a.m., Monday, April 24, by calling 281-483-5111 or emailing jsccommu@mail.nasa.gov. To ask questions, reporters must dial into the news conference no later than 1:45 p.m. Questions may also be submitted on social media using #AskNASA.
Live coverage of the news conference and spacewalk will air on NASA Television, NASA app, and on the agency's website at:
The news conference will take place with the following participants:
Dina Contella, operations integration manager, International Space Station Program
Scott Stover, spacewalk flight director
Sandra Fletcher, spacewalk officer
The agency will provide live coverage of the spacewalk beginning at 7:45 a.m., Friday, April 28. The spacewalk is scheduled to begin at about 9:15 a.m., and last about 6.5 hours.
NASA astronaut Steve Bowen and UAE (United Arab Emirates) astronaut Sultan Alneyadi will exit the station's Quest airlock to prepare for future installation of upgraded solar arrays on the starboard side of the station's truss. The astronauts will then retrieve S-band antenna equipment and bring it inside the space station for refurbishment.
The spacewalk is part of a series to augment the station's power channels with new International Space Station Roll-Out Solar Arrays (iROSAs). Four of the new arrays have been installed so far, and two additional arrays will be mounted to the installed platforms during future spacewalks following their arrival this year on SpaceX's 28th commercial resupply services mission for NASA.
Bowen will serve as extravehicular crew member 1 (EV 1) and will wear a suit with red stripes. Alneyadi will serve as extravehicular crew member 2 (EV 2) and will wear an unmarked suit. U.S. spacewalk 86 will be the eighth spacewalk for Bowen and the first for any UAE astronaut.
Learn more about International Space Station research and operations at:
-end-
Lora Bleacher
Headquarters, Washington
202-358-1100
lora.v.bleacher@nasa.gov
Sandra Jones
Johnson Space Center, Houston
281-483-5111
sandra.p.jones@nasa.gov
Lora Bleacher
Headquarters, Washington
202-358-1100
lora.v.bleacher@nasa.gov
Sandra Jones
Johnson Space Center, Houston
281-483-5111
sandra.p.jones@nasa.gov