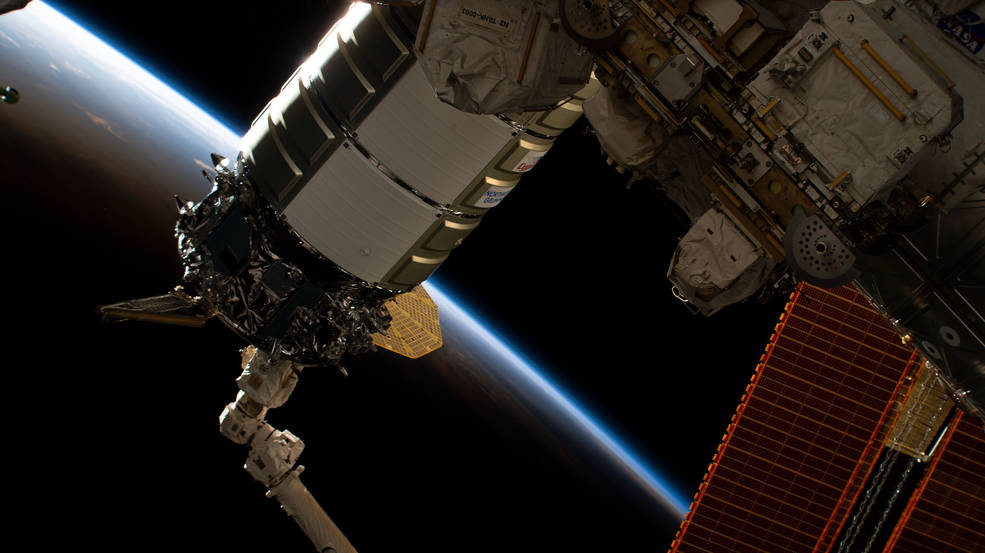 NASA Images
Carrying more than 8,200 pounds of supplies, scientific investigations, commercial products, hardware, and other cargo to the orbiting laboratory for NASA, Northrop Grumman's uncrewed Cygnus spacecraft is scheduled to depart the International Space Station Friday, April 21.
The agency will provide live coverage of Cygnus' departure starting at 7 a.m. EDT on NASA Television, the NASA app, and on the agency's website at:
Flight controllers on the ground will send commands for the space station's Canadarm2 robotic arm to detach Cygnus from the Unity module's Earth-facing port, then maneuver the spacecraft into position for its release at 7:20 a.m. UAE (United Arab Emirates) astronaut Sultan Alneyadi will monitor Cygnus' systems during its departure from the space station.
Following a deorbit engine firing later in the evening, Cygnus will begin a planned destructive re-entry, in which the spacecraft – filled with trash packed by the station crew – will safely burn up in Earth's atmosphere.
Cygnus arrived at the space station in November 2022, following a launch on Northrop Grumman's Antares rocket from NASA's Wallops Flight Facility on Wallops Island, Virginia. It was the company's 18th commercial resupply services mission to the space station for NASA. On March 30, Cygnus fired its engines for over 15 minutes to boost the station's orbit, continuing the certification process for using the Cygnus spacecraft as an additional reboost capability. Northrop Grumman named the spacecraft after the late NASA astronaut, physicist, and first American woman in space, Sally Ride.
-end-
Joshua Finch
Headquarters, Washington
202-358-1100
joshua.a.finch@nasa.gov
Sandra Jones
Johnson Space Center, Houston
281-483-5111
sandra.p.jones@nasa.gov
Joshua Finch
Headquarters, Washington
202-358-1100
joshua.a.finch@nasa.gov
Sandra Jones
Johnson Space Center, Houston
281-483-5111
sandra.p.jones@nasa.gov