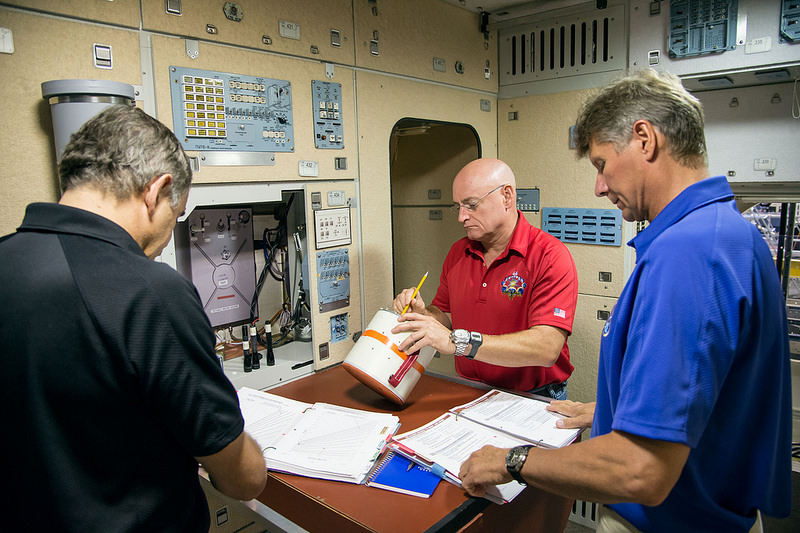 NASA will hold two briefings Thursday, Jan. 15 at the agency's Johnson Space Center in Houston, to preview the upcoming Expedition 43 mission aboard the International Space Station and the launch of the crew embarking on a yearlong mission. NASA Television and the agency's website will broadcast the briefings live.
At noon EST, an International Space Station Program and Science Overview briefing will cover mission priorities and objectives, which include hundreds of research experiments, numerous spacewalks and international and commercial cargo deliveries to the complex.
The briefing participants are:
Michael Suffredini, International Space Station program manager
Emily Nelson, International Space Station expedition flight director
Julie Robinson, International Space Station program scientist
Steve Gilmore, lead flight surgeon for Scott Kelly
At 2 p.m., NASA astronaut Scott Kelly and cosmonauts Mikhail Kornienko and Gennady Padalka of the Russian Federal Space Agency (Roscosmos) will discuss their upcoming mission. B-roll video of the crew's training will air at 1:30 p.m.
The trio is set to launch to the space station aboard the Soyuz TMA-16M spacecraft March 27. Padalka will return to Earth in September while Kelly and Kornienko will remain onboard until March 2016.
Kelly and Kornienko are embarking on a first-ever yearlong mission to the station. The valuable scientific data collected will provide insight into how the human body responds to longer durations in space, supporting the next generation of space exploration.
Following the news conference, interview opportunities are available with the crew members in person, by phone or through Internet videoconferencing. To reserve an interview opportunity, news media representatives must contact the Johnson newsroom at 281-483-5111 by 5 p.m., Monday, Jan. 12.
To participate in the news conferences from a NASA center, U.S. media must call that center's public affairs office by 5 p.m. local time Wednesday, Jan 14. To participate by phone, media must call the Johnson newsroom 15 minutes before each briefing. Those following the briefing on social media may ask questions using the hashtag #askNASA.
An additional opportunity with Scott Kelly and his twin brother, former astronaut Mark Kelly, will be available the following week. Scientists plan to compare medical data from the twin brothers to compare the results of Kelly's extended mission. The twins will be available from 6-7:30 p.m. EST Tuesday, Jan. 20, for both in-person and live satellite television interviews.
To participate, reporters must contact Seth Marcantel at NASA's Johnson Space Center in Houston at 281-792-7515 or by email at seth.r.marcantel@nasa.gov no later than 5 p.m. Friday, Jan. 16.
The live satellite interviews will air on NASA TV's Media Channel #103 and the agency's website. Technical information is available online at:
http://go.nasa.gov/1iK8Dqn
Scott Kelly is sharing his mission preparation and journey to space on Twitter. Follow along at:
http://www.twitter.com/StationCDRKelly
For Kelly's full biography, visit:
http://go.nasa.gov/SbcMZD
For NASA TV streaming video, schedule and downlink information, visit:
https://www.nasa.gov/nasatv
For more information about the International Space Station and its crews, visit:
https://www.nasa.gov/station
-end-
Joshua Buck
Headquarters, Washington
202-358-1130
jbuck@nasa.gov

Nicole Cloutier-Lemasters/Dan Huot
Johnson Space Center, Houston
281-483-5111
nicole.cloutier-1@nasa.gov / daniel.g.huot@nasa.gov