NASA successfully launched its first Earth satellite designed to collect global observations of the vital soil moisture hidden just beneath our feet.
The Soil Moisture Active Passive (SMAP) observatory, a mission with broad applications for science and society, lifted off at 6:22 a.m. PST (9:22 a.m. EST) Saturday from Vandenberg Air Force Base, California, on a United Launch Alliance Delta II rocket.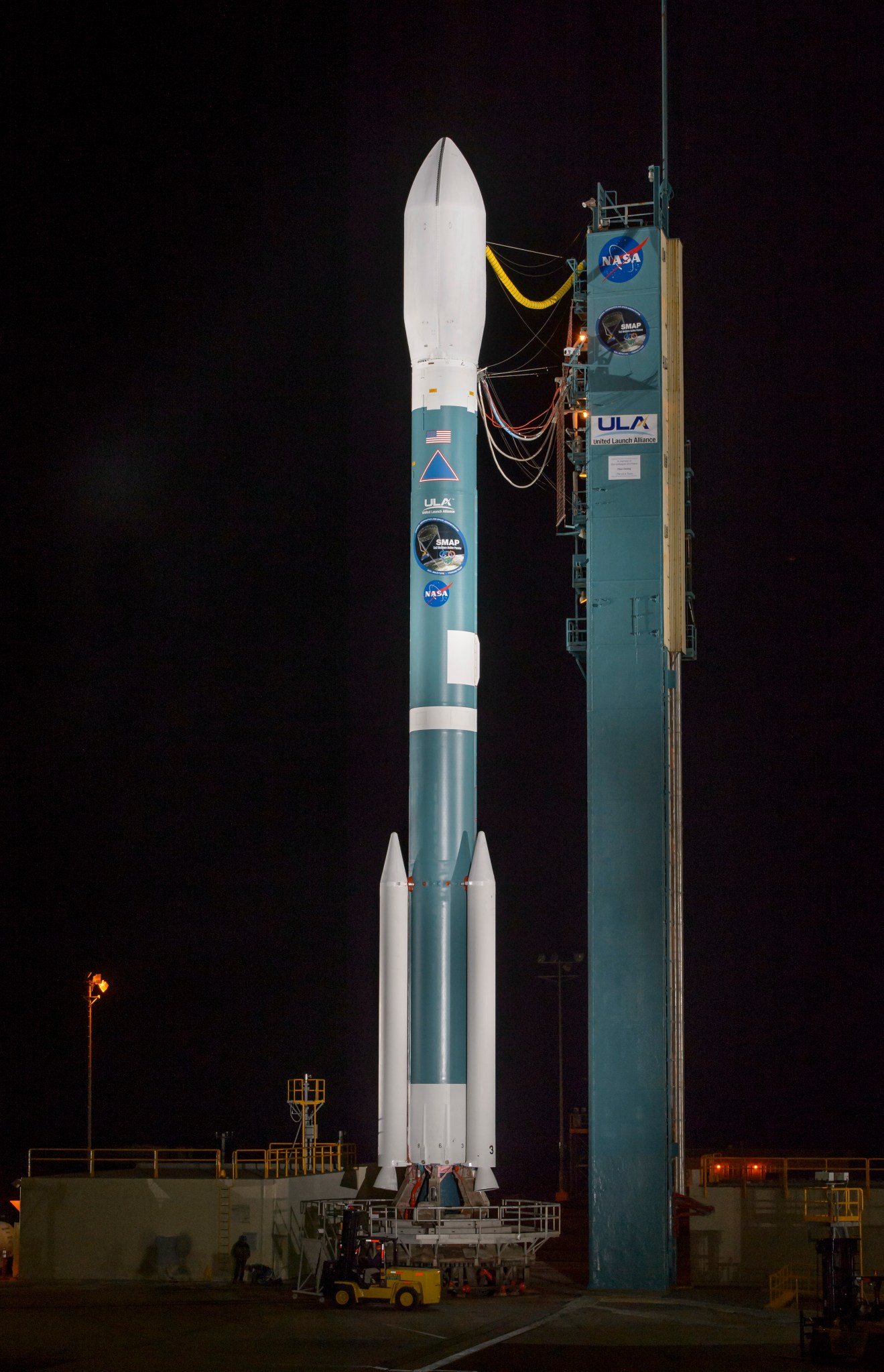 About 57 minutes after liftoff, SMAP separated from the rocket's second stage into an initial 411- by 425-mile (661- by 685-kilometer) orbit. After a series of activation procedures, the spacecraft established communications with ground controllers and deployed its solar array. Initial telemetry shows the spacecraft is in excellent health.
SMAP now begins a three-year mission that will figuratively scratch below Earth's surface to expand our understanding of a key component of the Earth system that links the water, energy and carbon cycles driving our living planet. SMAP's combined radar and radiometer instruments will peer into the top 2 inches (5 centimeters) of soil, through clouds and moderate vegetation cover, day and night, to produce the highest-resolution, most accurate soil moisture maps ever obtained from space.
The mission will help improve climate and weather forecasts and allow scientists to monitor droughts and better predict flooding caused by severe rainfall or snowmelt — information that can save lives and property. In addition, since plant growth depends on the amount of water in the soil, SMAP data will allow nations to better forecast crop yields and assist in global famine early-warning systems.
"The launch of SMAP completes an ambitious 11-month period for NASA that has seen the launch of five new Earth-observing space missions to help us better understand our changing planet," said NASA Administrator Charles Bolden. "Scientists and policymakers will use SMAP data to track water movement around our planet and make more informed decisions in critical areas like agriculture and water resources."
SMAP also will detect whether the ground is frozen or thawed. Detecting variations in the timing of spring thaw and changes in the length of the growing season will help scientists more accurately account for how much carbon plants are removing from Earth's atmosphere each year.
"The next few years will be especially exciting for Earth science thanks to measurements from SMAP and our other new missions," said Michael Freilich, director of the Earth Science Division of NASA's Science Mission Directorate in Washington. "Each mission measures key variables that affect Earth's environment. SMAP will provide new insights into the global water, energy, and carbon cycles. Combining data from all our orbiting missions will give us a much better understanding of how the Earth system works."
SMAP will orbit Earth from pole to pole every 98.5 minutes, repeating the same ground track every eight days. Its 620-mile (1,000-kilometer) measurement swath allows SMAP to cover Earth's entire equatorial regions every three days and higher latitudes every two days. The mission will map global soil moisture with about 5.6-mile (9-kilometer) resolution.
"SMAP will improve the daily lives of people around the world," said Simon Yueh, SMAP project scientist at NASA's Jet Propulsion Laboratory (JPL) in Pasadena, California. "Soil moisture data from SMAP has the potential to significantly improve the accuracy of short-term weather forecasts and reduce the uncertainty of long-term projections of how climate change will impact Earth's water cycle."
The SMAP team is engaged with many organizations and individuals that see immediate uses for the satellite's data. Through workshops and tutorials, the SMAP Applications Working Group is collaborating with 45 "early adopters" to test and integrate the mission's data products into many different applications. Early adopters include weather forecasters from several nations, as well as researchers and planners from the U.S. Department of Agriculture, U.S. Geological Survey, U.S. Centers for Disease Control and Prevention, and the United Nations World Food Programme.
During the next 90 days, SMAP and its ground system will be commissioned to ensure they are fully functional and are ready to begin routine science data collection. A key milestone will be the deployment of the spacecraft's instrument boom and 20-foot- (6-meter)-diameter reflector antenna. The observatory will be maneuvered to its final 426-mile (685-kilometer), near-polar operational orbit, and the antenna will spin up to 14.6 revolutions per minute.
SMAP science operations will then begin, and SMAP data will be calibrated and validated. The first release of SMAP soil moisture data products is expected within nine months. Fully validated science data are expected to be released within 15 months.
SMAP is managed for NASA's Science Mission Directorate in Washington by JPL, with instrument hardware and science contributions made by NASA's Goddard Space Flight Center in Greenbelt, Maryland. JPL built the spacecraft and is responsible for project management, system engineering, radar instrumentation, mission operations and the ground data system. Goddard is responsible for the radiometer instrument and science data products. Both centers collaborate on science data processing and delivery to the Alaska Satellite Facility, in Fairbanks, and the National Snow and Ice Data Center at the University of Colorado in Boulder. NASA's Launch Services Program at the agency's Kennedy Space Center in Florida was responsible for launch management. JPL is managed for NASA by the California Institute of Technology in Pasadena.
For more information about SMAP, visit:
https://www.nasa.gov/smap
NASA monitors Earth's vital signs from land, air and space with a fleet of satellites and ambitious airborne and ground-based observation campaigns. NASA develops new ways to observe and study Earth's interconnected natural systems with long-term data records and computer analysis tools to better see how our planet is changing. The agency shares this unique knowledge with the global community and works with institutions in the United States and around the world that contribute to understanding and protecting our home planet.
For more information about NASA's Earth science activities, visit:
https://www.nasa.gov/earthrightnow
Follow SMAP on Twitter at:
-end-
Steve Cole
Headquarters, Washington
202-358-0918
stephen.e.cole@nasa.gov
Alan Buis
Jet Propulsion Laboratory, Pasadena, Calif.
818-354-0474
alan.buis@jpl.nasa.gov