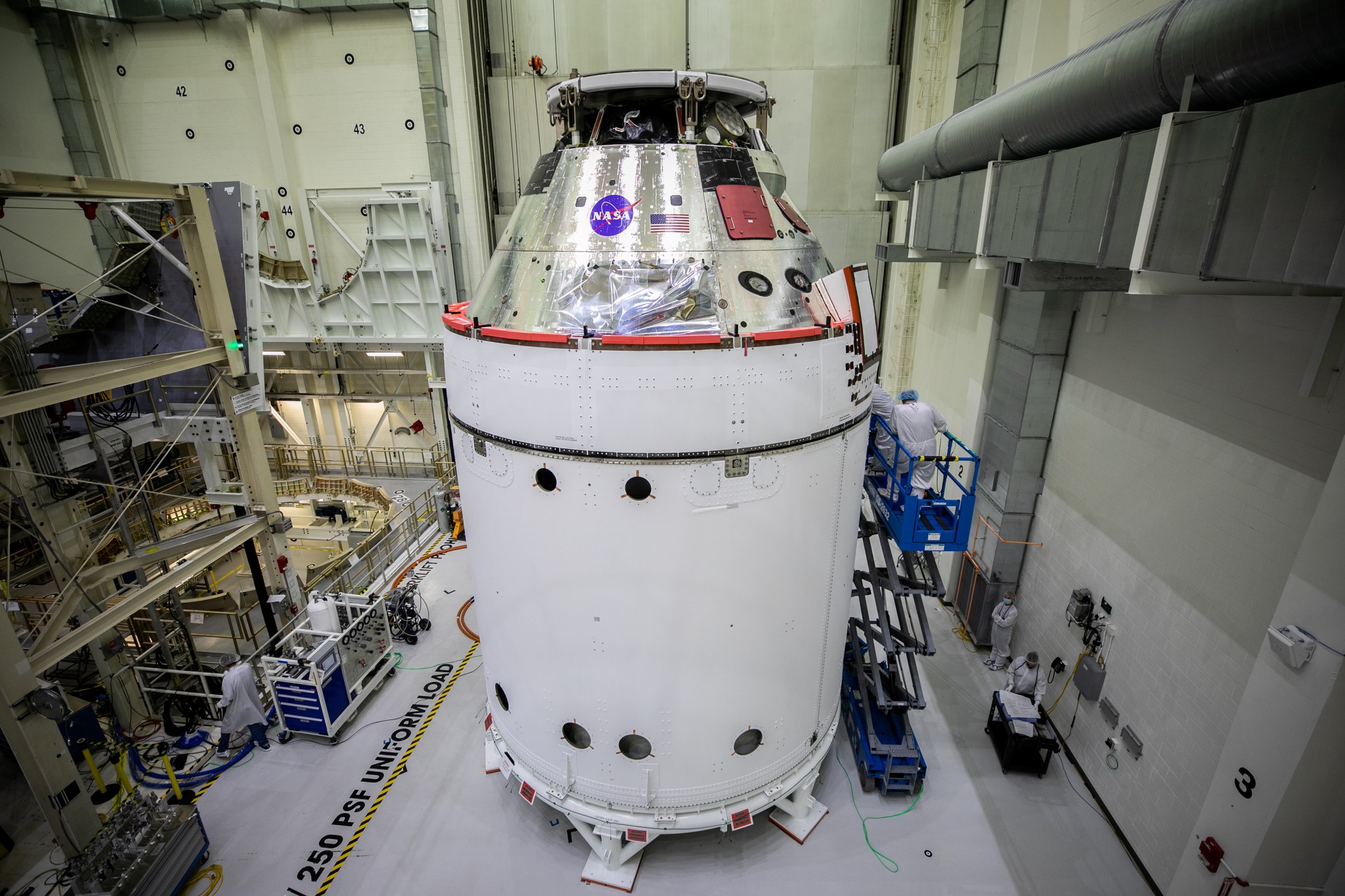 NASA invites media to capture images of the agency's Orion spacecraft on its "path to the pad" journey. Orion will depart from the Neil Armstrong Operations and Checkout (O&C) Building en route to the Multi-Payload Processing Facility (MPPF) at NASA's Kennedy Space Center in Florida. Orion testing and assembly will be complete in early December, and the spacecraft will then undergo ground processing and integration in facilities across the center in preparation for the Artemis I launch next year.
A limited number of media will be permitted to view and photograph Orion first inside the O&C building on Dec. 5 – uncovered for the final time before it is wrapped in protective materials for transport to the MPPF – and then from viewing areas outside on Dec. 7 during the move. Interviews with program executives and subject matter experts will be available on both days.
After its arrival at the MPPF, teams with NASA's Exploration Ground Systems and contractor Jacobs will equip the spacecraft with propellants and commodities needed for its mission. Integration of ground system elements and the launch abort system will then take place at the Launch Abort System Facility next year. Finally, the spacecraft will move to the Vehicle Assembly Building (VAB) for stacking on the Space Launch System (SLS) rocket ahead of its inaugural flight in support of the Artemis I mission.
The agency is following COVID-19 guidance from the Centers for Disease Control and Prevention and the agency's chief health and medical officer, and will immediately communicate any updates that may impact media access for these activities.
The first in a series of increasingly complex missions, Artemis I will test the Orion spacecraft and SLS as an integrated system ahead of crewed flights to the Moon. Under the Artemis program, NASA aims to land the first woman and the next man on the Moon in 2024 and establish sustainable lunar exploration by the end of the decade.
The media accreditation deadline is Nov. 13 for international media already in the U.S. and Nov. 20 for United States citizens.
All media accreditation requests should be submitted online at:
For questions about media accreditation, email ksc-media-accreditat@mail.nasa.gov. For other questions, contact Kennedy's newsroom at ksc-newsroom@mail.nasa.gov.
For more information about the Artemis program, visit:
-end-
Tiffany Fairley
Kennedy Space Center, Fla.
Tiffany.L.Fairley@nasa.gov
(321) 747-8306
Brittney Thorpe
Kennedy Space Center, Fla.
Brittney.Thorpe@nasa.gov
(321) 289-0677