NASA's is offering media a last look at a key piece of Space Launch System (SLS) flight hardware before it departs to the agency's Kennedy Space Center in Florida, for launch preparations.
The adapter will be part of the SLS rocket on the first flight of the SLS and the Orion spacecraft, a flight that will help engineers check out and verify NASA's new deep-space exploration systems.
Media are invited to NASA's Marshall Space Flight Center in Huntsville, Alabama, on Tuesday, Jan. 30 to view the Orion stage adapter that will carry 13 small satellites and connect the SLS interim cryogenic propulsion stage to the Orion spacecraft on the first integrated test flight.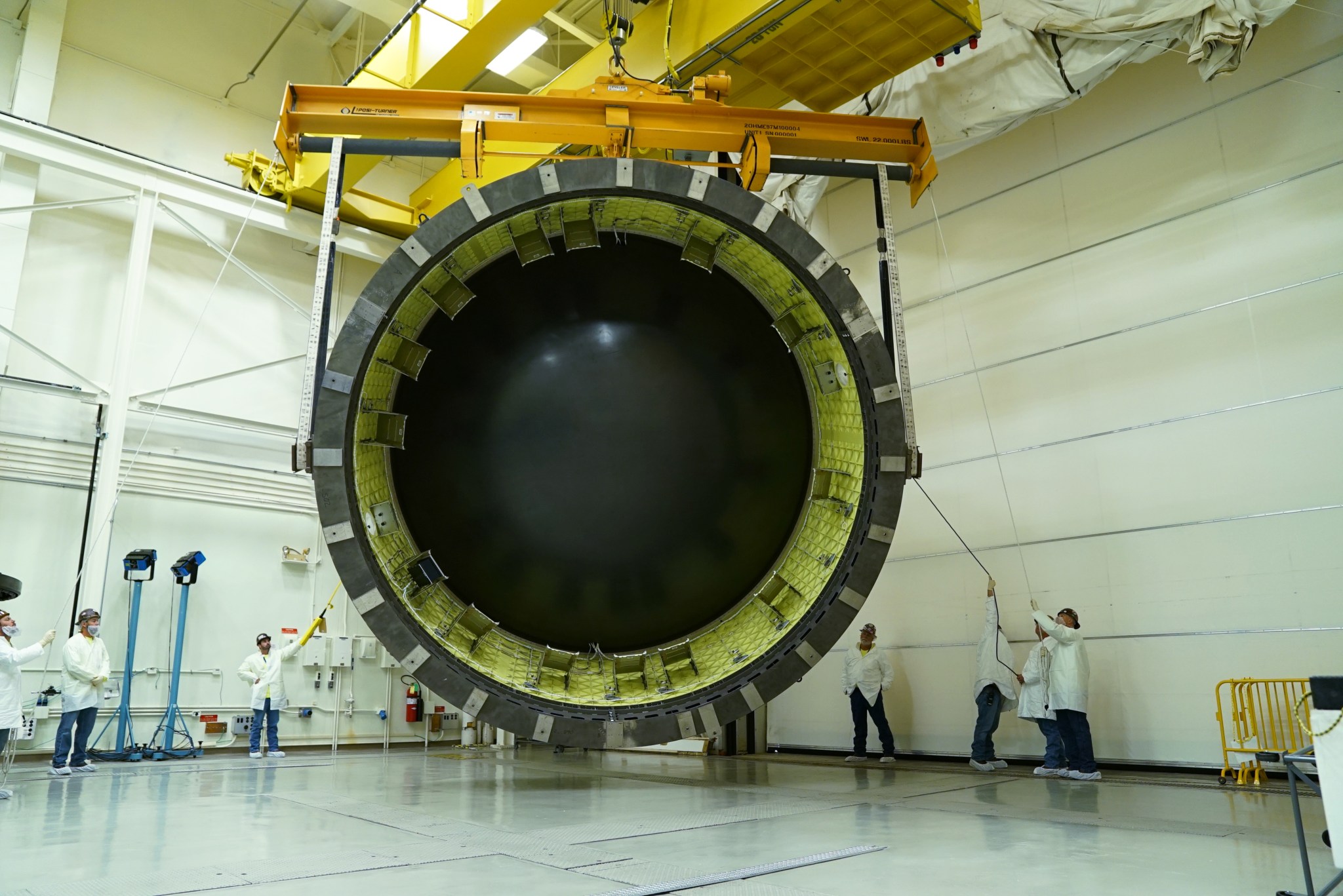 Media interested in attending should contact Tracy McMahan in Marshall's Office of Communications at 256-682-5326 or tracy.mcmahan@nasa.gov no later than 9 a.m. on Tuesday, Jan. 30. Those attending must report to the Redstone Arsenal Joint Visitor Control Center at Gate 9, Interstate 565 interchange at Research Park Boulevard Tuesday, Jan. 30 by 10:30 a.m. Media must wear long pants and closed-toe shoes with heels no higher than two inches. Vehicles are subject to a security search at the gate. Photo identification and proof of car insurance are required.
The adapter, approximately 5 feet tall and 18 feet in diameter, was designed and built at Marshall with advanced friction stir welding technology. Inside the adapter, engineers installed special brackets and cabling for the CubeSats. The CubeSats, which are small science experiments, stay safely stowed inside the adapter until after Orion has separated from SLS. These boot-box-sized science and technology investigations will help pave the way for future human exploration in deep space.
The Orion stage adapter flight article recently finished major testing of the avionics system that will deploy the CubeSats. It will soon be packaged and sent to Kennedy on NASA's Super Guppy airplane. Once the adapter arrives at Kennedy, technicians will install the secondary payloads, and engineers will examine the hardware before it is stacked on the interim cryogenic propulsion stage in the Vehicle Assembly Building before launch.
Video resources will be available on NASA's Video and Imagery Library immediately following the event.
For more information and resources about SLS, visit nasa.gov/sls.
–
Tracy McMahan
Marshall Space Flight Center, Huntsville, Alabama
256-544-0034
tracy.mcMahan@nasa.gov