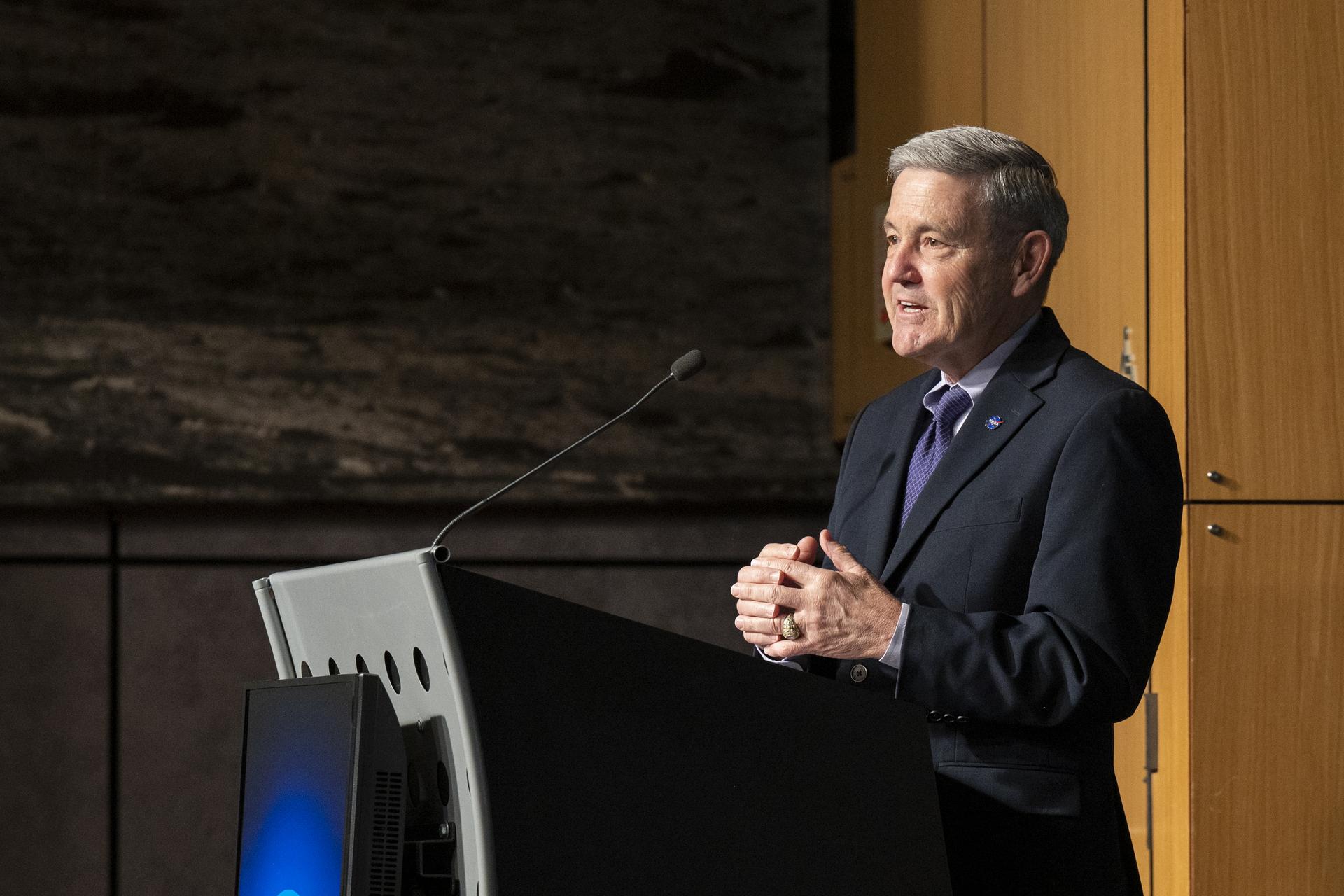 NASA/Keegan Barber
NASA Associate Administrator and former astronaut Robert Cabana announced Monday his retirement, effective Sunday, Dec. 31 after more than 38 years of service. As associate administrator, Cabana has been the agency's highest ranking civil servant, third highest ranking NASA official, and the senior advisor to NASA Administrator Bill Nelson and Deputy Administrator Pam Melroy.
Among notable contributions to the nation during his NASA career that included being an astronaut, Cabana flew in space four times, including twice as commander. His final space shuttle flight was the first International Space Station assembly mission. Cabana also was the director of the agency's Kennedy Space Center in Florida for more than a decade. There he led its transition from retirement of the space shuttle to a multi-user spaceport once again launching NASA astronauts to low Earth orbit, and for the first time, doing so with commercial partners.
"Bob is one of the finest leaders I've ever known. I've been fortunate to know him for decades, and I couldn't be prouder to have had such a great colleague and friend throughout the years. Bob is an example of the American grit, passion, and excellence that are woven into the fabric of our nation," said Nelson. "Pam and I are eternally grateful for the years of service and positive influence he has had on the United States, NASA, and space exploration and wish him all the best on his upcoming retirement."
As associate administrator, Cabana leads NASA's 10 center directors, as well as the mission directorate associate administrators at NASA Headquarters in Washington. He is the agency's chief operating officer for more than 18,000 employees and oversaw an annual budget of more than $25 billion.  
"Leading the exceptional people at NASA who explore the universe for the benefit of humanity has been a great honor," said Cabana. "From flying in space to guiding teams across the agency in achieving NASA's mission, I am grateful for an incredible career at NASA and in the space industry, and thankful for all the enriching friendships made throughout this journey. I have been blessed to be part of such an amazing team these last 38 years and serving as associate administrator alongside Bill and Pam has been a highlight."
Cabana was selected as an astronaut candidate in June 1985 and completed training in July 1986. He logged 38 days in space during four shuttle missions. Cabana was a pilot aboard space shuttle Discovery on both the STS-41 mission in October 1990 that deployed the Ulysses spacecraft and the STS-53 mission in December 1992. He was the mission commander aboard space shuttle Columbia for the STS-65 mission in July 1994 that conducted experiments as part of the second International Microgravity Laboratory mission. He commanded space shuttle Endeavour for the STS-88 mission in December 1998.
Cabana was appointed a member of the Federal Senior Executive Service in 2000 and served in numerous senior management positions at NASA's Johnson Space Center in Houston, ultimately becoming deputy director. He was named director of NASA's Stennis Space Center in Mississippi in October 2007 and a year later was selected as the Kennedy director.
Born in Minneapolis, Cabana graduated from the U.S. Naval Academy in 1971 with a bachelor's degree in mathematics. He became a naval aviator and graduated with distinction from the U.S. Naval Test Pilot School in 1981. In his career, Cabana logged over 7,000 hours in more than 50 different kinds of aircraft. He retired as a colonel from the U.S. Marine Corps in September 2000.
Cabana's many achievements have been recognized with induction into the Astronaut Hall of Fame and being named an Associate Fellow in the American Institute of Aeronautics and Astronautics and a Fellow in the Society of Experimental Test Pilots. He has received numerous personal awards and decorations, including the Distinguished Flying Cross and the Presidential Distinguished Rank Award. He also is a recipient of the Rotary National Award for Space Achievement's National Space Trophy.
For Cabana's full bio, visit:
-end-
Jackie McGuinness / Stephanie Schierholz
Headquarters, Washington
202-358-1600
jackie.mcguinness@nasa.gov / stephanie.schierholz@nasa.gov