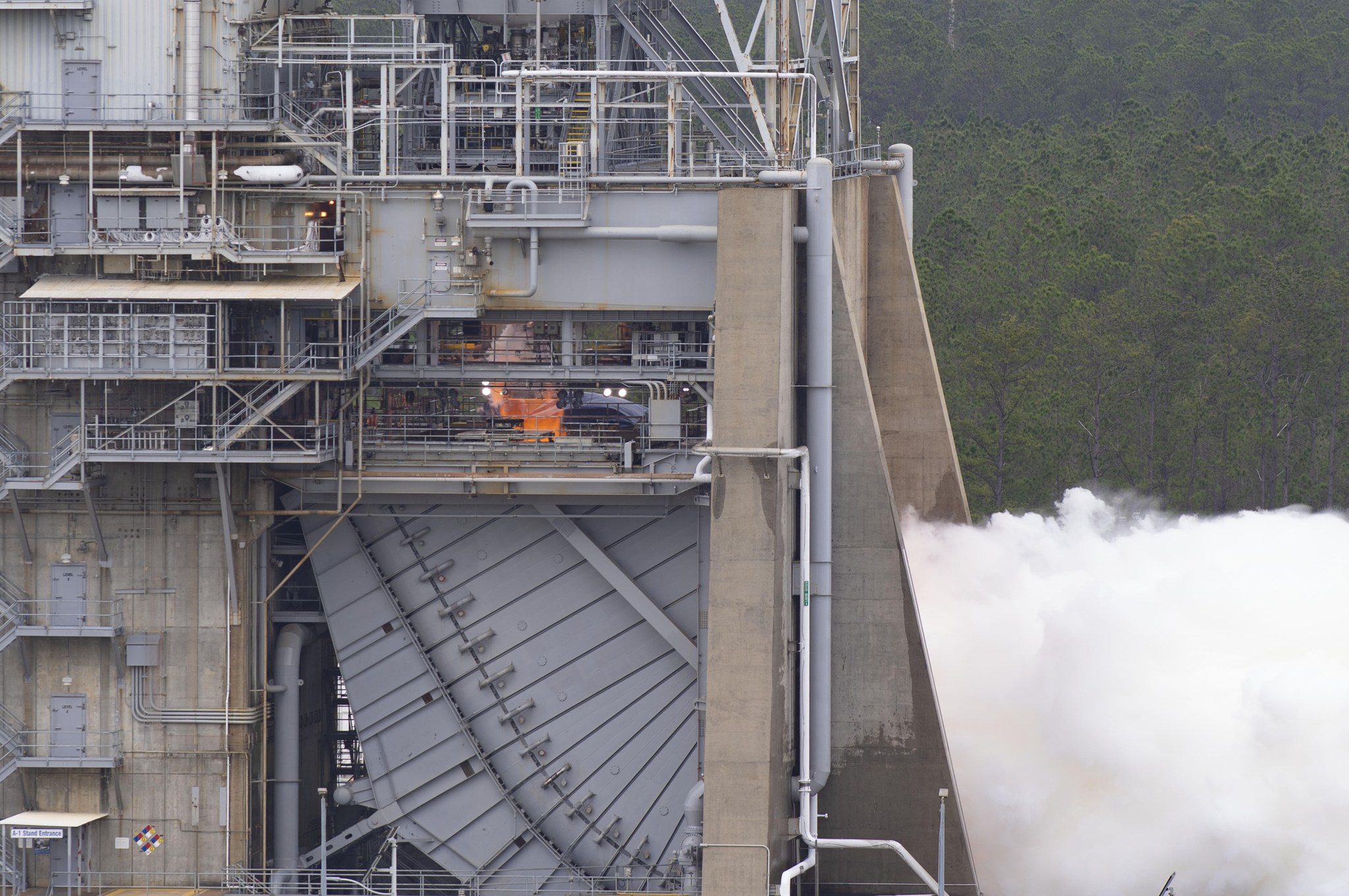 NASA completed developmental engine testing March 30 with a full-duration RS-25 hot fire, to support future engines that will launch Space Launch System (SLS) astronauts deeper into space than ever.
Operators fired RS-25 engine No. 0525 for about eight-and-a-half minutes (500 seconds) and up to 111% power level on the Fred Haise Test Stand at NASA's Stennis Space Center near Bay St. Louis, Mississippi. The March 30 hot fire completed the fourth developmental test series and sets Aerojet Rocketdyne, lead contractor for NASA's SLS engines, on pace to produce new RS-25s for future use.
"We've conducted a total of 25 tests during this remarkable development test program to modernize manufacturing, on-ramp additive manufacturing, and reduce cost of the RS-25 engines for the Space Launch System," said Johnny Heflin, manager for the SLS Liquid Engines Office at NASA's Marshall Space Flight Center in Huntsville, Alabama. "These tests are helping us ensure the success of not only the upcoming flight of Artemis I but also of future missions that will lead to long-term exploration of the Moon.
NASA is building SLS to return humans, including the first woman and the first person of color, to the Moon as part of Artemis and to power future missions to Mars. Four RS-25 engines will help launch SLS missions. The first four missions, including the upcoming uncrewed Artemis I flight test to the Moon, will use modified space shuttle main engines, all of which have been tested for flight.
For future SLS missions beyond the first four, Aerojet Rocketdyne is modernizing production of new RS-25 engines, while also reducing costs by 30 percent. The new engines will include components manufactured with state-of-the-art fabrication techniques, such as additive manufacturing or 3D printing. These new components have been tested during the developmental series completed at Stennis today.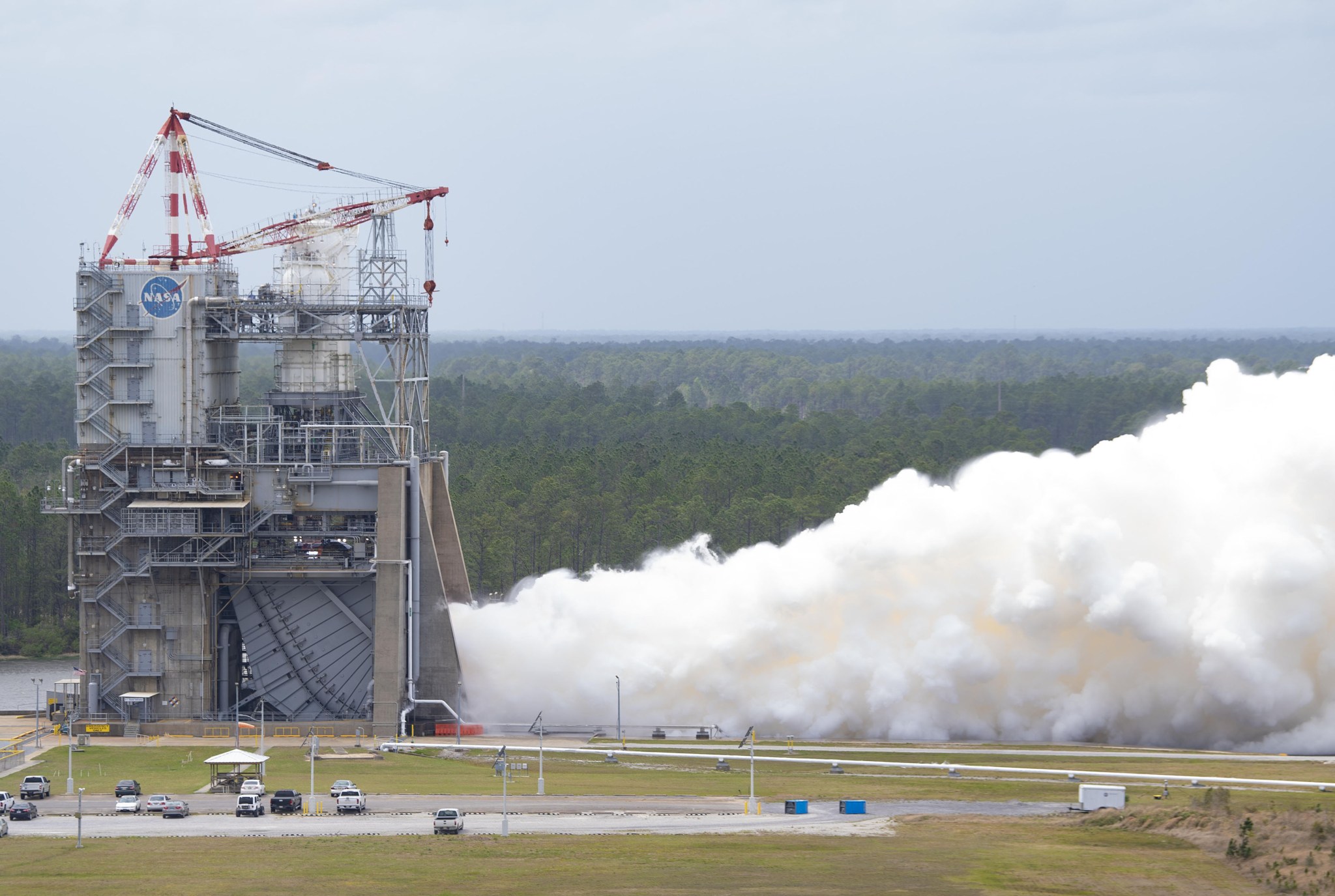 "As we modernize the engines, we need to ensure that they are as robust and as reliable as the original space shuttle engines," said Jeff Zotti, Aerojet Rocketdyne RS-25 program director. "We ran the new components under the same conditions and profiles they will see during flight to ensure the engines perform as they should. This was the last step before we combine all the new, more affordable components and existing heritage components into our design certification engine."
This latest test series concludes a thorough testing campaign for NASA and its engine contractor. The agency conducted an initial series of 18 RS-25 hot fires as Aerojet Rocketdyne completed modifications to adapt the existing space shuttle main engines needed for early SLS missions. This included tests of two RS-25 flight engines.
Four test series, using a pair of RS-25 developmental engines, followed the initial adaptation hot fires:
"This latest hot fire closes a great chapter in Stennis testing history," said Chip Ellis, Stennis RS-25 test project manager. "Completion of the retrofit series could not have occurred without the dedicated, highly skilled workforce at Stennis Space Center. The test team has done an outstanding job getting us through this development period, and we look forward to continuing to test engines that will fly on SLS missions."
With developmental testing completed, NASA plans to begin a series of 12 hot fires this summer on an RS-25 certification engine that is the identical design to future engines being manufactured for flight. It will feature all of the new components, including a new nozzle, in final flight configuration. A follow-up series of 12 tests will be conducted on RS-25 engine No. 0525, once it is modified with new components in final flight configuration as well. The dual series will demonstrate the new engine design is ready to fly.
Aerojet Rocketdyne is under contract to produce 24 new RS-25 engines using the updated design to support future Artemis missions beginning with Artemis V.
RS-25 tests at Stennis are conducted by a combined team of NASA, Aerojet Rocketdyne, and Syncom Space Services operators. Syncom Space Services is the prime contractor for Stennis facilities and operations.
For information about NASA Stennis Space Center, visit:
C. Lacy Thompson
Stennis Space Center, Bay St. Louis, Miss.
228-363-5499
calvin.l.thompson@nasa.gov