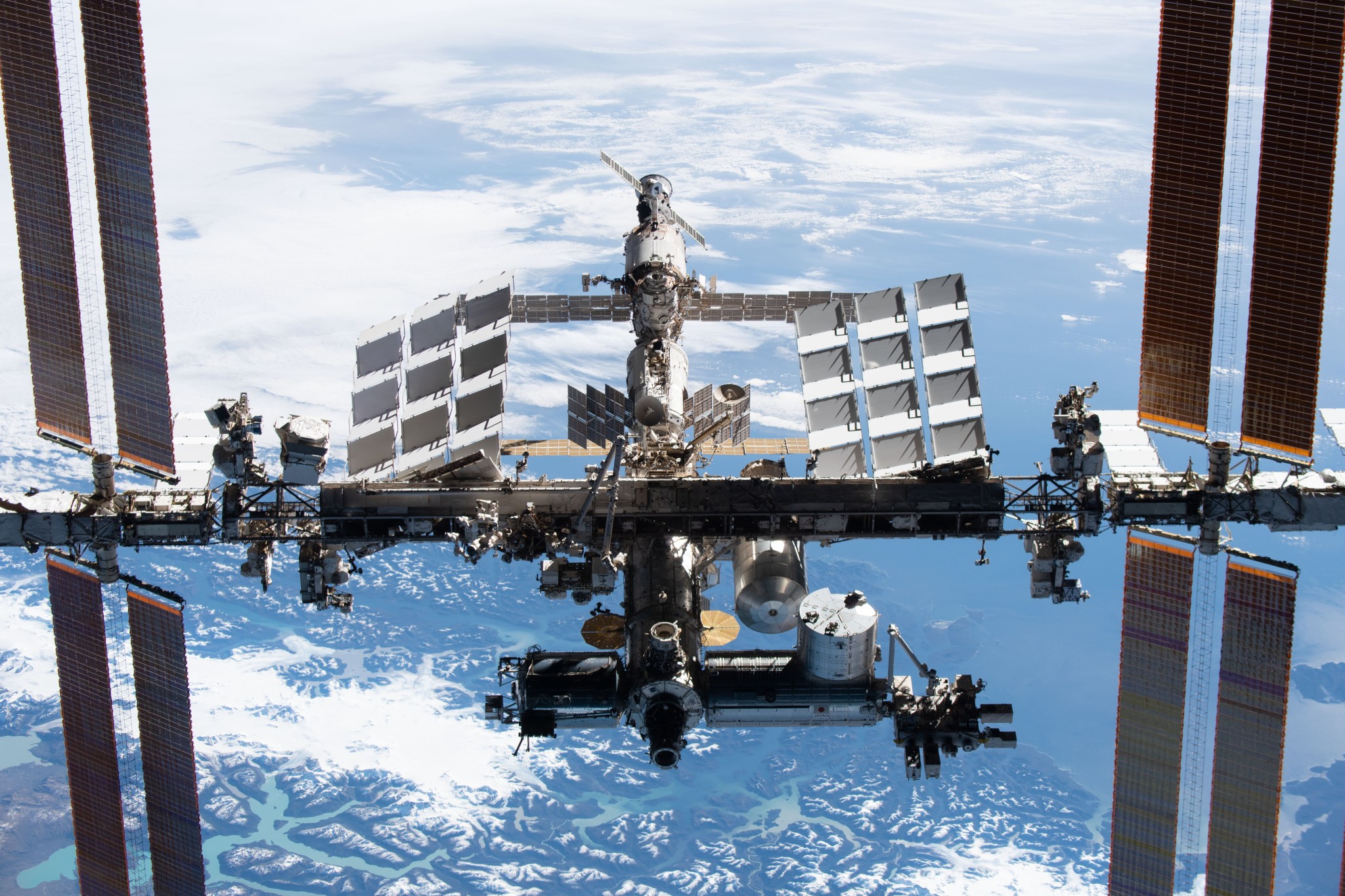 ESA / NASA / Thomas Pesquet
Editor's Note: This advisory was updated on Oct. 23 to update the list of participants for the teleconference.
NASA will host a media teleconference at 11 a.m. EDT Thursday, Oct. 26, to discuss a laser communications system and new research to understand the interactions between weather on Earth and in space. The investigations are two of many research and technology experiments bound for the International Space Station next month aboard the agency's SpaceX 29th commercial resupply services mission.
Audio of the media call will stream live at:
Launch is targeted for no earlier than 10:01 p.m. EST Sunday, Nov. 5. The SpaceX Dragon spacecraft, carried on the company's Falcon 9 rocket, will lift off from Launch Complex 39A at NASA's Kennedy Space Center in Florida.
The mission will carry scientific research, technology demonstrations, crew supplies, and hardware to the space station to support its Expedition 70 crew, including NASA's Integrated Laser Communications Relay Demonstration Low Earth Orbit User Modem and Amplifier Terminal (ILLUMA-T) and Atmospheric Waves Experiment (AWE).
To ask questions during the teleconference, media must RSVP no later than two hours before the event to Claire O'Shea at claire.a.o'shea@nasa.gov. NASA's media accreditation policy is available online. The public can submit questions on social media using #AskNASA.
Meghan Everett, deputy program scientist for the International Space Station Program at NASA's Johnson Space Center in Houston, will provide an overview of the research and technology launching aboard the Dragon spacecraft.
Other teleconference participants include:
Dr. Jason Mitchell, director for the Advanced Communications and Navigation Technologies Division in the Space Communication and Navigation (SCaN) Program, Space Operations Mission Directorate at NASA Headquarters in Washington
Glenn Jackson, acting project manager for ILLUMA-T, NASA's Goddard Space Flight Center in Greenbelt, Maryland
David Cheney, program executive for the Heliophysics Science Division, Science Mission Directorate, NASA Headquarters
Jeff Forbes, deputy principal investigator for AWE, University of Colorado, Boulder
Once installed on the station's exterior, ILLUMA-T aims to test high data rate laser communications from the space station to the agency's Laser Communications Relay Demonstration in geosynchronous orbit, which will relay the data to Earth. The system uses invisible infrared light to send and receive information at higher data rates than traditional radio frequency systems. Working together, ILLUMA-T and the Laser Communications Relay Demonstration will complete NASA's first two-way laser communications relay system.
Also installed on the station's exterior, AWE will use an infrared imaging instrument to measure the characteristics, distribution, and movement of atmospheric gravity waves, which roll through the Earth's atmosphere when air is disturbed. Researchers also will look at how atmospheric gravity waves contribute to space weather, which affects space-based and ground-based communications, navigation, and tracking systems. Increased insight into atmospheric gravity waves could improve understanding of Earth's atmosphere, weather, and climate and development of ways to mitigate the effects of space weather.
Goddard manages ILLUMA-T in partnership with Johnson and the Massachusetts Institute of Technology Lincoln Laboratory for SCaN. As a Mission of Opportunity, AWE is under NASA's Heliophysics Explorers Program. The program is managed by Goddard for the agency's Science Mission Directorate.
The International Space Station continues to advance scientific knowledge in Earth, space, physical, and biological sciences for the benefit of people living on our home planet. The station also is the world's leading laboratory where researchers conduct cutting-edge research and technology development that will enable human and robotic exploration of destinations beyond low Earth orbit, including the Moon and Mars.
Learn more about the space station, including research and technology at:
-end-
News Media Contacts
Julian Coltre / Lora Bleacher
Headquarters, Washington
202-358-1100
julian.n.coltre@nasa.gov / lora.v.bleacher@nasa.gov
Stephanie Plucinsky
Kennedy Space Center, Fla.
321-876-2468
stephanie.n.plucinsky@nasa.gov
Sandra Jones
Johnson Space Center, Houston
281-483-5111
sandra.p.jones@nasa.gov