NASA Safety and Hazard Reporting
If you see a situation that might result in a death or injury or damage to equipment or property, report it! All reports will receive prompt and thorough attention.
To report an emergency requiring immediate action, or a life-threatening safety or hazardous condition, use your Center's local reporting procedures. Click on the links below to find out the procedures for your Center.
(Please note that some of the links below may be restricted to NASA use only.)
ARC | AFRC | GDSCC (intranet) | GRC | GSFC | HQ | IV&V (intranet) | JPL (intranet) | JSC | KSC | LaRC | MSFC | SSC | WFF | WSTF (intranet)
Everyone at NASA is responsible for using established procedures to report suspected safety or health hazards to appropriate officials. No employee shall be subject to restraint, interference, coercion, discrimination, or reprisal for filing a report of an unsafe or unhealthful working condition. We must all be committed to protecting the safety and health of the general public and all elements of our workforce as well as preventing damage to or destruction of our high-value assets, whether on or off the ground. Make sure that you understand your local procedures for reporting hazards.
If you have reported a suspected unsafe or unhealthful condition and you are not satisfied with the action taken to resolve the problem, don't give up! Elevate your safety concern using the following reporting chain: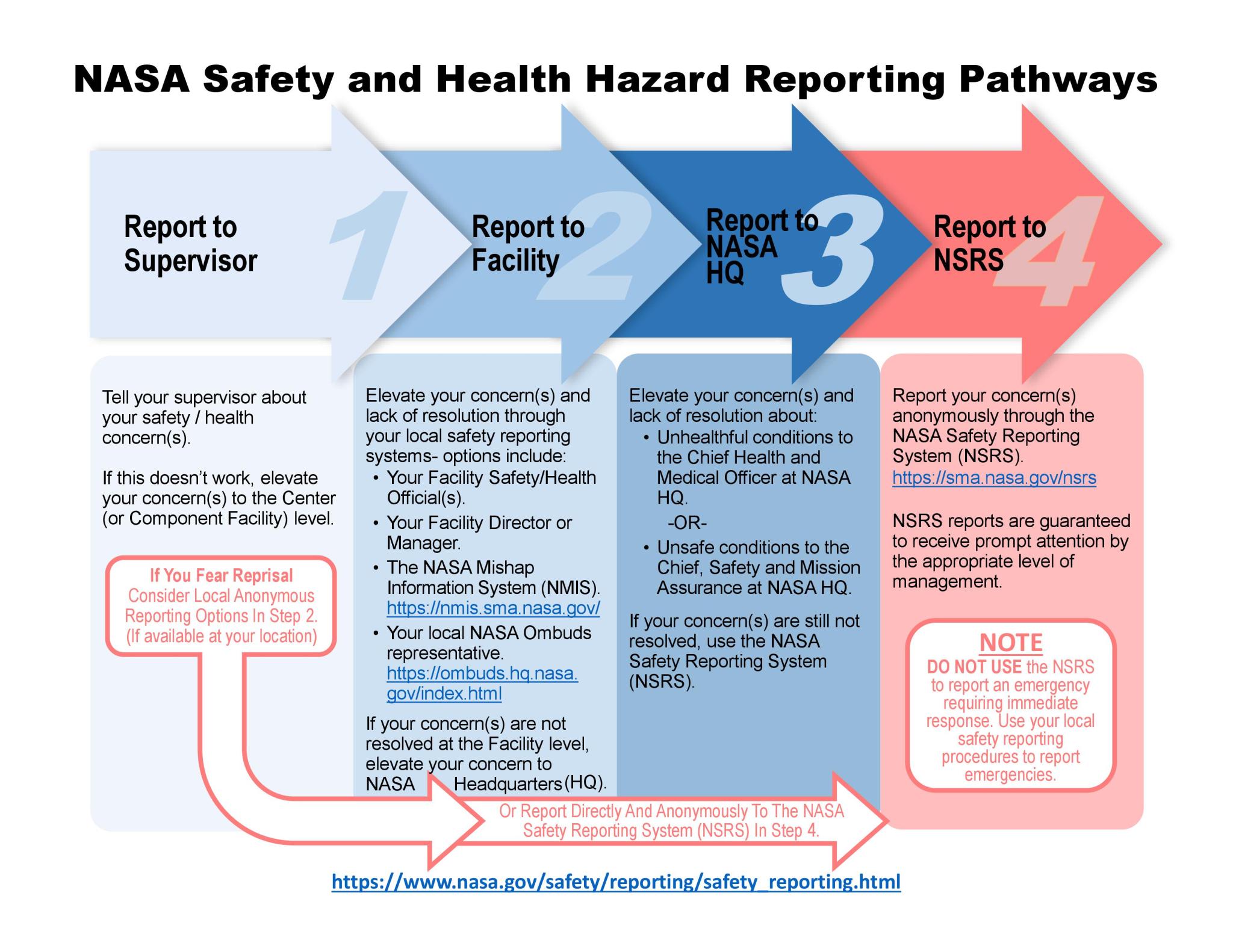 Additional Reporting Options:
Please keep in mind that there are other avenues available within NASA for the reporting or resolution of safety, health, and other problems. If you have a technical concern regarding a NASA program or project, you can report it directly to the NASA Engineering and Safety Center at the NASA Langley Research Center. Complaints or grievances may also be registered through the NASA grievance procedures, through the NASA Alternative Dispute Resolution program, through those procedures contained in agreements negotiated with recognized labor organizations, or through the NASA Office of Inspector General.
If you are not satisfied with NASA's response to a safety or health concern, you still have other options – report your concerns to the Office of Federal Agency Safety and Health Programs, Occupational Safety and Health Administration, Department of Labor (OSHA/DOL).
REMEMBER – IF IT'S NOT SAFE, SAY SO!