Before its flight demonstration in fall 2022, an inflatable heat shield technology that could one day land humans on Mars was put through its paces at multiple NASA facilities.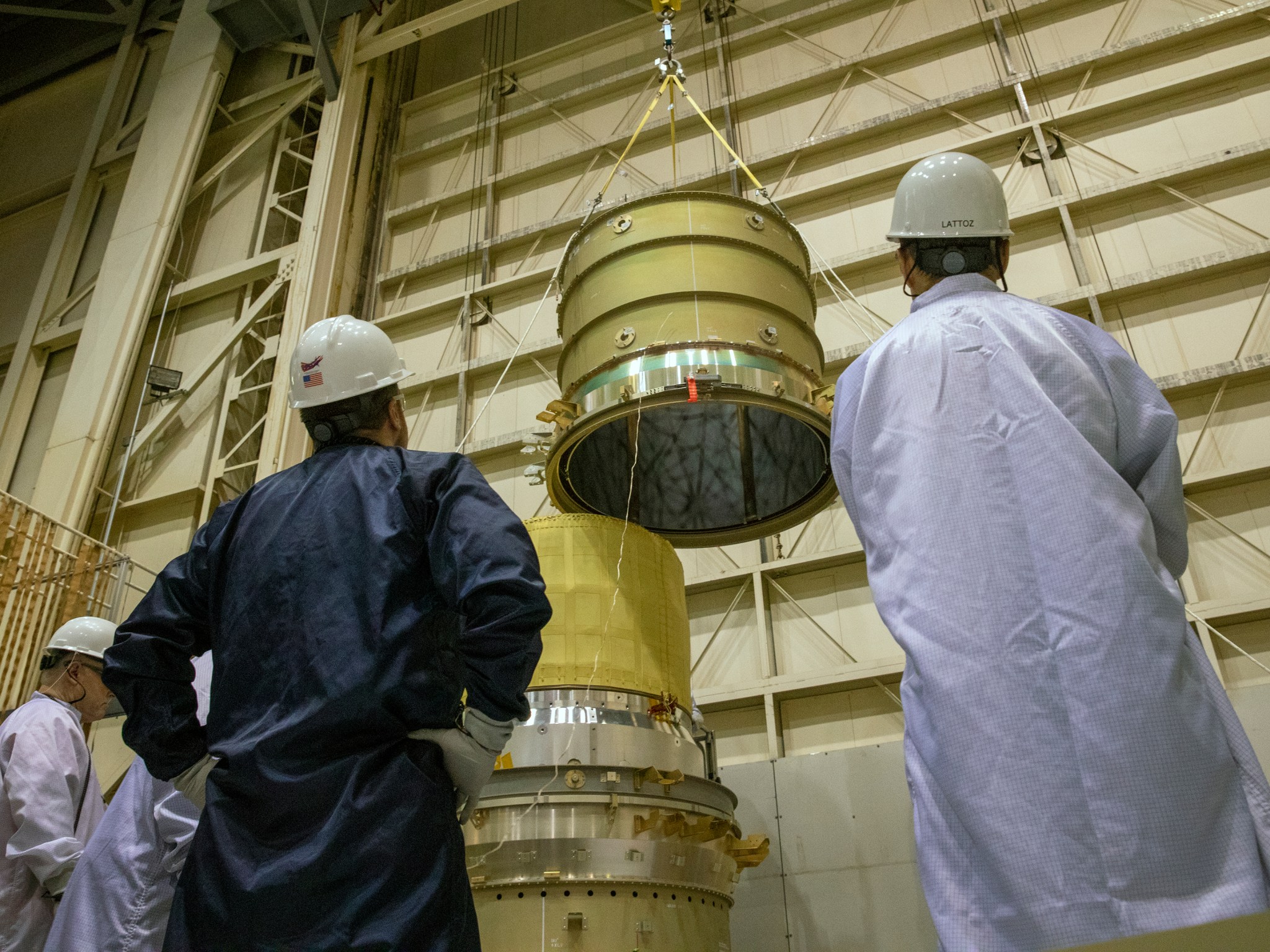 Before its flight demonstration in fall 2022, an inflatable heat shield technology that could one day land humans on Mars was put through its paces at multiple NASA facilities.
NASA's Low-Earth Orbit Flight Test of an Inflatable Decelerator (LOFTID) is currently at Vandenberg Space Force Base in California, where teams are preparing the novel technology for launch as a secondary payload with the National Oceanic and Atmospheric Administration's (NOAA) Joint Polar Satellite System-2 (JPSS-2) satellite, which will help track and predict Earth's weather and climate.
After hitching a ride to space aboard a United Launch Alliance (ULA) Atlas V rocket, LOFTID will complete a controlled inflation of its heat shield and then re-enter the atmosphere at a velocity of 18,000 miles per hour (8 kilometers per second). Designed to withstand temperatures as high as 2900°F (1600°C), this first-ever in-orbit test of this technology will prove if it can successfully slow down large payloads – such as crewed spacecraft, robotic explorers, and rocket components – enabling them to survive the heat of re-entry.
Prior to shipping across the country from NASA's Langley Research Center in Hampton, Virginia, LOFTID's journey to launch began with a series of environmental tests and preparation activities to ensure that the aeroshell will be able to withstand the harsh conditions of launch and space.
Earlier in 2022, the LOFTID team successfully performed a match-mate test, which verifies that all the hardware from both NASA and ULA will fit together and align properly. This also served as a rehearsal for the final integration procedures occurring at the launch site.
After completing the match-mate testing, LOFTID went through electromagnetic compatibility testing. This test ensured the spacecraft does not emit radio frequencies that could interfere with anything on the integrated launch vehicle. This test also checked that LOFTID won't be harmed by any of the electromagnetic radiation it may experience leading up to and during launch and throughout its mission.
Following electromagnetic compatibility testing, the team performed a complete system test. This end-to-end ground test of the LOFTID re-entry vehicle was conducted inside a 60-foot vacuum sphere that can simulate a space-like environment. The re-entry vehicle is composed of several segments that link the inflatable structure to the inflation system, avionics, ejectable data recorder, and parachute system. A full test of the flight sequence was run in vacuum, exactly as it will execute during the flight demonstration, including deployment and inflation of the aeroshell.
Once fully inflated, the inflatable heatshield, or aeroshell, was inspected and laser-scanned to ensure exact measurements before being repacked into its stowed configuration for flight.
With the inflatable aeroshell repacked, its weight and center of gravity were measured. . Determining these characteristics is important to ensure the spacecraft will perform as expected during flight.
With LOFTID in its launch configuration, LOFTID was shipped in July from Langley to NASA's Goddard Space Flight Center, in Greenbelt, Maryland, for acceptance vibration testing. Vibration testing is performed to ensure that LOFTID will not be damaged during the intense launch and re-entry process.
Following these tests, LOFTID was returned to Langley, where it underwent one final test to ensure it was fully functional before being packed and shipped to its final destination, Vandenberg Space Force Base, on the central coast of California in Santa Barbara County.
The LOFTID and payload adapter have been integrated. The stacked components were cleaned and transported to the Payload Processing Facility for encapsulation with the JPSS-2 payload. Once everything is packed into the payload fairing of the ULA Atlas V, the rocket will be rolled out to the launch pad for launch.
LOFTID is dedicated to the memory of Bernard Kutter, manager of advanced programs at ULA, who passed away in August 2020 and was an advocate for technologies like LOFTID that can lower the cost of space access.
The LOFTID project is managed and funded through NASA's Technology Demonstration Missions program, part of the agency's Space Technology Mission Directorate. The project is led by NASA's Langley Research Center in Hampton, Virginia, in partnership with United Launch Alliance and with contributions from NASA's Ames Research Center in Silicon Valley, Marshall Space Flight Center in Huntsville, Alabama, and Armstrong Flight Research Center in Edwards, California. NASA's Launch Services Program, based at the agency's Kennedy Space Center in Florida, is responsible for managing the launch service.