NASA
To witness the space-bound ascension of a satellite assembled by one's own hands is a moment comparable to a parent finally allowing their child to go out and explore the world, according to Izrael Bautista. Not only was it awe-inspiring for the engineering student himself, but also for his country as Bautista watched the second nanosatellite ever sent into orbit by the Philippines launch to the International Space Station.
Bautista made scientific strides for his nation by participating in the BIRDS-4 project, which assists countries in designing, building, testing, launching, deploying from station, and operating their first satellite. This satellite, Maya-2, performed numerous demonstrations, including solar cell and antenna tests.
"It was exciting and scary at the same time because of the uncertainties that could happen during launch and deployment," said Bautista. "Knowing that something with your fingerprints on it is out there in space makes me really proud, and it makes all the time and hard work we put into completing the satellite worth it."
At a standard 10 centimeters (~4 inches) on each side (1 Unit or 1U), these miniature boxes of metal may not seem like they could be of much scientific use within the expanse of space. However, CubeSats have many humanitarian, environmental, and commercial applications. Their modest size and weight of about 1.4 kilograms (3 pounds) drastically reduce launch costs by allowing them to hitch a ride into orbit alongside larger payloads without increasing fuel costs. With over 250 small satellites deployed from the space station, CubeSats are accelerating the growth of the small satellite industry, increasing access to space, and expanding low-Earth orbit research.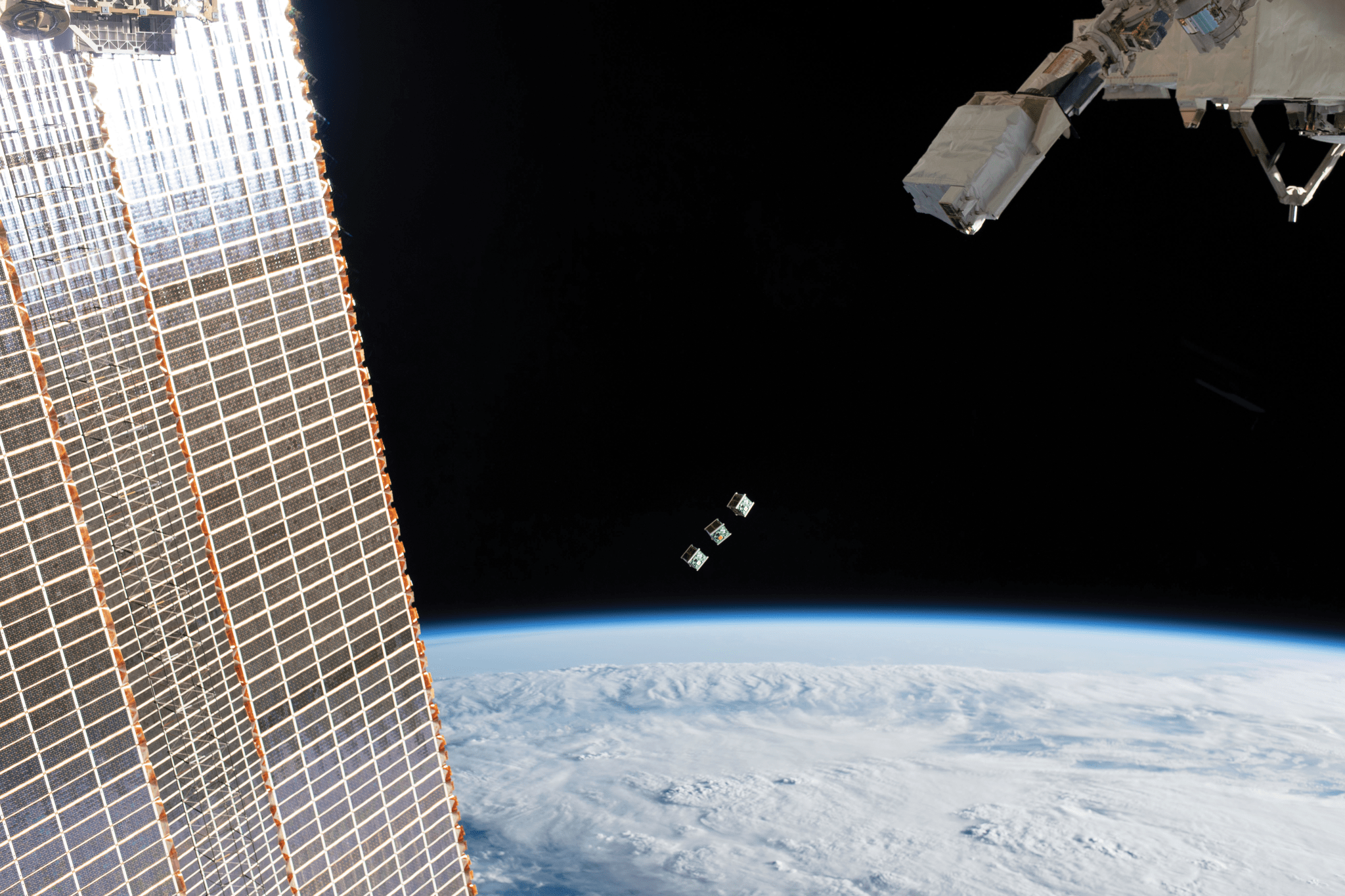 Credits: NASA
Most of these CubeSats have been deployed into low-Earth orbit by the Japan Aerospace Exploration Agency's (JAXA's) Japanese Experiment Module (JEM) Small Satellite Orbital Deployer (J-SSOD) or the Nanoracks CubeSat Deployer (NRCSD). These two systems allow for CubeSats to be prepped inside the station by crew members and passed to the outside of station through the JEM airlock. Thanks to these tools, the permanently crewed orbiting lab has been able to serve as an accessible way for numerous students like Bautista as well as countries and companies to deploy small satellites.
U.S.-based company Planet created a collection of CubeSats with the mission to photograph the entire Earth every day and turned to station to test its business model. Aiming to make change visible, accessible, and actionable, Planet has revolutionized the Earth observation industry. Planet's fleet of small satellites provide a bird's-eye view of Earth with small satellites aptly named "Doves."
"Our company goal is to image everywhere very frequently, for everyone," said Planet co-founder Robbie Schingler. "If you image everywhere, then that actually means that you can image anywhere. That's going to be quite transformative for a number of countries, for a number of companies, and so forth."
The first "flock" of Doves was released from station in February 2014. The 28 satellites making up this flock were mounted on the JAXA Multi-Purpose Experiment Platform and placed on the JEM airlock slide table for transfer outside station, making this effort a truly international collaboration. With both its technology and business model maturing, Planet now uses commercial launch providers. However, the Planet story illustrates how the space station can provide early access to space, thereby allowing new business models to prove themselves and attract the investment capital needed to be successful in the marketplace.
Planet has now built and successfully deployed 450 satellites, with over 200 currently in orbit. These daily images do much more than just provide photographs of Earth; they can be used to monitor crop health, track carbon emissions, view urban growth, create current maps, and much more.
Credits: NASA
Also providing imagery and help to the agricultural community is NASA's CubeSat-compatible Compact Thermal Imager (CTI), co-winner of NASA's 2021 Invention of the Year Award. This instrument has captured more than 15 million infrared images of Earth with technology that represents the latest advances in infrared detectors. Among the various observations, CTI has helped detect wildfire activity while also monitoring crop health.
"Infrared imaging can play an important role in monitoring crop health and helping members of the agricultural community yield better harvests," said Eric McGill, senior technology manager with the Strategic Partnerships Office at NASA's Goddard Space Flight Center in Greenbelt, Maryland.
The adaptation of small satellite technology has lowered the boundary to entering space, permitting these companies, as well as previously non-space-faring nations, to make strides toward having a presence in low-Earth orbit. CubeSats have become a source of admittance for nations making their first steps beyond planet Earth, and the space station has been key in making that happen.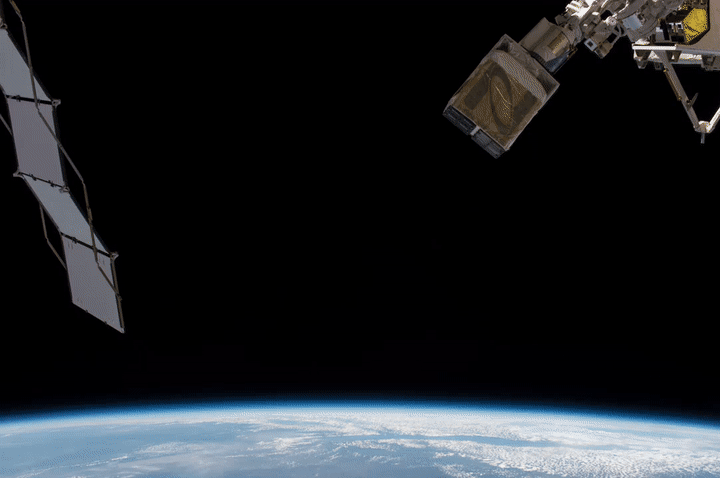 Credits: NASA
Since 2015, the Japanese Kyushu Institute of Technology, or Kyutech, has been carrying out the BIRDS program with the goals of capacity building and fostering a long-term and sustainable space organization in participating nations.
"The project is a bridge to gain space capability for any students who are thinking about getting involved in it. BIRDS creates a rare opportunity, exposure, and abundant network to the space fraternity," said Victor Mukungunugwa, project manager of a BIRDS-5 project for Zimbabwe. As an engineering student representing his country, he says that it has been sensational to work with students from various engineering backgrounds, nationalities, and cultures.
"Two to three students are involved from each country, and BIRDS scientists hope the opportunity has a domino effect as those students go back to their nations," says George Maeda, an assistant professor at Kyutech who works with international students on their BIRDS projects. "For the students, building their nation's first satellite is thrilling beyond words. I see this on a daily basis. It is magic."
The students can teach others what they have learned to continue their involvement in the space community. Bautista exemplifies this objective; his career goals are now focused toward extracting the benefits of space for his country.
"My future is now geared towards developing satellites and their end products," said Bautista. "I will hopefully be able to teach and share what I have learned to the younger generation and be part of our budding Philippine Space Agency."
Credits: Universidad Popular Autónoma del Estado de Puebla
Another important use for station-deployed CubeSats is testing out new technologies. A student-created project, AzTechSat-1, did just that. This collaboration between NASA and the Mexican Space Agency demonstrated communications within a satellite network, a capability that could reduce the need for ground stations, lowering costs and increasing data downloads for satellite applications.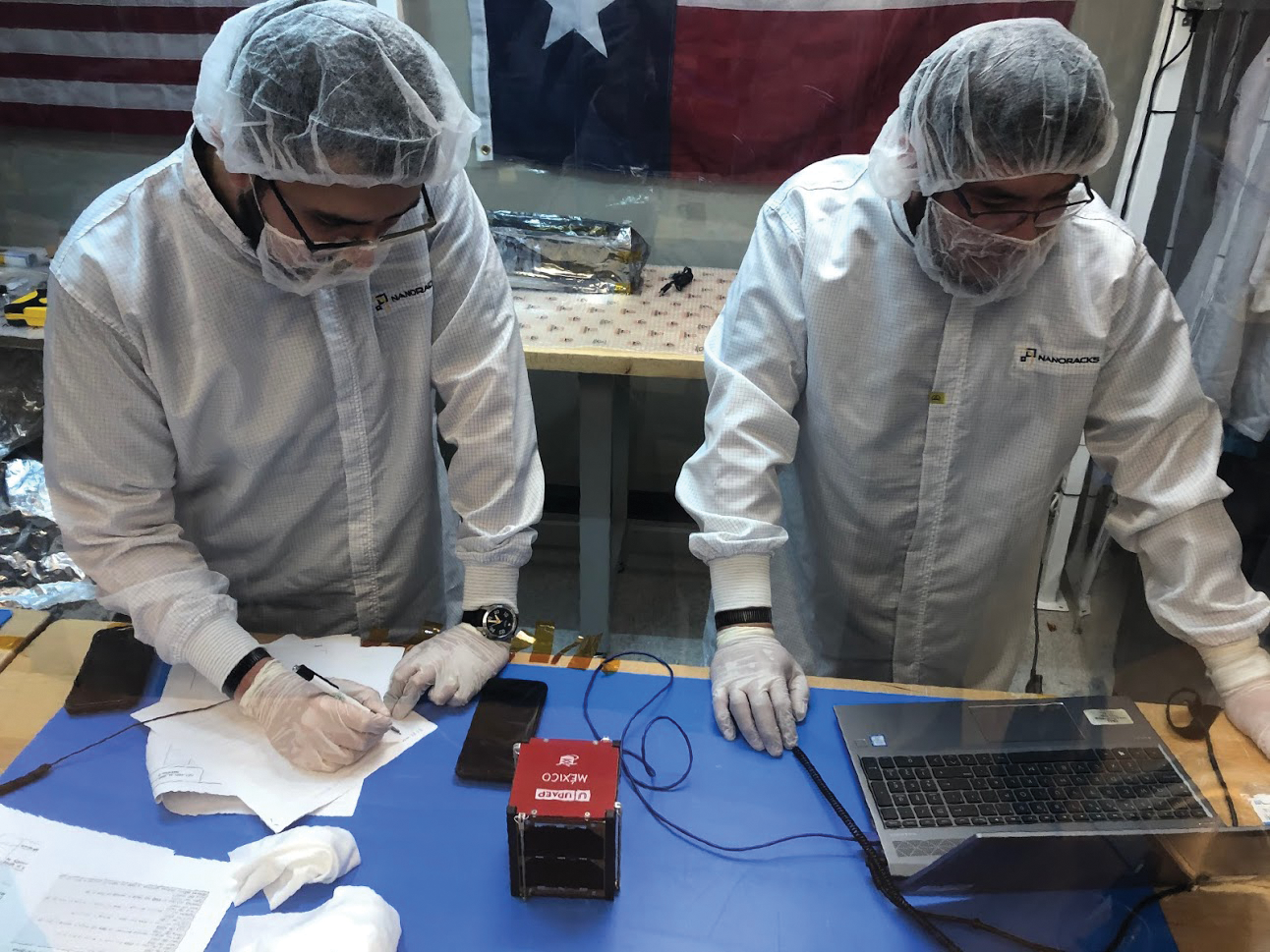 Credits: NASA
AzTechSat team member Rosa Gonzales Cancino was part of a team of students from the Universidad Popular Autónoma del Estado de Puebla (UPAEP).
"The day our CubeSat launched from the space station, it was the longest 40 minutes waiting for a signal. Now it is orbiting the planet, and sometimes that is inconceivable. If I had not held it in my hands, I would think it is a trick or something. I am in space in a way now," said Gonzales Cancino. Since she was a child, she has wanted to study the way space affects us all. Now she has seen space work to unify her community.
"On launch day, my whole family got together to watch the launch from my house, and I was moved. I was very excited that despite space not being a topic of their interest, they were all supporting us. That is the same for the entire university. All of the students from all departments were cheering for AzTechSat," said Gonzales Cancino. "I feel that this is also part of the Mexican culture: supporting each other in good times and bad." Going forward, new opportunities on station will be opened for students like Gonzales Cancino and companies like Planet looking to test their technology in space. U.S.-based companies SEOPS and Nanoracks are providing those opportunities by addressing the need for an affordable rideshare for smallsats, and new ways to deploy satellites from station.
Credits: NASA
With its SlingShot system, SEOPS has created a deployer that hitches a ride on Northrop Grumman's Cygnus spacecraft and releases smallsats into an Earth orbit above that of the space station. SlingShot offers a flexible, affordable deployment for CubeSats and provides the longer in-orbit time needed to prove technology critical to successful commercialization.
The Nanoracks Bishop Airlock Module serves as another door to space, helping to move larger payloads inside and outside the station. This capability alleviates one bottleneck slowing down the deployment of new small satellites and CubeSats from the space station.
"We're embarking on more and more public-private partnerships with NASA, building up the ecosystem in low-Earth orbit," said Nanoracks chief executive officer Jeffrey Manber. "Not only is that important for research opportunities, but it also paves the way for innovations."
Explore some of the other satellites that have deployed from the space station.