His mornings start the same as millions of others around the planet: The alarm goes off, he climbs out of bed, gets morning coffee… But as he glances out the window before starting his short commute to work, Scott Kelly's view is one that few people have had the privilege of enjoying first hand.
On Sept. 15, Kelly, the commander of the International Space Station, passed the halfway mark of a one-year mission on the orbiting laboratory. The one-year mission began in March 2015, enabling the most detailed study of long-duration human spaceflight to date.
NASA
The average International Space Station expedition lasts four to six months. Kelly and Roscosmos (Russian Federal Space Agency) cosmonaut Mikhail Kornienko are spending a full year on the station, not only to advance knowledge of our world, but also to conduct science on themselves — measuring changes in motor skills, eyesight, fluid shifts in their bodies and basic neurology. These investigations on the world's only microgravity lab are crucial to preparing humans for exploration of deep space, including our journey to Mars.
The Payload Operations & Integration Center at NASA's Marshall Space Flight Center in Huntsville, Alabama, has been with them every step — and the 2,736 orbits — along the way. In Huntsville and around the globe, hundreds of experts work on the ground to ensure the success of science operations on the space station. For the one-year crew mission, and for every expedition, the POIC team begins months ahead of each expedition to plan and coordinate investigations on the space station, making sure astronauts have the resources necessary to succeed and produce results that benefit people on Earth and pave the way for deep-space exploration.
While one of the investigations from the first six months opened up another collaborative avenue for NASA flight controllers, it also presented new challenges for the team.
"Probably one of the biggest hurdles was coordinating, planning and executing the first session of the Fluid Shifts study," said Becky Grimaldi, payload operations manager at Marshall for space station Expeditions 43 and 44, each of which ran about three months. "Fluid Shifts examines the various fluids moving around the body in microgravity and pressures it can put on organs such as the eyes and brain. In orbit, the experiments involve activities in the Russian segment of the station and we had not done those types of operations before. We needed to coordinate with our Russian counterparts a lot more than usual."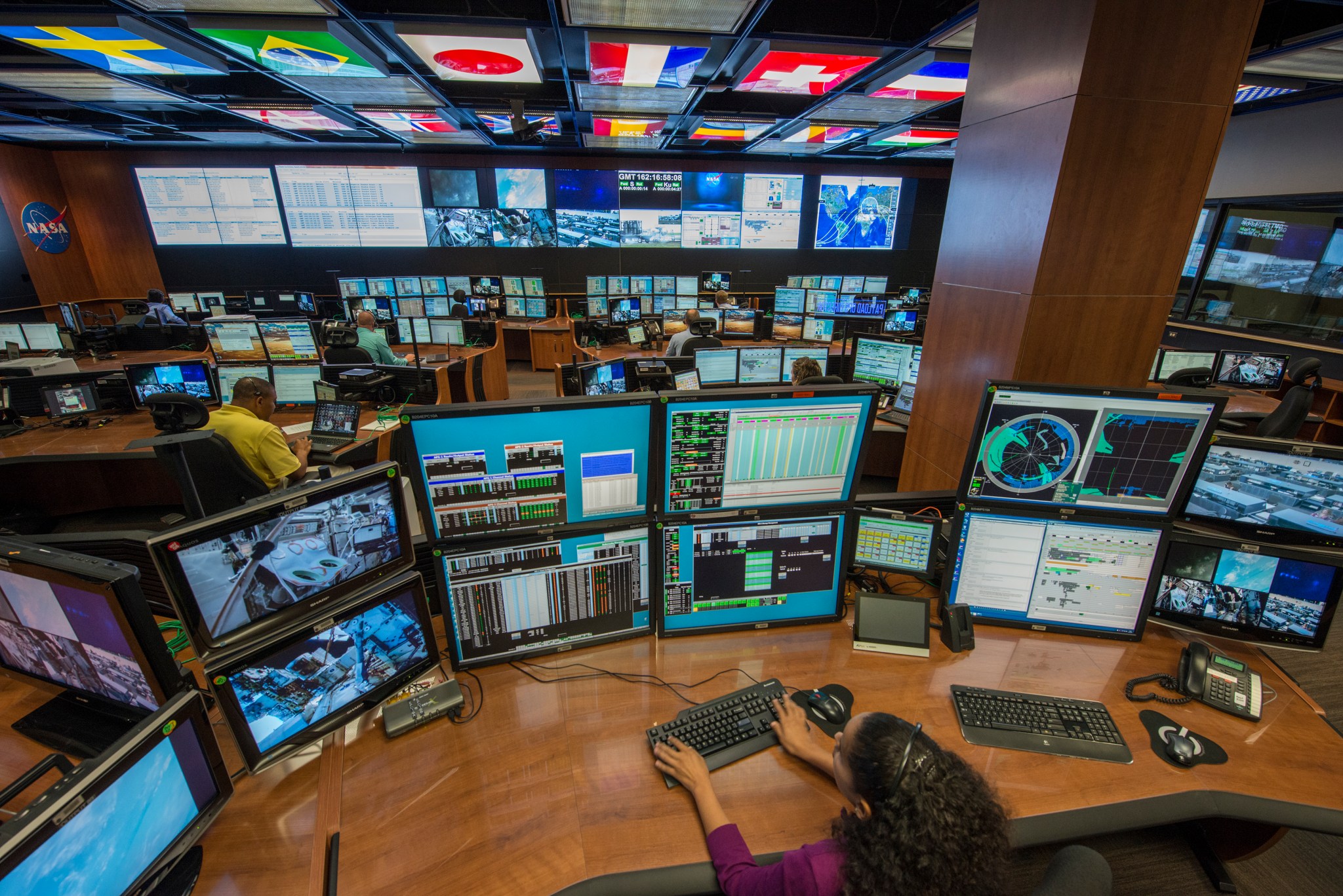 NASA/MSFC
These investigations astronauts perform on themselves are providing new insights into the human body and how it reacts to long-duration space travel. Data from these studies will affect all aspects of the journey to Mars, which could last two and a half to three years. These investigations carry potential benefits for humans on Earth, from helping patients recover after long periods of bed rest to improved monitoring for people whose bodies are unable to fight infections.
In fact, Scott Kelly will investigate illness on the space station in the coming months with assistance from his twin brother on Earth. Mark Kelly is also a veteran NASA astronaut who flew on four space shuttle missions.
"We're conducting a lot of science comparing two people with identical DNA," said Stephanie Dudley, a payload operations manager at Marshall who will take over lead duties from Grimaldi for the next expedition. "We sent up the first flu vaccine on board for Scott to take this autumn, and Mark will take the same injection on the ground so we can compare the two and find out if microgravity alters the effectiveness of such medicines. Since astronauts don't usually fly on a mission longer than six months, every bit of data we acquire for the rest of this mission will be new information."
Science performed on the space station now is helping NASA prepare for future deep space missions, and the POIC at Marshall is critical to that research, benefiting space exploration as well as life on Earth.
The POIC is essentially NASA's mission control for science aboard the space station, with flight controllers on hand 24 hours a day, 365 days a year to help astronauts in orbit and scientists on the ground with hundreds of investigations.
More than 2,400 scientists from over 83 countries have conducted more than 1,700 investigations on the space station because it is a laboratory with unique characteristics such as a microgravity environment, a great view of Earth, and direct exposure to space.
Hubscher, an ASRC Federal/Analytical Services employee, supports the Office of Strategic Analysis & Communications.