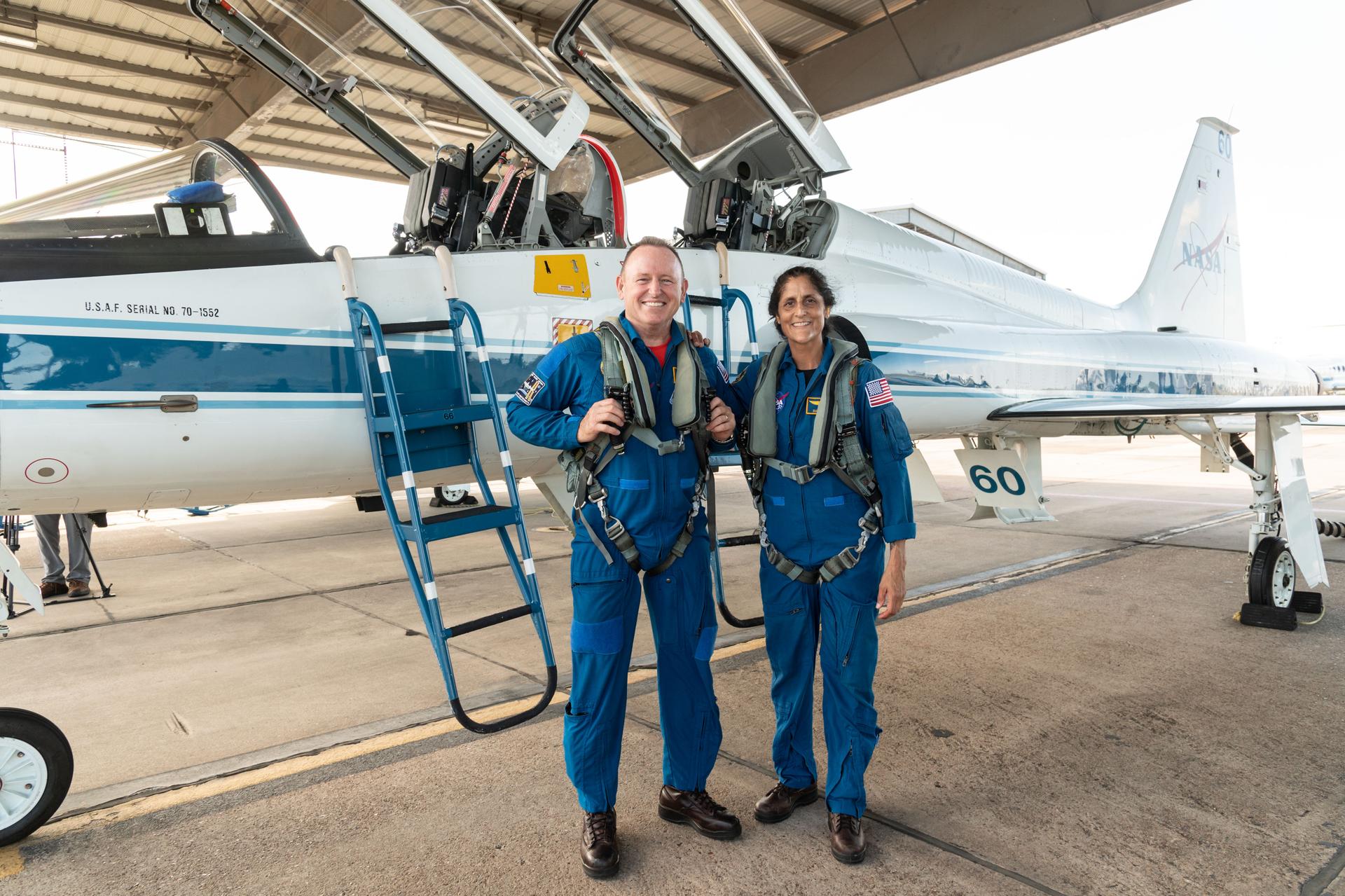 NASA and Boeing are targeting an early February 2023 launch for the first CST-100 Starliner flight with astronauts to the International Space Station.
Preparations are underway for the launch of NASA's Boeing Crew Flight Test (CFT) as teams work to ready the hardware, crew, and mission support teams for flight as part of NASA's Commercial Crew Program.
Two NASA astronaut test pilots, Barry "Butch" Wilmore and Suni Williams, will fly on CFT to the space station, where they will live and work for approximately eight days. Mission and crew support teams and the CFT astronauts are continuing with preparations and training. NASA and Boeing teams recently conducted an integrated crew exercise to rehearse the prelaunch timeline and responses to various launch event scenarios. In the coming weeks, Wilmore and Williams will don their spacesuits and climb aboard their crew module to check out the vehicle systems and interfaces that support their health and safety.
Refurbishment of the CFT crew module following the first Orbital Flight Test in December 2019 is progressing. Its external shell and thermal protection system will be completed next, followed by preflight checks to finalize the crew module build and test phase. Production of a new service module also is progressing, with teams wrapping up acceptance testing of the thermal control system, installing the pressurant system and integrating the propulsion system. This service module incorporates the same valve mitigations as the OFT-2 spacecraft. That purge system performed as needed during OFT-2 and a similar system has been implemented into the service module for CFT as a preventative measure. Once both the crew module and service module are completed, the two will be mated for flight.
"The Starliner team has done an excellent job throughout the refurbishment process of incorporating all the learning from our uncrewed orbital test flight," said Steve Stich, manager, NASA's Commercial Crew Program. "We expect to do even more learning on our next flight with astronauts to set Starliner up for certification and future operational missions."
During OFT-2, which launched May 19, Starliner spent six days in space, orbited the Earth 94 times and covered a total distance of 2,467,406 miles. Starliner achieved all flight test objectives and mission operations demonstrations, including rendezvous and docking maneuvers and the ability to execute an abort if needed once in the vicinity of the space station. Additionally, Starliner had a normal launch, trajectory, orbital insertion, and approach, rendezvous and docking with space station.
Throughout the OFT-2 data reviews, the team has verified Starliner's subsystems performed as needed during the flight. This included environmental control and life support, landing, power, guidance navigation and control, docking and ascent abort emergency detection system validation, and atmospheric entry with aero-deceleration.
NASA and Boeing also are working to close out the OFT-2 in-flight anomalies prior to Starliner's next flight with astronauts. Those include the early shutoff of some thrusters and a cooling loop anomaly. System enhancements to improve crew interfaces and streamline spacecraft operations are also planned.
"We knew we would learn a lot from the flight and there would be some fine-turning needed to make the systems work together and operate fully as intended," said Mark Nappi, vice president and program manager, Boeing Starliner. "We'll fly when we're ready and are excited to have Butch and Suni onboard our next mission."
For the crewed flight, Boeing's Starliner will launch on a United Launch Alliance Atlas V rocket from Space Launch Complex-41 at Cape Canaveral Space Force Station in Florida.
Following a successful CFT mission, NASA will begin the final process of certifying the Starliner spacecraft and systems for crew missions to the space station. Regular commercial crew rotation missions enable NASA to continue the important research and technology investigations taking place aboard the orbiting laboratory. Such research benefits people on Earth and lays the groundwork for future exploration. As part of Artemis, NASA will send astronauts to the Moon to prepare for future human exploration of Mars. Inspiring the next generation of explorers – the Artemis Generation – ensures America will continue to lead in space exploration and discovery.
NASA and Boeing leadership hosted a media teleconference on Aug. 25 to provide an update on CFT. Audio of the teleconference can be found here.
Find out more about NASA's Commercial Crew Program at: