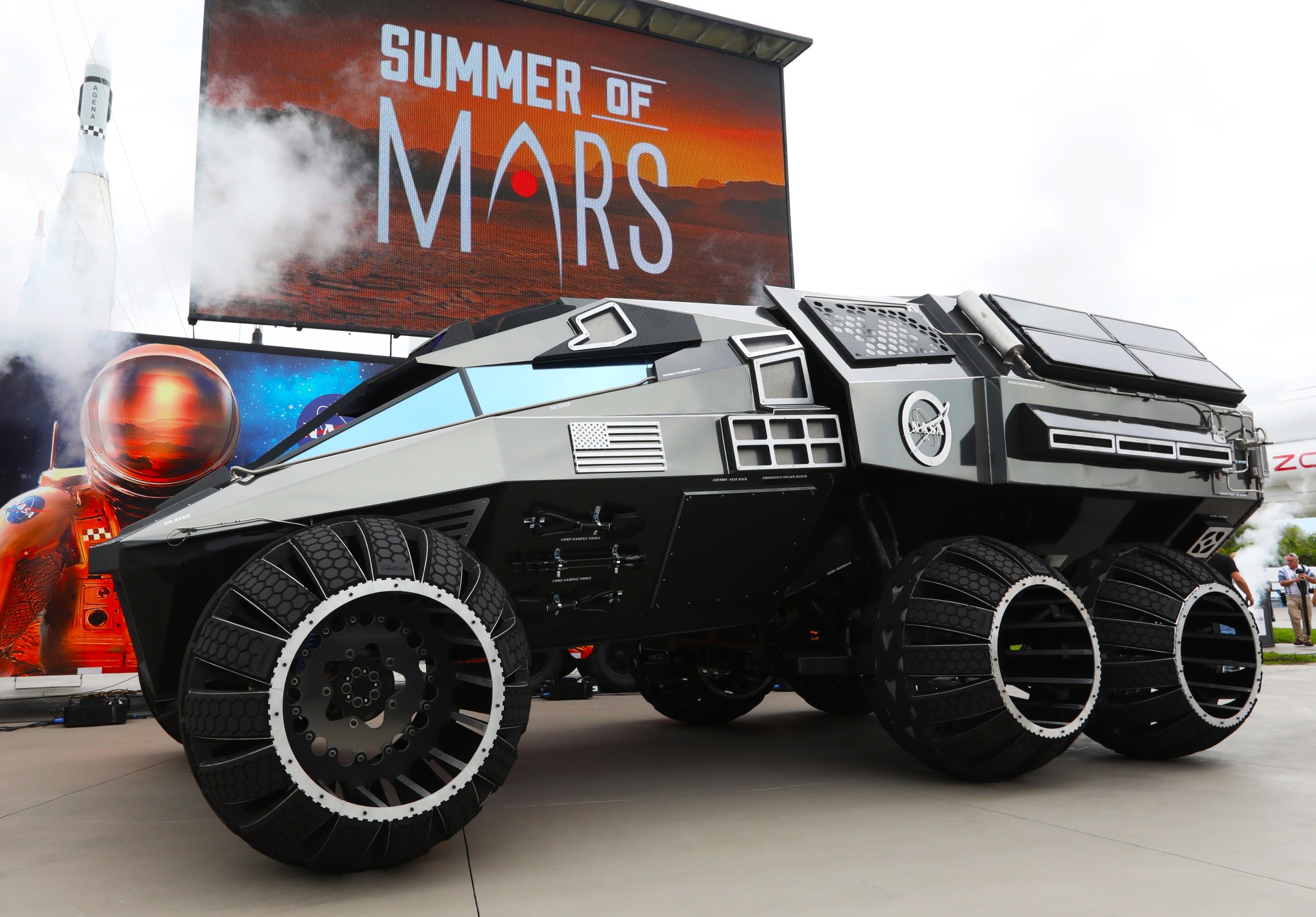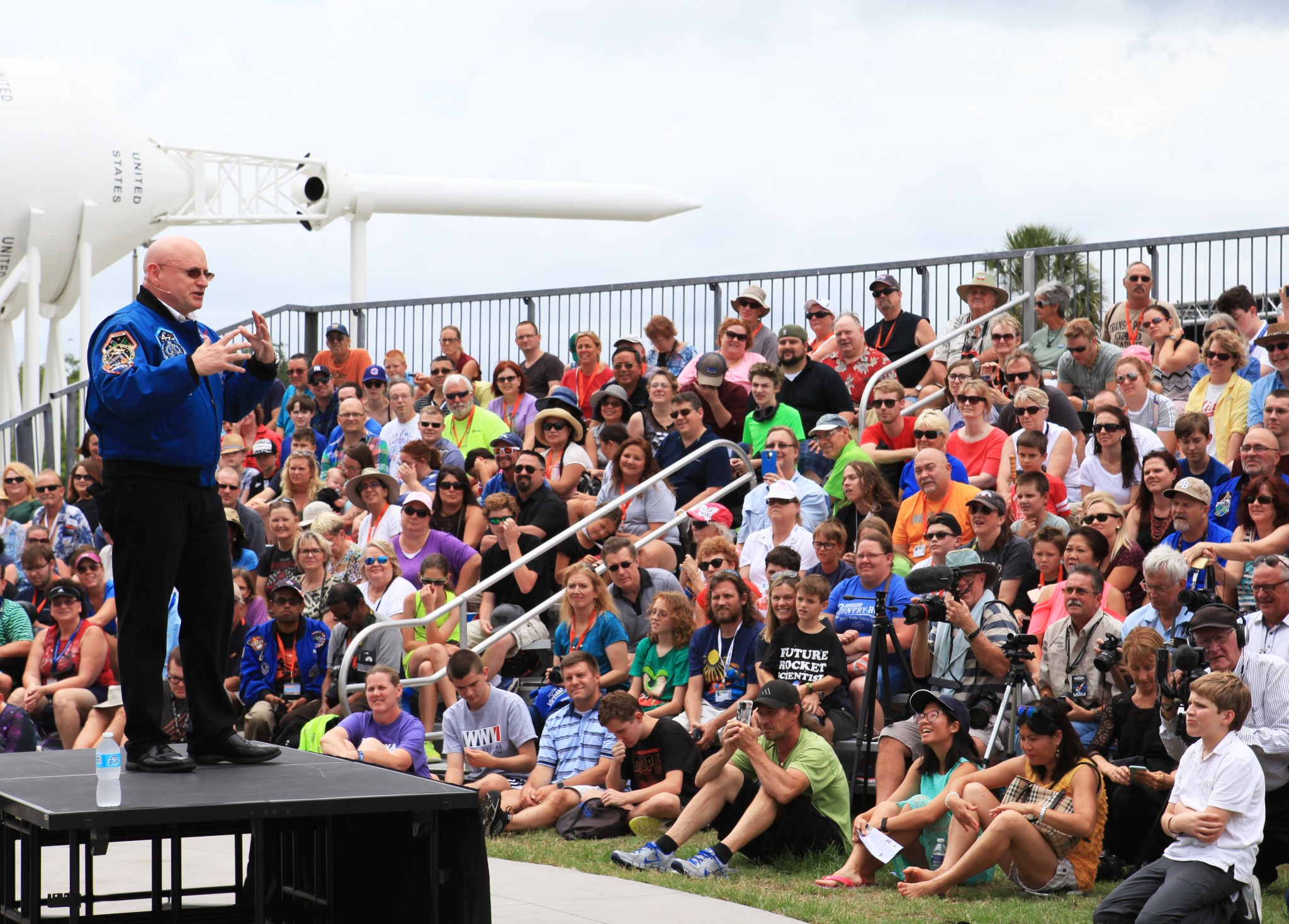 By Bob Granath
NASA's Kennedy Space Center, Florida
It looks like something out of this world, but that's exactly where it would work. A futuristic Mars rover concept vehicle was recently unveiled at the Kennedy Space Center Visitor Complex with a goal of inspiration and education as NASA continues developing plans for its journey to the Red Planet.
The visitor complex kicked off its "Summer of Mars" promotion with a June 5 ceremony which included former astronaut Scott Kelly. During his appearance, Kelly shared some of his experiences during a one-year stay aboard the International Space Station from March 27, 2015 to Feb. 3, 2016.
According to Rebecca Shireman, assistant manager of public relations for the Kennedy Space Center Visitor Complex, the "Summer of Mars" program will showcase the numerous experiences and activities that focus on the future of space exploration and Mars missions.
"It's an all-encompassing effort to review the history of our efforts to explore Mars and look ahead to what is being planned," she said. "We hope this will encourage young people to want to learn more about being a part of the effort to go to Mars."
NASA's next robotic Mars rover is set to land on the Red Planet in 2020. The Mars 2020 rover will search for signs of past microbial life and collect core samples for a potentially future return to Earth. This summer also marks the 20th anniversary of NASA's Pathfinder mission which kicked off a period of continuous robotic exploration of the Red Planet and the 5th anniversary of the Curiosity rover's landing.
Shireman explained that the "Summer of Mars" has several elements designed to get the next generation of space explorers excited about Mars research and exploration.
"We'll have two new shows, 'Eyes on the Red Planet' and 'Science on a Sphere,'" she said.
The builders of the scientifically-themed rover, Parker Brothers Concepts of Port Canaveral, Florida, incorporated input into its design from NASA subject matter experts. Construction of the Mars rover was commissioned by the Kennedy visitor complex without use of taxpayer dollars.
The rover operates on an electric motor, powered by solar panels and a 700-volt battery. The rover separates in the middle with the front area designed for scouting and equipped with a radio and navigation provided by the Global Positioning System. The back section serves as a laboratory which can disconnect for autonomous research. While this exact rover is not expected to operate on Mars, it depicts concept features that may someday be incorporated into a rover astronauts will drive on the Red Planet.
The Mars rover is a far cry from the Lunar Roving Vehicles, or LRVs, that aided astronauts during Apollos 15, 16 and 17 in 1971 and 1972.
With a range of about 23 miles, the LRVs were 10 feet long, 7.5 feet wide, 3.75 feet tall and weighed 463 pounds. Power was provided by two 36-volt silver-oxide batteries. The rovers helped astronauts venture as much as 4.7 miles from their lunar module.
By comparison, the Mars concept rover is 28 feet long, 14 feet wide, 11 feet tall and weighs an estimated 5,000 pounds — about the size of a pickup truck.
During Apollo 17, the LRV operated by NASA astronaut Eugene Cernan reached a top speed of 11 mph.
The Mars rover concept vehicle could move as fast as 60 to 70 mph, but is designed to travel between 10 to 15 mph during exploration. It has six 50-inch-tall, 30-inch-wide wheels designed to accommodate the soil, dunes and rocks of Mars.
Following several weeks on display at Kennedy's visitor complex, the Mars rover concept vehicle will be displayed at several locations. From July through August, it will be displayed at several locations during a tour along the East Coast.
Shireman explained that the Mars rover concept vehicle will return to the visitor complex to be part of the new Astronaut Training Experience attraction opening in the fall of this year.
"It will be a new opportunity based on NASA's Journey to Mars," she said. "Groups and individuals will experience training like a real astronaut using virtual reality and simulators. Training activities including simulations of landing on Mars, walking on its surface, driving on the rough terrain and experiencing microgravity. Children, families and business groups are invited to participate."