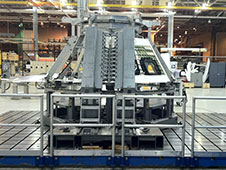 Construction began this week on the first new NASA spacecraft built to take humans to orbit since space shuttle Endeavour left the factory in 1991. Engineers at NASA's Michoud Assembly Facility in New Orleans started welding together the first space-bound Orion Multi-Purpose Crew Vehicle.
"This marks the beginning of NASA's next step to send humans far beyond Earth orbit," said Orion program manager Mark Geyer. "The Orion team has maintained a steady focus on progress, and we now are beginning to build hardware for spaceflight. With this milestone, we enter the home stretch toward our first trip to space in this new vehicle."
The team is using a method known as friction stir welding. This technique was first used by NASA to build the space shuttle external tanks, and it creates seamless welds, producing a stronger and more durable joint than those produced by conventional welding techniques. The process uses frictional heat to transform the aluminum-lithium alloys that comprise Orion from a solid state to a plastic-like state before reaching the melting point, and then stirs them together under pressure to complete the bond. This type of welding ensures optimal structural integrity for the harsh environments of space.
After welding is completed at Michoud, the Orion spacecraft orbital test article will be shipped to NASA's Kennedy Space Center, where the heat shield will be installed. At Kennedy, it will undergo final assembly and checkout operations for eventual flight.