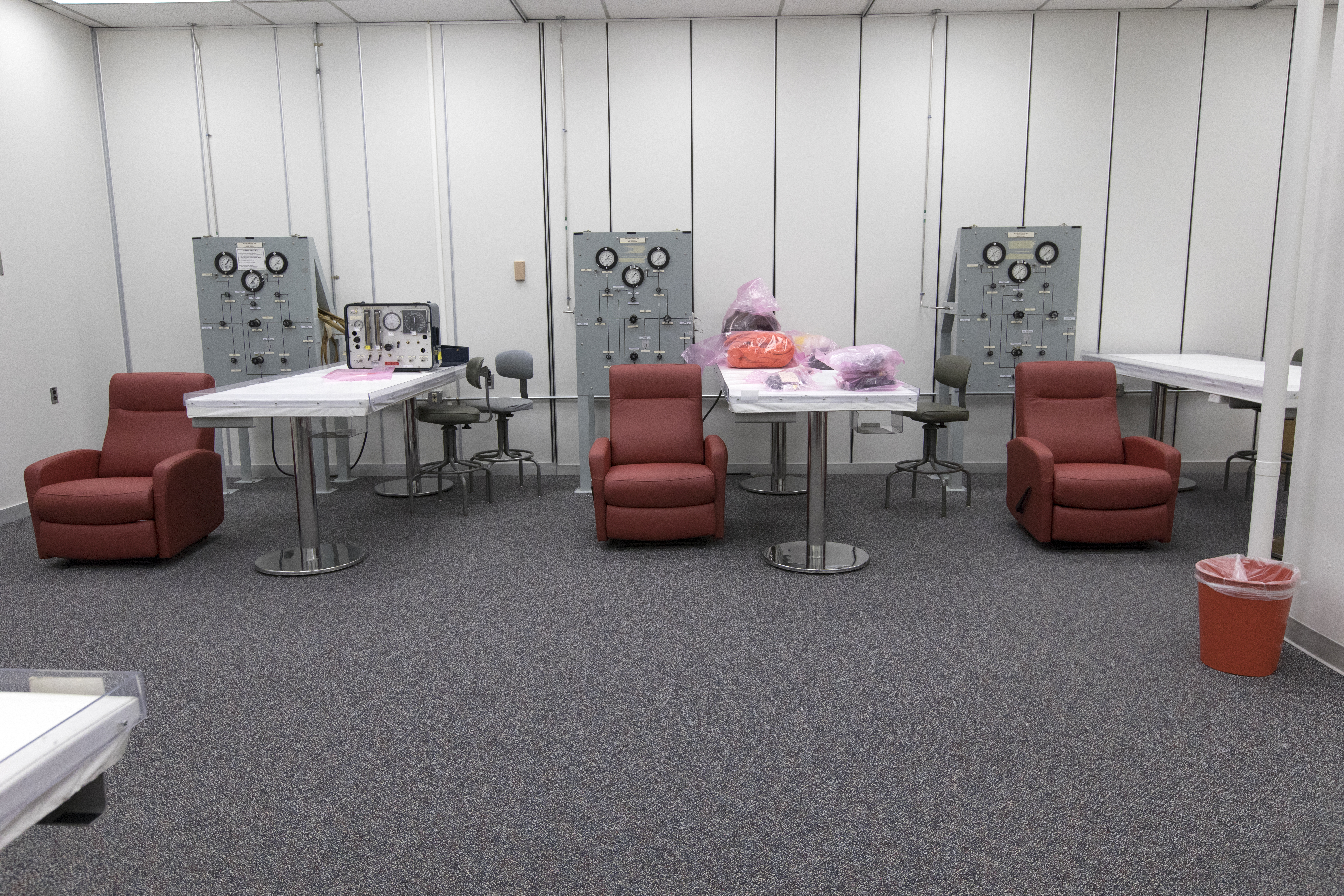 Credits: NASA/Kim Shiflett
Credits: NASA/Kim Shiflett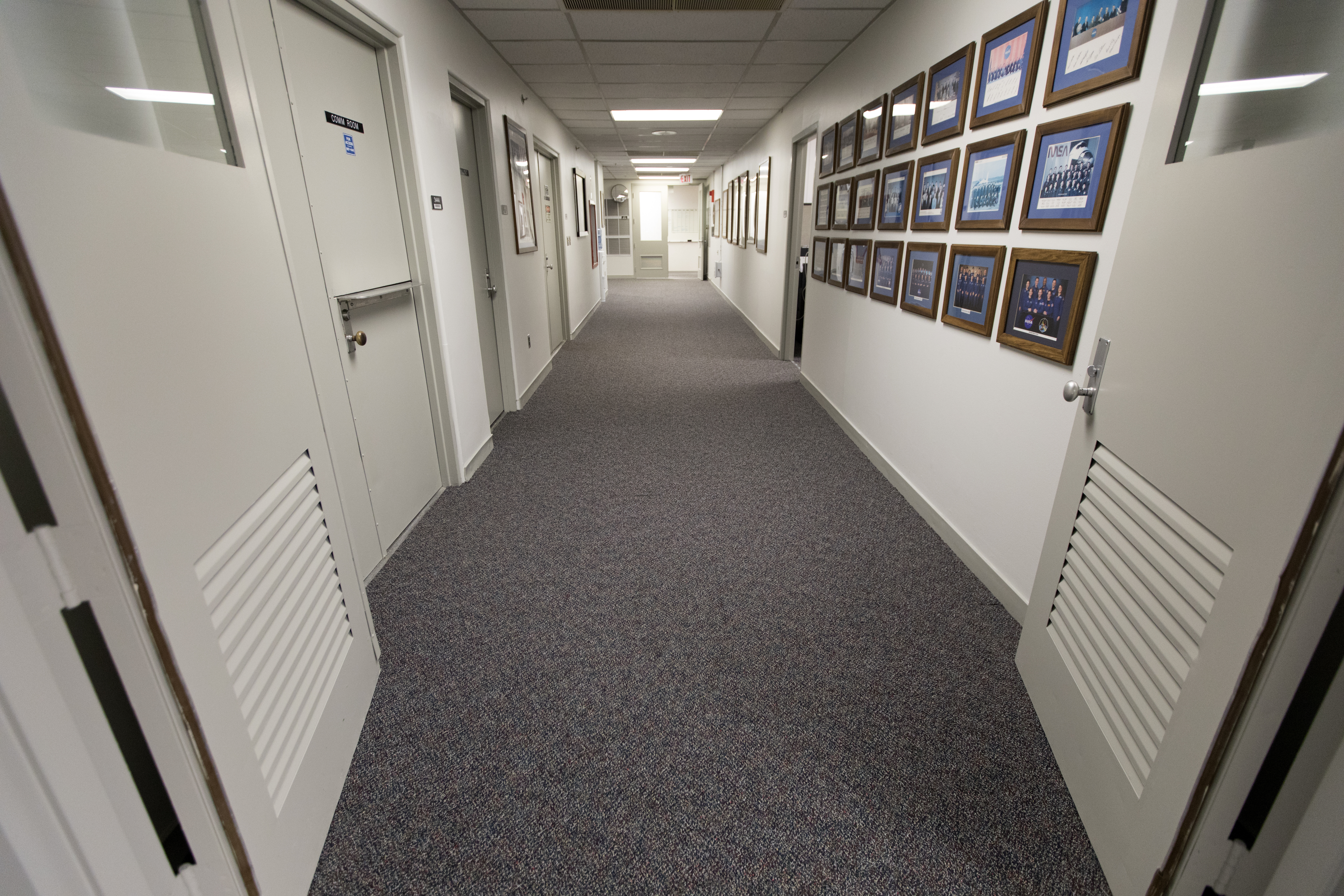 Credits: NASA/Kim Shiflett
Credits: NASA/Kim Shiflett
Credits: NASA/Kim Shiflett
By Jim Cawley
NASA's Kennedy Space Center
​You'll have to excuse Lauren Lunde if her enthusiasm is tempered with just a little bit of anxiety. A NASA flight crew specialist who manages the astronaut crew quarters at Kennedy Space Center in Florida, Lunde helps take care of the people who are in the business of pioneering space.
And business is picking up.
Kennedy is actively preparing for a return to human spaceflight, with Boeing and SpaceX both targeting Commercial Crew uncrewed flight tests — followed by crewed missions. In addition, NASA's Orion spacecraft also will carry astronauts into deep space in the near future.
"There's stress and excitement," said Lunde, who has held her current position since 1994. "During the shuttle program, we had so many launches every year, we were always ready. We knew exactly what to do. When you take seven — going on eight — years off, you're thinking, 'what did we do? How did we get ready?' But it's exciting; it'll be nice to get back into it."
Actually, they were never completely out of it. Past and current astronauts stay at the crew quarters for more than just missions to space. There are important meetings, speaking engagements, Silver Snoopy Award presentations, critical hardware testing and other official business that brings astronauts to the crew quarters, located on the third floor of the Neil Armstrong Operations and Checkout Building. In recent years, the facility has gone from hosting about 50 astronauts a year to three times that amount, Lunde said.
"Now we're moving toward something," Lunde said. "And we're going there fast."
The crew quarters occupies about 26,000 square feet, taking up the third floor's entire west wing. Access is restricted to this area, which features 23 bedrooms — each with a bathroom — and the iconic suit room, where astronauts are helped into their pressure suits moments before boarding a vehicle to take them to the pad for launch. The crew quarters also includes a kitchen, pantry, dining room, lounge, gym, two conference rooms, two laundry rooms, a flight surgeon's office and three medical exam rooms. A group of eight offices — including Lunde's — are located just off of the main hallway.
A significant, recently completed upgrade will await the Commercial Crew astronauts. There are new carpets and ceiling tiles, and fresh paint on the walls. Appliances all have been replaced, as has the audio/visual teleconference system in both conference rooms. The suit room, last used in an official capacity in July 2011 for STS-135, the final mission of the Space Shuttle Program, has been reactivated and remodeled. The area is furnished with new recliners and tables, and there are now three suit containment rooms — one each for Orion, Boeing and SpaceX.
Final touches are being put on the remodeling. New artwork representing Orion, Boeing and SpaceX will hang in the hallways. These replace space shuttle images, which by no means are being discarded. They will hang in the conference rooms and in the refurbished suit room as part of a history display.
"A lot of the astronauts have been amazed at how nice and clean and fresh everything looks," Lunde said.
The astronaut crew quarters has been modified several times since it first opened its doors in the 1960s. Prior to the current upgrades, the last major renovation was in 1994.
During the shuttle program, it was common for all of the bedrooms to be occupied leading up to a mission. Flight surgeons, astronaut support personnel and flight operations management accompanied astronauts in the living quarters.
"They came down here at L-minus-4 day, and we would be packed," Lunde said. "We rarely were not full."
That is expected to change. One reason is smaller crews: space shuttle crews averaged five to seven astronauts — with as many as eight — while upcoming missions are planning for two to four astronauts. Another reason is more emphasis on quarantine, Lunde said, adding that she expects mission-bound astronauts to stay in the crew quarters about twice as long, or eight to nine days.
"Because the quarantine will be so much stricter, we are going to keep it down to a minimum of people," Lunde said. "Unless you absolutely have to be here and stay here, you're not going to be here. You'll stay in town."
She said that should result in a maximum of 16 to 18 bedrooms being occupied leading up to crewed missions.
One thing that won't change is Lunde and her staff's commitment to service. While the purpose of the crew quarters ultimately is quarantine and suit-up, ensuring the astronauts are relaxed before their stressful job ahead also is critical.
"It's nice to make their stay here comfortable — that's the important thing, and that's what we always strive to do," Lunde said. "Little things mean a lot to them at that time."
Little things include stocking the astronauts' favorite food and drink, right down to specific brands of salad dressing and condiments. Cooks on staff are very much in tune with these preferences. Movies are important, too. The crew decides which movies they want to watch prior to making the trip from Johnson Space Center, Lunde said.
Lighting throughout the facility can be altered to make it look like it is the middle of the night, or a bright, sunny afternoon, depending on the prescribed sleep schedule. But that light won't make its way into the bedrooms.
"All of the rooms have light suppression stripping so the light doesn't come through from the hallway," Lunde said. "And the bedrooms are very well-insulated. It's quiet — very quiet."
As for the crew quarters itself, things won't be quiet for much longer. And that's just fine with Lunde, who expects all of the remodeling to be completed by the middle of August. That will put them in position to be fully prepared for the first round of uncrewed spacecraft testing.
"We're going to act like it's crewed. That way, we can test all of our procedures and make sure everything is ready and in place," Lunde said. "We will really have to be on our toes. It's going to be a blast!"