Registration for in-person and virtual events is now open for the 2023 NASA International Space Apps Challenge.
NASA Space Apps, in collaboration with NASA Transform to Open Science (TOPS), is proud to announce the 2023 NASA International Space Apps Challenge theme: "Explore Open Science Together." This year's theme celebrates the benefits and successes created through the equitable and open sharing of knowledge and data. Registration for this year's in-person and virtual events is now open through October 8.
Explore Open Science Together acknowledges 2023 as "A Year of Open Science," as declared by the White House, NASA, and other federal agencies. NASA Space Apps will incorporate open science tips, tools, and resources from the NASA TOPS initiative into this year's event. Interested participants are encouraged to explore these resources ahead of the hackathon, including the new Open Science 101 tutorial, which will help equip participants to build a team, work better together, and share their science with the world. (Enroll to be an Open Science 101 beta tester here.)
"The collaboration between NASA Space Apps and NASA TOPS for this year's Space Apps Challenge emphasizes the importance of open science in reducing barriers of entry to the global science community and in celebrating diverse voices," said NASA Chief Science Data Officer Kevin Murphy. "We look forward to working with the global Space Apps community and providing pathways to learn and engage with NASA TOPS before, during, and after the event."
Now in its 12th year, the NASA Space Apps Challenge is the largest annual and global hackathon. During the two-day event, participants from around the world form teams that use software development, engineering, art, storytelling, science, and other skills to solve science-related challenges written by NASA personnel. The Space Apps Challenge experience provides a platform for its participants to network locally and globally, develop new skills, and identify pathways to pursue academic and professional opportunities.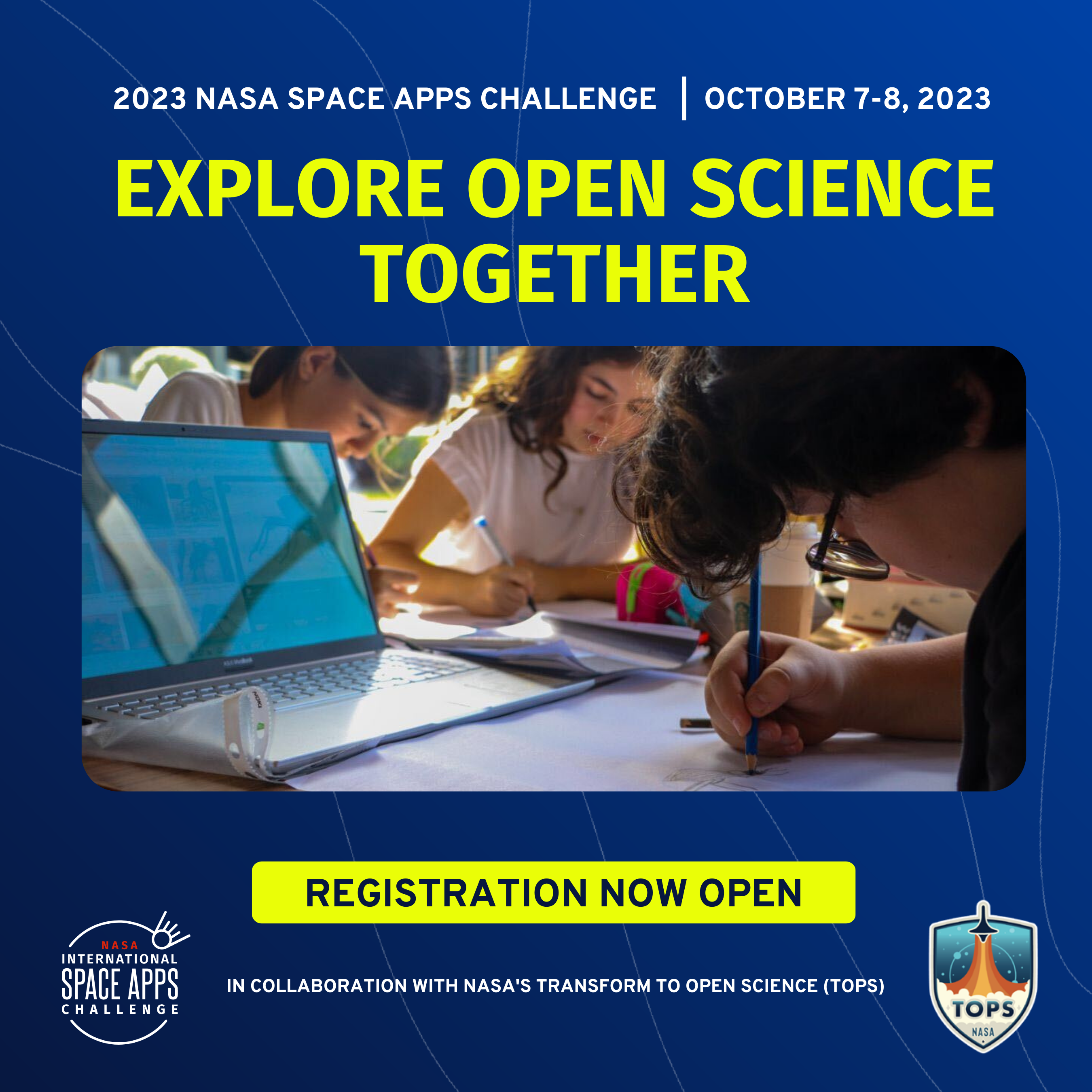 NASA
Over the past 11 years, the NASA Space Apps Challenge has led to positive outcomes such as: the creation of a software application to detect landslides; connecting participants to local funding opportunities to support academic and professional pursuits related to their projects; and inspiring children as young as five-years-old toward a interest in STEM studies and careers to solve real problems on Earth and in space.
"The NASA Space Apps Challenge brings together a global community of people from diverse backgrounds and skill sets to engage in open science," said Nicola Fox, NASA's associate administrator for the Science Mission Directorate. "This year's theme collaboration with NASA TOPS provides even more opportunity for participants to engage and develop their skills. I look forward to seeing what innovative ideas the Space Apps community brings forth this year."
Participants in the Space Apps Challenge use free and open data provided by NASA and its space agency partners to develop their hackathon projects. Space Agency Partners joining NASA for the 2023 Space Apps Challenge include: the Australian Space Agency, Brazilian Space Agency, Canadian Space Agency, European Space Agency, Indian Space Research Organization, Italian Space Agency, Japan Aerospace Exploration Agency, Mexican Space Agency, National Space Activities Commission of Argentina, National Space Science Agency of Bahrain, Paraguayan Space Agency, South African National Space Agency, and the Turkish Space Agency.
NASA Space Apps is funded by NASA's Earth Science Division through a contract with Booz Allen Hamilton, Mindgrub, and SecondMuse. The theme for Space Apps 2023 is funded by NASA's Open-Source Science Initiative.
For more information about Space Apps and to register for an in-person or virtual event on Oct. 7-8, 2023, visit: