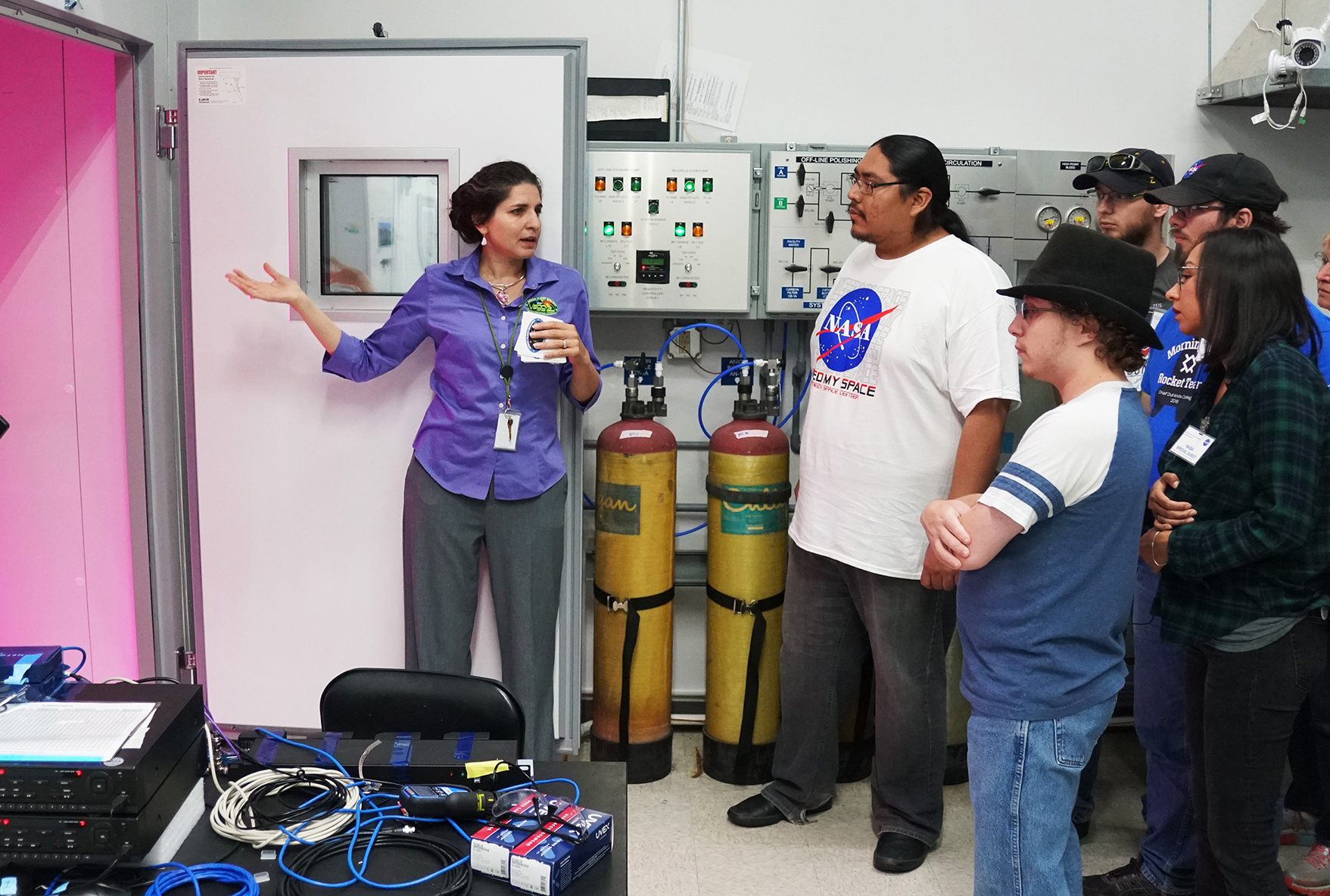 By Bob Granath
NASA's Kennedy Space Center, Florida
A group of college students and their faculty advisors from Northwest Indian College and Chief Dull Knife College recently toured NASA's Kennedy Space Center with an opportunity for an up-close look at career opportunities. All were members of winning teams that successfully flew high-powered rockets in the First Nations Launch competition.
The competition is funded by NASA and administered by the Wisconsin Space Grant Consortium (WSGC). It provides a chance for students attending tribal colleges and universities, or who are members of a campus with an American Indian Science and Engineering Society, or AISES, chapter, to design, build and launch high-powered rockets in the annual competition at Kansasville, Wisconsin.
Student teams at affiliated universities demonstrate engineering and design skills through the rocket competition. This is the ninth year NASA has supported the project.
"The collaboration between Kennedy Space Center and the First Nations Launch is invaluable," said Christine Bolz, assistant director for the WSGC, based at Carthage College in Kenosha, Wisconsin. "It provides students the opportunity to be inspired, engaged and educated by NASA professionals, transforming students' perspective of becoming employed by NASA and the aerospace industry."
Students representing both winning teams learned about the variety of career paths while touring work in areas such as the Vehicle Assembly Building, Launch Control Center and the Kennedy visitor complex. But for Kaiya Gorman, who is studying research in microbiology, the center's Veggie Project was of special interest.
The Vegetable Production System (Veggie) is a deployable plant growth unit capable of producing salad-type crops on the International Space Station. It is designed to provide long-term space crews with fresh food that is palatable and nutritious.
Gorman is a student at Northwest Indian College established by the Lummi Nation in Bellingham, Washington. She said that the career presentation was a "highlight of her visit." The panel discussion focused on career opportunities with NASA, contractors and other areas of the aerospace industry.
There are two annual challenges students may choose to enter. In this year's Tribal Challenge, a rocket was launched and judged on its stability using a small onboard camera. In the AISES Challenge, student teams from the organization's chapters designed, built and launched a rocket that was able to provide an active drag system integrated into the rocket with a mechanical device.
For the competition, teams attend workshops to learn concepts necessary for a successful launch, including guidance, navigation, control, propulsion, electrical systems and flight software. Participants follow NASA project management processes giving formal presentations and participating in design reviews and safety package generation. By guiding students through a rocket's design, build and fly process, students are encouraged to explore STEM — science, technology, engineering and mathematics.
"The career panel and tours made aerospace tangible," Bolz said. "The First Nations Launch students began to see how they could be a part of NASA initiatives in a way that relates to their unique interests."
Bolz believes the end result of the engineering competition, Kennedy tour and discussions about aerospace careers was a great experience.
"There was a moment when the students realized," she said, 'NASA needs people like me.'"