In a nod to the legacy of Apollo 14, and a celebration of the future of space exploration, NASA's Office of STEM Engagement's Next Gen STEM project and the USDA Forest Service are partnering to fly a special payload aboard Artemis I, NASA's first flight test of the Space Launch System rocket and Orion spacecraft. Through a joint STEM education collaboration that connects Artemis I programming to Earth science, data literacy and citizen science, a "new generation" of Moon Tree seeds are bound for lunar orbit.
One thousand tree seeds of five different species representing a range of climates across the lower 48 United States are packed into ravioli-shaped pouches awaiting their historic journey aboard Orion, which will travel thousands of miles beyond the Moon during the mission. Nestled alongside science payloads and mementos, the tree seeds will travel farther than any spacecraft designed for human exploration has ever flown, spending about 6 weeks in space before returning to Earth.
Original Moon Trees Rooted in Apollo Legacy
More than a half-century ago, NASA astronaut Stuart (Stu) Roosa, the command module pilot for the Apollo 14 mission and a former USDA Forest Service smoke jumper, carried tree seeds from loblolly pine, American sycamore, sweet gum, coast redwood, and Douglas-fir trees into lunar orbit. While crewmates Alan Shepard and Edgar Mitchell spent two days exploring the lunar surface, Roosa conducted experiments aboard the Kitty Hawk command capsule with the first generation of Moon Tree seeds in tow, making 34 complete lunar orbits before the return trip to Earth.
The Apollo 14 Moon Trees were grown into seedlings by the Forest Service and eventually disseminated to dignitaries around the world, with a large number distributed as part of the nation's bicentennial event. For a period, the final location of many of the Apollo Moon Tree seeds remained a mystery. Thanks to an inquiry from a third-grade teacher in 1996, NASA planetary scientist and lunar historian Dr. David Williams launched a campaign to locate the Apollo Moon Trees, leading to the most current Moon Tree database and historical archive describing Moon Tree milestones.
Embarking on a new journey with Artemis I
Once again, five species of tree seeds will fly to the Moon, mirroring the selection provided to Roosa more than 50 years ago.
"Four of the five species flown on the original Moon Trees mission are onboard [a NASA moon mission] again because they are common species and together represent a broad geographic area of the lower 48 states," said Dr. Kasten Dumroese, senior scientist with the USDA Forest Service. "Coast redwood, with a somewhat limited natural range, was replaced with its cousin, giant sequoia, which has more widespread use in parks and arboreta. For this mission, scientists included additional seed sources for two species having large natural ranges: American sycamore and Douglas-fir. These additional seed sources will help the Moon Trees team match these species with outplanting sites to ensure longterm genetic adaptability."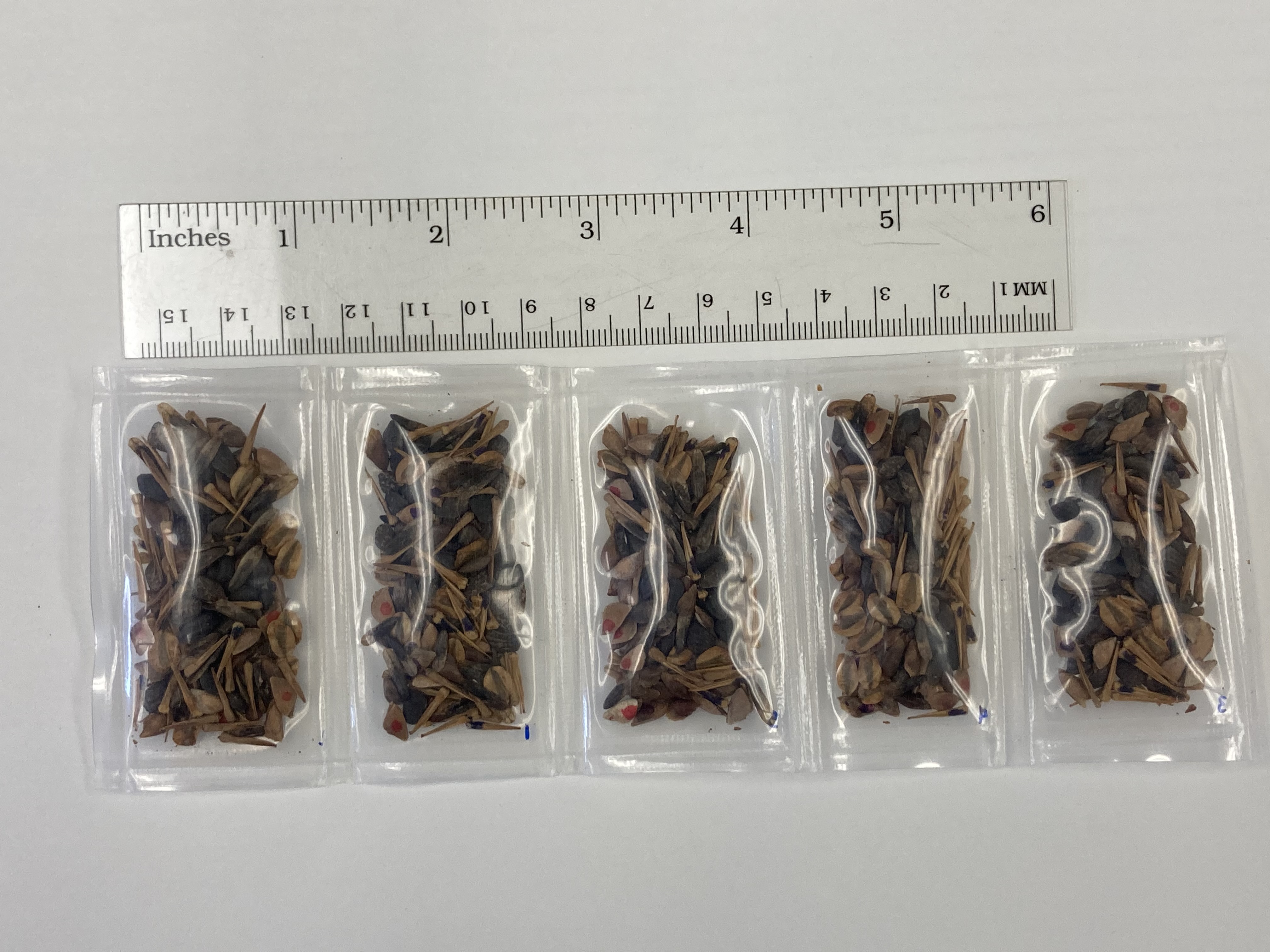 The five species flying with Artemis I include:
Loblolly pine (Pinus taeda): Fast-growing conifer native to the southeastern U.S.; one of the most common species in the U.S.
American sycamore (Platanus occidentalis): Deciduous tree native to the central and eastern U.S.; known to live up to 600 years.
Sweetgum (Liquidambar styraciflua): Native deciduous tree from Texas east to the Atlantic Ocean and north to the Great Lakes marked by deep glossy green star-shaped leaves.
Giant sequoia (Sequoiadendron giganteum): Native to California, a conifer with distinct red/orange bark; known to reach ages of up to 3,400 years and among the tallest growing trees in the world.
Douglas-fir (Pseudotsuga menziesii): Native conifer to western North America; its name honors the intrepid botanist and explorer David Douglas.
Back on Earth the Forest Service will germinate the new Moon Tree seeds and grow them into seedlings. Public and education institutions across the U.S. will have the opportunity to submit a proposal to serve as a Moon Tree custodian. Information about the proposal opportunity will be released via NASA's Office of STEM Engagement no earlier than 30 days after splashdown.
Stay connected with Artemis Moon Tree Opportunities, visit: Branch Out with Artemis Moon Trees! Apply for an Artemis Moon Tree Seedling
To find out how you can be a part of the Artemis mission, visit: