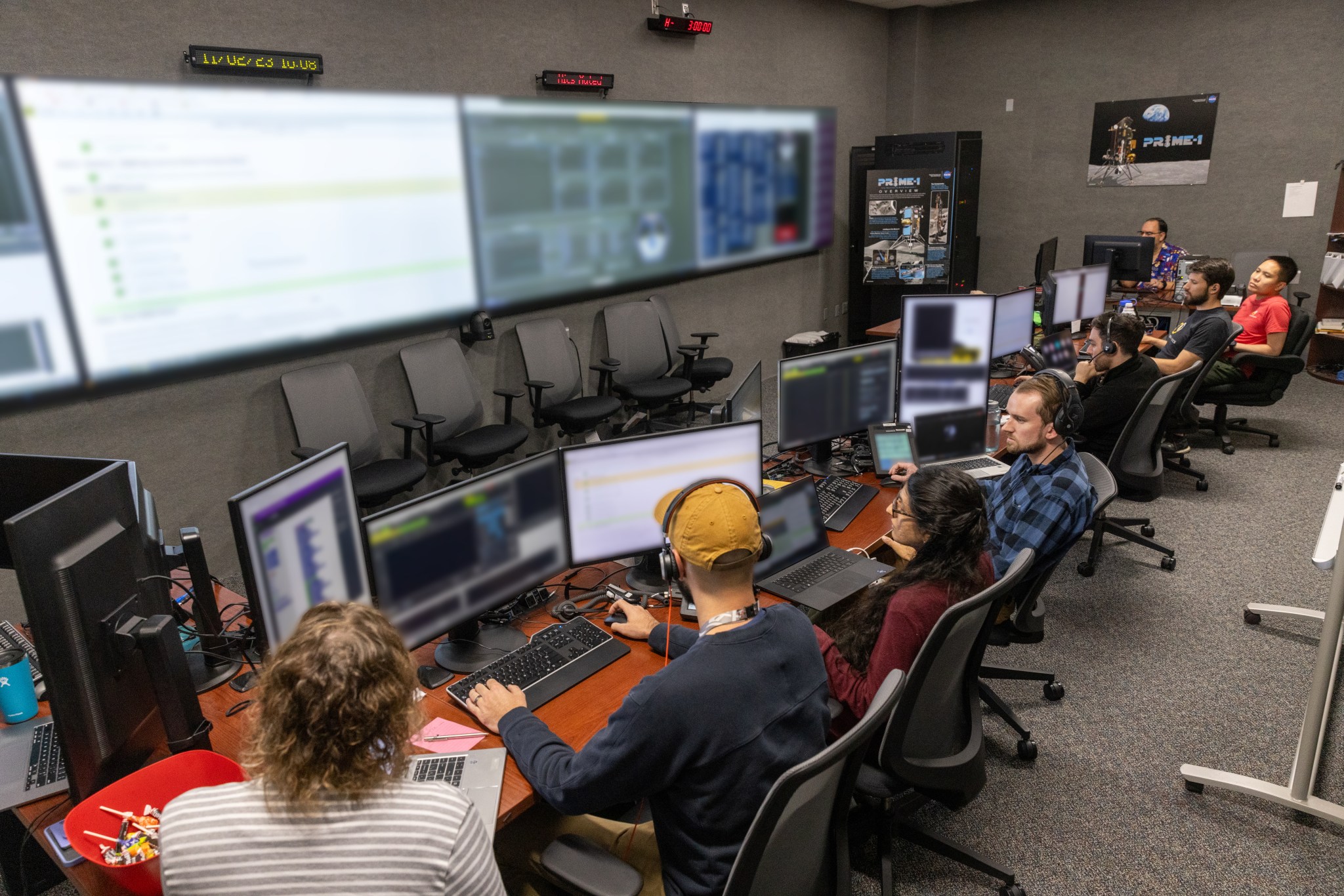 Editor's Note: This article was updated to correct and add information about the Commercial Lunar Payload Services initiative.
A team of engineers participate in simulation training for the Polar Resources Ice Mining Experiment-1 (PRIME-1) on Thursday, Nov. 2, 2023, inside the Neil Armstrong Operations and Checkout Building at NASA's Kennedy Space Center in Florida. The purpose of the training is to get the integrated PRIME-1 team – engineers with PRIME-1's MSOLO (Mass Spectrometer Observing Lunar Operations) and Honeybee Robotics' TRIDENT (The Regolith and Ice Drill for Exploring New Terrain) drill – prepared to operate the instrument on the lunar surface. The team commanded the PRIME-1 hardware, located at Intuitive Machines in Houston, to operate MSOLO and TRIDENT.
"While the MSOLO and TRIDENT teams have been independently training extensively, it's exciting to have both teams in the room together operating our hardware concurrently," said Pri Johnson, one of the MSOLO systems engineers. "There's a tangible energy in the room this week as we all work together for this mission simulation. It all started to feel very real!"
PRIME-1 is scheduled to launch through NASA's CLPS (Commercial Lunar Payload Services) initiative and will be the first in-situ resource utilization demonstration on the Moon, with MSOLO and TRIDENT making up its two primary components. Through CLPS deliveries, science investigations and technology demonstrations aim to demonstrate capabilities to help NASA explore the Moon under the Artemis program and prepare for human deep space exploration missions.
Photo credit: NASA/Frank Michaux