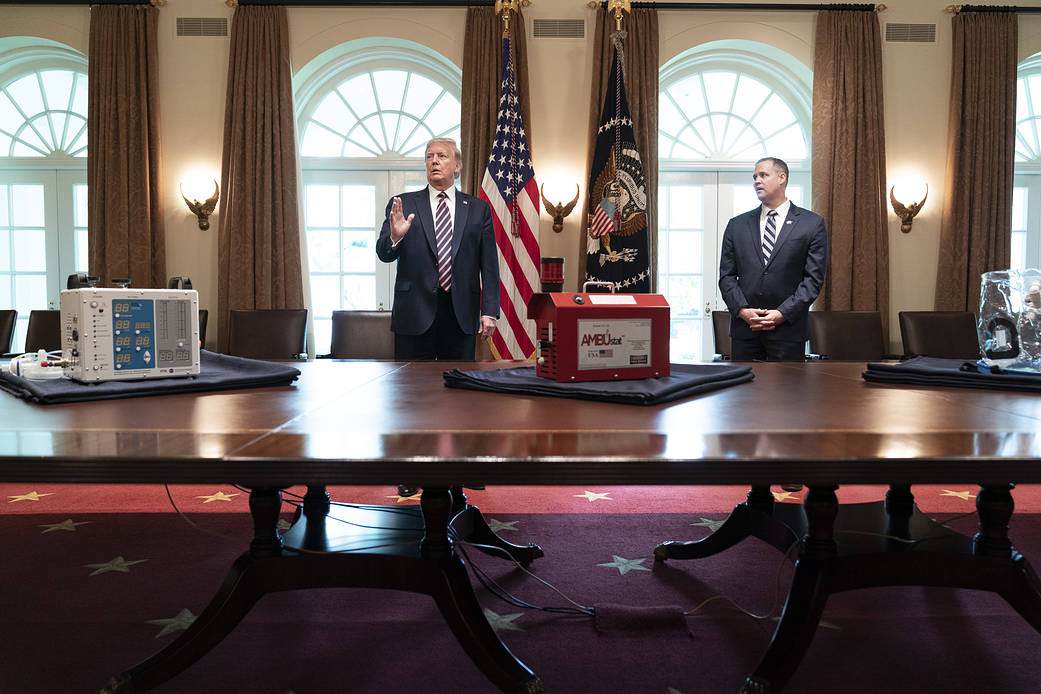 On April 25, NASA Administrator Jim Bridenstine provided President Donald Trump with an update at the White House on NASA's response to COVID-19. Bridenstine discussed how the agency's innovative workforce has mobilized some of its greatest minds to apply NASA research and ingenuity to fighting COVID-19.
"The questions is what do you do with rocket scientists when they stay at home? What they do is they build amazing things," Administrator Bridenstine told President Trump Friday, underlining NASA's efforts to reduce the spread of COVID-19 by implementing a mandatory telework policy for the majority of the agency's workforce.
Focused on three of the most developed efforts, Bridenstine showcased to the President and the media some of the devices, including the NASA VITAL ventilator created at NASA's Jet Propulsion Laboratory, the Aerospace Valley Positive Pressure Helmet developed by a regional consortium with NASA's Armstrong Flight Research Center, and a surface decontamination system called AMBUStat produced by industry with technology developed at NASA's Glenn Research Center.
Pictured are the VITAL Ventilator, the Aerospace Valley Positive Pressure Helmet and AMBUStat.
VITAL Ventilator: Designed in 37 days by the JPL workforce, NASA's VITAL ventilator specifically addresses issues of COVID-19 patients. It was submitted to the FDA for emergency use authorization last week. JPL's Dave Gallagher joined the Administrator at the White House and discussed how the Office of Technology Transfer and Corporate Partnerships at Caltech, which manages JPL for NASA, is offering a free license for VITAL and currently is reaching out to the commercial medical industry to find manufacturers for the device.
The Aerospace Valley Positive Pressure Helmet: Awaiting FDA emergency use authorization approval, the engineers at NASA Armstrong Flight Research Facility with support of the Antelope Valley Task Forcedesigned these oxygen hoods to help COVID-19 by providing a portable oxygen-rich pressure chambers, and thereby reducing the subsequent need for ventilator intubation. The team at Virgin Galactic and The Spaceship Company, members of the task force, are currently producing 500 hoods to address regional needs in the Los Angeles area.
AMBUSTat: The surface continuation system, AMBUStat, is produced and sold by a private company, Emergency Products and Research (EP+R), in Kent, Ohio. The device is currently used in ambulances and is expanding use to police cars and other areas.
More information is available here: https://www.nasa.gov/press-release/nasa-contributes-expertise-ingenuity-to-covid-19-fight/
Image Credit: Official White House Photo: Shealah Craighead