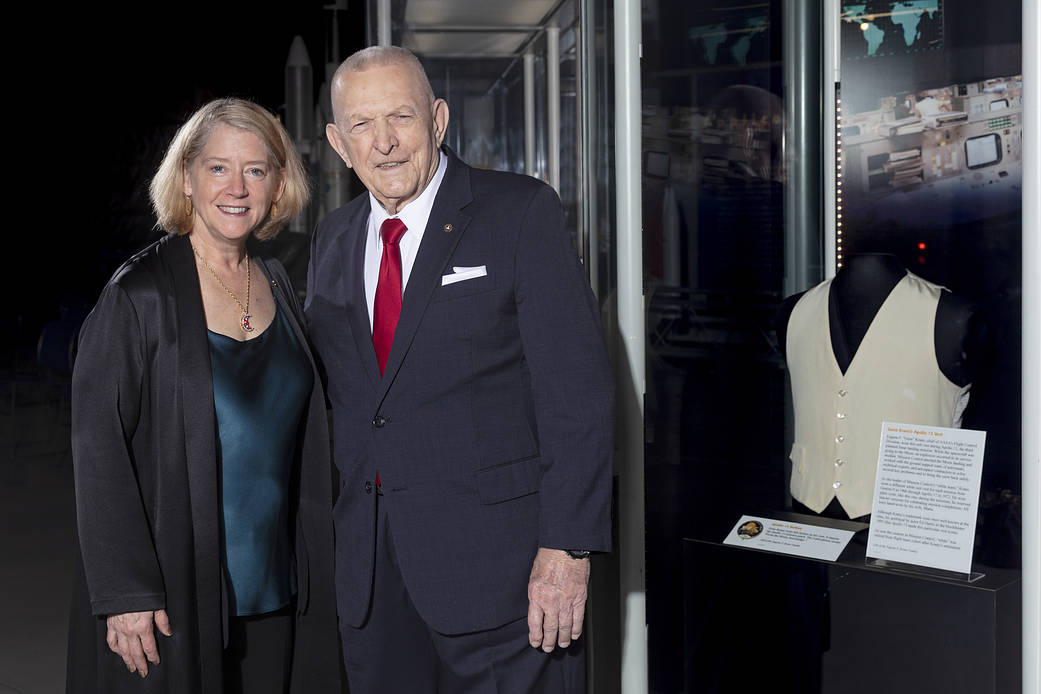 NASA Deputy Administrator Pam Melroy and legendary flight director Gene Kranz posed next to the white vest he wore during the Apollo 13 mission. Apollo 13 was NASA's "successful failure." In April 1970, an explosion after launch derailed the lunar-landing mission and forced the astronauts and mission control to improvise solutions to multiple problems to bring the crew home safely, which they did.
The vest is on temporary display at the National Air and Space Museum's Udvar-Hazy Center and will go on permanent display in the new Destination Moon exhibit in the Washington when it opens in fall 2022.
Kranz received the 2021 Michael Collins Trophy. The National Air and Space Museum presents the Michael Collins Trophy annually to recognize both past and present achievements involving the management or execution of a scientific or technological project, a distinguished career of service in air and space technology, or a significant contribution in chronicling the history of air and space technology. Winners receive a trophy featuring a miniature version of the "Web of Space" sculpture, which was created by John Safer of Washington, DC, and donated it to the museum.
The award was established in 1985 and was renamed in honor of Apollo 11 astronaut Michael Collins, the museum's first director, in 2020.
Image Credit: National Air and Space Museum/Eric Long