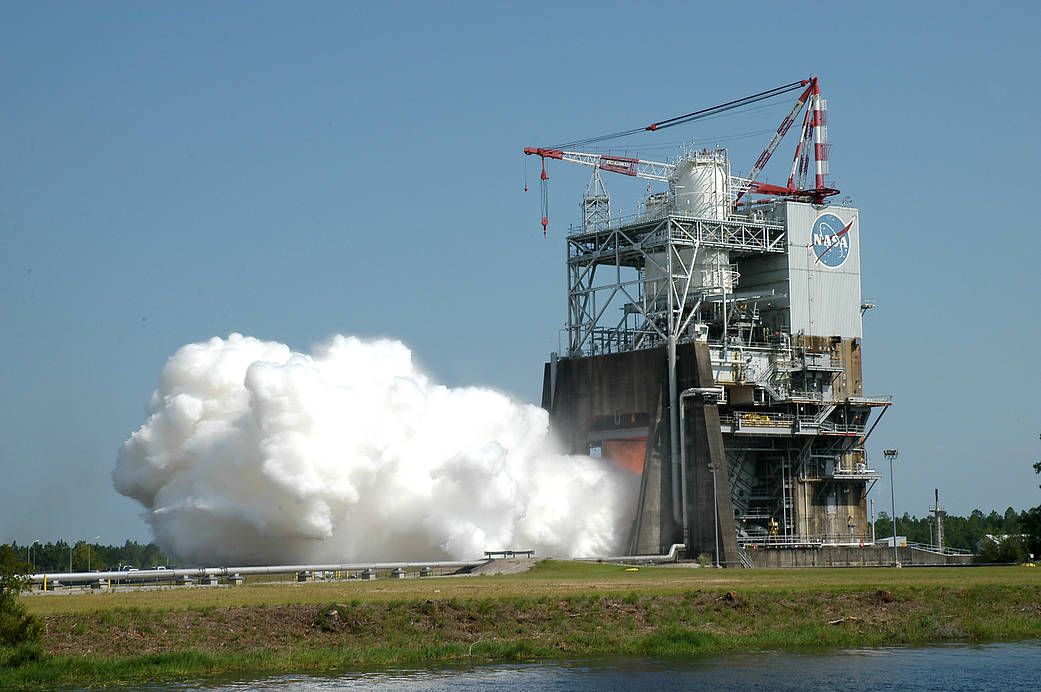 NASA's countdown to deep space continued today with a 535-second test of its Space Launch System (SLS) RS-25 rocket engine to collect engine performance data at NASA's Stennis Space Center near Bay St. Louis, Mississippi. SLS will launch astronauts in the Orion spacecraft on missions to deep space and eventually on the journey to Mars. Operators on the A-1 Test Stand at Stennis are conducting the test series to qualify an all-new engine controller and put the upgraded former space shuttle main engines through the rigorous temperature and pressure conditions they will experience during a SLS mission.
One final test of this RS-25 developmental engine is planned in this series; testing of flight engines begins later this fall.
More than 1,200 people, including elected officials and community leaders, media and social media representatives, and NASA and contractor employees and family members viewed the test. Guests saw Stennis facilities and test stands, the Aerojet Rocketdyne engine assembly facility, and the Pegasus barge that will transport the SLS core stage from NASA's Michoud Assembly Facility in New Orleans to Stennis for testing then to Kennedy Space Center in Florida for launch.
An initial 70-metric-ton (77-ton) SLS configuration will use four RS-25 engines for the core stage, along with two five-segment solid rocket boosters, providing more lift to orbit than any current launch vehicle. The core stage for the first SLS and Orion integrated flight– Exploration Mission-1 – also will be tested at Stennis. That test will involve simultaneous firing of the four RS-25 engines just as during an actual launch.
The RS-25 engine gives SLS a proven, high performance, affordable main propulsion system for deep space exploration. It is one of the most experienced large rocket engines in the world, with more than a million seconds of ground test and flight operations time. Aerojet Rocketdyne of Sacramento, California, is the prime contractor for the RS-25 engine work.
Image Credit: NASA